How To Translate Your WordPress Theme Using Loco Translate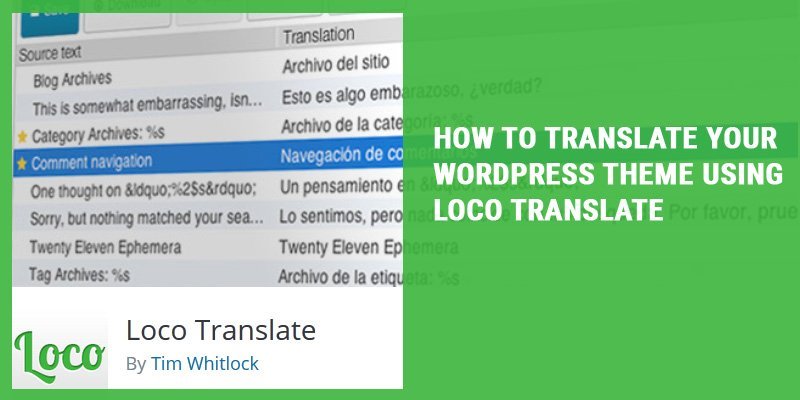 Anyone can use the WordPress themes and their vast array of features.
But if one does not speak the English language very well, they are likely to run into problems, because most of the themes are only available in the English language to begin with. This is because the majority of theme developers do not translate their themes into other languages.
Fortunately, you don't have to miss out on using WordPress themes just because you're not a fluent English speaker. After all, the majority of the world's internet users are actually not native English speakers and come from Asia.
In fact, there are a number of methods you have available before you to translate any theme (or plugins, for that matter), and the method that we are going to discuss today is to use plugin called Loco Translate.
What Exactly Is Loco Translate?
Loco Translate is a free plugin available for WordPress that allows the user to edit translation files, such as themes or plugins.
It is therefore a very efficient and practical tool one can use to translate a WordPress plugin or theme into a language other than English.
Examples of features that Loco Translate comes with includes:
Translation editor
PO file editor
Language directory
PO backups
Language file updates
Built-in WordPress local codes
This means that if you desire or need to have your WordPress website translated into another language, Loco Translate is one of your options to make that happen. In fact, it's actually one of the best options, and as we'll soon explore it's an incredibly simple tool to use.
Installing Loco Translate
One of the best things about Loco Translate is that it is very user friendly.
The very first thing that you will need to do is install the plugin. To do this, you will need to navigate over to 'PLUGINS > ADD NEW' and then search for 'LOCO TRANSLATE.'
It should show up in the search field, and once it is installed, you will need to activate it. The plugin will now be visible to you in the administrator dashboard area of WordPress.
Setting Your Default Language
Every WordPress theme and plugin that you install on your website or blog is going to have any number of languages built into it.
As was mentioned previously, the majority of themes and plugins will only use the English language, though there are others that will have lots of available languages, while others will have two or three.
In order for the language of your theme to be translated successfully into the language of your choice, you must firm confirm that the theme can accommodate that theme to begin with.
Go to 'SETTINGS>GENERAL' in the dashboard.
Proceed to scroll down to the bottom, and the dropdown menu for 'SITE LANGUAGE' should appear.
The language that is visible at the top o the dropdown menu is the language that your site is currently set at, which is most likely English.
On the same dropdown menu, you should also then see the other languages that are installed on your WordPress website, as well as the ones that are available to be installed too.
If the language that you want to translate the theme or plugin into is not listed in the 'INSTALLED' category, then you will need to select the language you want from the dropdown menu, and then click 'SAVE CHANGES.'
This will then set that new language as the default language of your website. Just be sure to actually save your changes in order for it to work.
Starting Your Theme Translation
Once your default language has been set you can begin to translate your themes and plugins by selecting the 'START TRANSLATING' options.
There will be too components on the 'TRANSLATION' screen. In the upper section, there are strings that are original, while in the lower section there will be strings that are currently being translated by Loco Translate into your selected language.
You'll have the option to translate either some strings as you see fit or require, or each of the strings together. Once the translation is complete, select the 'SAVE' button, and you'll be all set. The theme or plugin on your site should now be translated.
Translations Options and Manage Translations
Once Loco Translate has been activated on your WordPress dashboard, you will be given two different options:
Translations Options
Manage Translations
Translations options allows you to adjust your settings and files, while manage translations allows you to translate the themes and plugins on your WordPress site into any language that you desire like we just talked about.
Creating A New Language File
In the 'MANAGE TRANSLATIONS' tabs, you'll be able to locate all of the applicable languages for your themes and plugins that you have installed on your WordPress site.
If you want to translate any of those plugins or themes, you'll need to search for the theme and then select the new language for that theme in order to create the new language file.
You can then give a new name to the file as well, which you can do so manually.
Saving Your Translations
You can save your translations in the global theme language directory, or otherwise you can create your own personal language folder and store it there. It is definitely a good idea to find a good location to keep each of your translations, as the last thing you want to do is lose them when you will need them later.
Conclusion
All in all, Loco Translate is without question one of the most effective and user friendly WordPress language translation plugins that you can get.
Using Loco Translate means you will be able to change the translations for any plugin or theme that you install on WordPress, and all of the technical aspects of the process are handled for you.
Hopefully, this article hasn't just introduced you to what Loco Translate is and how it can benefit you, but how you can use it effectively as well.