How to Share Digital Content Using WordPress Download Forms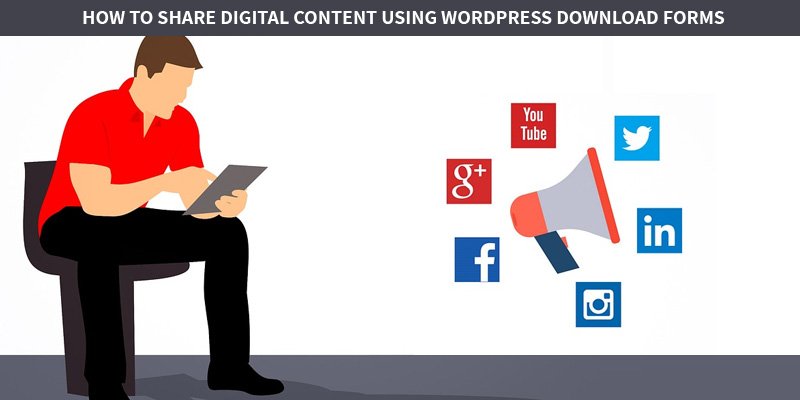 One of the best strategies among various businesses is to share contents that are downloadable so that you can generate leads. If you happen to be a business owner, you will know how popular the contents are compared to general users.
In this post, we will be sharing some of the best and most interesting ways you can share digital content using WordPress download forms and actually build a successful business out of it.
The points enlisted are very simple and each has gone into great detail. Do take a look and let us know your feedback at the end of it.
Use WeForms
The first and the most important step you should take to share digital content using WordPress is installing weForms. You can use it just like other and regular WordPress plugins.
Check the Add Plugins page and then search for the 'weForms' section. Once you are done with that, quickly hit the Install button and this will help you finally activate and begin.
Prepare a new form
The next step you have to take is navigate towards wp-admin and then go to weForms-All Forms, Add Forms where you can get hold of some templates that are ready to use.
We would advise you to use ones that are available or you can create a blank form. You will find the Create Form button under the template that says 'Blank Form'
3. Make changes depending on your requirements
Now we come to the third step. Here, you need to create a blank form. You need to chose what kind of fields you have to add towards the form. WeForms happens to have several form fields which makes it easier for you to create a form of your type in a jiffy.
However, you need to determine the information you wish to gather while getting hold of more leads. In this case, the email addresses, names and queries will be collected.
Drag the fields, drop them and create the form. You will also have to custom some of the fields depending on what the requirements are.
Configure the download bit and the settings of the content
Once you have created the content download form, move on to configuring the settings so that it can serve the purpose. Next, click on the settings right above the form you have created.
You can change the submit button which is available near the Download button. Here you will come across the redirect button.
Make sure to pick the path towards the content that is downloadable. You can also redirect towards any page on the website. Adding another custom URL towards the content is also a wise thing to do.
Setting up notifications
The content will now be stored on the website. Make sure to choose 'Redirect To' on the page. This will help you find a new option to Page. Next, select the drop down list.
The Download Now option will be visible now. It will help you go to an actual eBook. You may skip the page if you please and add the direct link towards the content.
You may also set up any notifications if you please. Save the form once the configuration process has been completed.
The final task- publishing
Now we come to the best part- publishing. You will have to make the download form live so that the users can use that fast and easy.
For this, you will have to copy the short code of the form by clicking on the blue numbers beside the name of the form. You can create any new page or put the short code right there. Finally, publish the post.
Testing
Once you have made the form file, you can test whether its suitable and whether the results have showed up or not. Make sure to fill up the forms and download. You can also check a few videos online to see if you need more clarity and help on the topic.
How to add push notifications to your WordPress?
Adding a push notifications explanation option is quite helpful when it comes to WordPress. The push notification explanation is quite beneficial for something like WordPress.
It works on all websites and gives you a very high rate of success. With push notification explanation, people will easily be able to read your stuff at a faster pace.
Best Download Manage Plugins available for WordPress:
WP-Download Manager

WP-Download Manager is a very simple download manager plugin which comes with a whole list of features. You don't need to have bells and whistles for this.

Over 10,000 people have installed this and it has received some great reviews as well. You should really try this if download plugins are your thing on WordPress.

Woo Commerce

Woo Commerce is fully free and lets you sell whatever you please. You can integrate this seamlessly and use this to become the best eCommerce solution which gives both the developers and store owners full control. Instead of writing, it has over 3 million installs and has the best rating everywhere.

Delightful downloads

Delightful Downloads can help you track the download statistics from the WordPress dashboard. This can help you track down all the statistics from the dashboard. This too happens to have some of the best ratings.

Some of the best features include categorizing and tagging downloads. You can also download statics tracked with the help of WordPress. Use some of the password protected files as well.

With that, we bring the post to an end. If you have enjoyed reading our article and have found this helpful, please let us know in the comment box below. For more feedback and questions, feel free to drop them down as well.

We promise to get back to all your queries. Till then, keep working on your blogs and we hope that by following these tips you will be able to reach your fullest potential.