How to Set Your WordPress Website Up for Success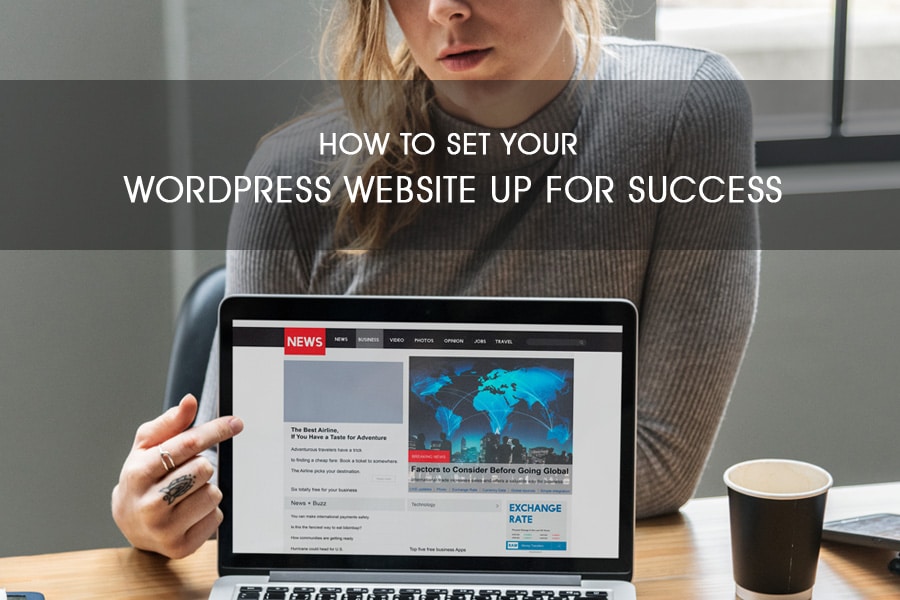 The idea of creating a website can leave you feeling overwhelmed.
The task itself might seem impossible for someone without a background in web design. However, there is a tool that allows you to create a professional-looking website in no time. It is none other than WordPress.
If you are not familiar with WordPress, it is a content management system that enables you to create and host websites. WordPress offers a template system and plugin architecture so that you can create a website that suits your business or idea.
WordPress is easily one of the most used CMS options. Its versatility and ease of use enable users to create a website according to their needs. We have prepared this post to help you set up your WordPress website for success. Let's dive in.
Select a WordPress Plan
The first thing that you have to do once you have decided to create a website on WordPress is to select a WordPress plan.
When you use WordPress.com, you get to choose from five different plans. The options include Free, Personal, Premium, Business, and eCommerce. The plans differ in terms of marketing tools provided, customization options, and monthly fees.
You can start with a Personal plan. It only costs $5.
Set up the Domain Name Along with Hosting Provider
Once you have selected the WordPress plan, you can proceed with setting up the domain name along with the hosting provider. You need to understand that there is a huge difference between the domain name and hosting provider.
The domain name provides your website with its home address. It is what people will type in their search bar to find your website. On the other hand, the hosting provider is where the website would be stored. If your website does not have a hosting provider, it would not have the space needed to go live.
For instance, you can create a domain name like www.thebestSEOservice.com. With WordPress, you get to choose whether you require a custom domain or not. However, a third-party hosting provider is still required.
Choose the right hosting provider as it would affect the website's reliability, security, and speed. You can check out the best WordPress hosting providers to make the right decision.
Install WordPress
If you decide to use a hosting provider instead of the one suggested for WordPress, you need to install WordPress on your desktop to connect the domain with your website.
To set web hosting, head over to the hosting provider's official website, and click on Web Hosting to manage your account details. Select Options & Settings and choose WordPress from the option to start the download.
Once you have downloaded WordPress, you will come across various FAQs. They will answer all the questions that you might have in mind. After 24 hours, the website would be installed on the hosting account, and you will receive an email confirmation.
Now that the domain has been set up and WordPress is installed, the Primary Domain has to be set up within WordPress to ensure visitors see your website when searching using your URL.
Head over to My Site in WordPress and choose Domains. Then, choose the custom domain which you would like to be primary. Simply click on Make Primary and confirm the settings to update the primary domain.
Select a Theme
To make sure that your website looks the part, you need to customize it using a WordPress theme. Browse through different templates to select the perfect one. Each template will have a different layout, fonts, colors, formatting styles, and other visual options.
When you first use WordPress, it provides you with a plain theme, which is why you have to customize the theme if you want to impress visitors. You can either select a free or paid WordPress theme to achieve your goals.
A great thing about WordPress is that it provides you with hundreds of templates. You can choose one that suits your business or idea.
Start Adding Posts
There is no point in having a WordPress website if you do not add content. People are drawn to the content. Hence, it makes sense to invest in creating pages and posts.
Pages are static, which makes them suitable for businesses. On the other hand, posts are used for portfolios and blogs. They automatically place the latest content at the top. Determine whether you should add a page or post to your website.
Head over to the admin dashboard and select Posts > Add New to add posts. You must add a title, photos, and change the formatting to appeal to your audience. You can either save the draft or publish the post. The post-launch checklist should include post ideas.
If you want to add a page, you will need to go through the same process. Visit the admin area and choose Pages > Add New. Similarly, it is up to you to save the draft or publish the page.
Customize the Website
To take your website to the next level, you must customize it. There are many different ways to do this, as mentioned below.
Start by creating dynamic or static pages. Businesses should use a static page. On the other hand, if you are a blogger, you need to use posts. Head over to Settings > Reading to select between the two.
Go to Admin Dashboard > Settings > General to add the website title and the tagline. You can even customize the navigation bar by clicking on Appearance > Menus.
Install Plugins
Finally, to complete the WordPress website setup, you have to install plugins. They help add functionality and enhance the user experience. WordPress boasts over 55,000 plugins. The most popular ones are as below.
The Events Calendar
The SEO Framework
Pixel Caffeine
Conversion Tools
Set Your WordPress Website Up for Success
With competition at an all-time high, having an amazing website makes all the difference. It allows you to convert your visitors and make a good first impression.
With our guide, you will learn to create your very own website. We have broken down the otherwise daunting process.
Start building your WordPress website by taking advantage of the steps mentioned above. From selecting a WordPress plan to installing plugins, you must customize your website based on your objectives. Moreover, you can always search online for some inspiration.