How to Set Up Your Multilingual E-Commerce Website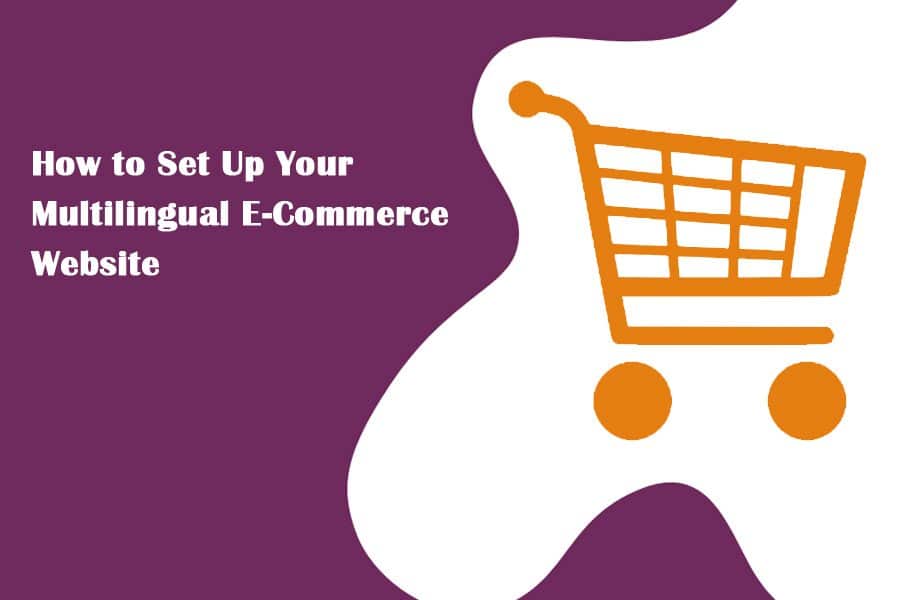 Every commercial business dreams of selling its products internationally. Before the dawn of the internet, commercial businesses that sold worldwide were a rare selection of the largest companies on the planet. However, the dotcom boom and the rise of the Internet led to the era of online business.
One of the ways to conduct business online is by creating an eCommerce website. eCommerce websites help businesses sell products online across the world.
In recent years, eCommerce businesses have run into a strange barrier that prevents their entry into newer markets. Most eCommerce websites on the Internet sell their products in the English language.
This language barrier tends to restrict how many customers a business can sell to. However, eCommerce businesses have been trying to turn their websites language-friendly for a worldwide audience.
Some eCommerce websites already provide accurate translations of their product pages into hundreds of languages. This has helped said businesses to increase revenue by reaching out to a wider range of customers and enhancing their experience.
A modern-day website catering to an international audience cannot succeed without being available to the native speakers of a country or region.
It is important for every new eCommerce business to create a multilingual website to reach the maximum possible target audience.
Thankfully, with the advancement in technology, creating a multilingual eCommerce website is a simple 5 step process. This article will guide you through the process of creating a multilingual eCommerce website.
Choose a Website Host for Your eCommerce Website
The first step to create your own multilingual eCommerce website is to find a website maker and a website host that allows you to add multilingual functionality to your website.
Most people naturally gravitate towards WordPress as the website making software. However, to install WordPress on your website, you need a dedicated host for your website. Finding the perfect host can be a daunting task.
To make it simple, it is recommended to go for a website making software that provides both a website CMS and a website host in it. The easiest way to make a website is to use a no-code website development platform. Appy Pie Website Builder is an excellent example of a no-code development platform. These platforms allow you to create mobile and SEO-friendly websites with an intuitive and simple interface.
With no-code website development tools, you don't need to have coding experience to create a website. Since these tools also provide hosting and domain services, making a website becomes very simple.
If you choose WordPress as your CMS, you will also have to add a dedicated eCommerce plugin to your website such as WooCommerce.
You can avoid such plugins if you choose to build your website with a no-code development tool. They already have such eCommerce features as a part of the software.
Finalize the Design of Your eCommerce Website
Once you find a host for your website, the next step is to design your website. No matter what host or CMS you choose, modern website design is done with the help of customizable templates.
Almost every CMS in the market provides an astonishing variety of templates for websites. However, since you will be making an eCommerce website, it is imperative that you choose a template that is made for it.
For example, WordPress provides various themed templates for eCommerce that you can choose from. Other website building platforms also provide customizable templates.
While designing your multilingual eCommerce website, ensure that the design of your website as per your industry. For example, your home page should show a concise view of your products, categories, and links to various product pages.
Choose a Translation Software
Once you have designed your website, the next step is to find and integrate a translation software to the website. Translation software allows you to automatically translate your website content into the language depending on the location of a user.
Software such as Transifex, Google Translate, etc provides plugins and API add-ons that can be integrated into your website to automatically translate your website content into multiple languages.
Each software provides a host of options for translating your webpages. Some website builder providers such as AppyPie offer website translation as an inbuilt feature within your website.
Optimize Your Product Pages with SEO Content
However, translation isn't where it ends. You will still need to optimize your website for SEO for that region to ensure your website targets masses.
Every language requires its own tweaks to the SEO to ensure maximum possible success for your website.
SEO optimization must be done for every page of your website. If you've used a website builder that provides inbuilt analytics, SEO optimization can be made easier. Thankfully, the most popular website building software comes with free SEO plugins.
Offer Currency Conversions and Other Features
One feature that many multilingual eCommerce websites miss out on is a currency conversion tool. Almost every country on the planet has its own currency.
Not providing active currency conversion is a massive misstep for a multilingual eCommerce website. Currency conversions help people see the price of a product in a currency. This helps them understand and make better purchasing decisions.
There are specialized converter tools that you can add as plugins to your website. Yet again, this feature is already included in no-code website development platforms.
Conclusion
Creating a multilingual eCommerce website can help you reach more customers and drive up your sales significantly. With how far website building technology has come, creating a multilingual website isn't as difficult as it used to be. The most difficult decisions are choosing the software and tools you will use to create your website.
With the buyer spoilt for choice, it is difficult to make such decisions. This confusion is somewhat alleviated by no-code development platforms as most of the tools you require are already a part of the available package.
Choose your tools wisely after researching the software wisely! Before we finish, here's a quick recap:
Choose a website host and CMS( or no-code website builder)
Design your website
Choose a translation software
Optimize your website for SEO
Add features like currency conversion