How to restrict shipping to logged-in WooCommerce users
Running an eCommerce store with WooCommerce may be complicated and overwhelming, especially if you are new to the whole industry. Expanding your brand is a never-ending process that must be prioritized if you want to be successful, and there is no better way to do it than keeping clients loyal and ensuring they are satisfied with your products. While you may bet on the performance of the goods or services, doing so means you are taking a tremendous risk instead of relying on tried-and-true client retention strategies.
You have many options to give your customers a bit of benefit and a better experience. You may encourage customers to register on your website by offering additional perks. A customer receives rewards because they now have an account on your site. Thus, their chances of returning to your site are much higher. This is the situation when both you and your client gain.
Restricting shipping to logged-in users
Restricting shipping to logged-in users is essential and has a lot of advantages. But one of the essential advantages is the ability to observe what a logged-in user is interested in, what they have purchased so far, and which pages or items they have viewed or visited. And this data can highly assist you in increasing the sales of your online businesses.
Having logged-in users is considerably better for your business since you can show them items similar to those they have already viewed or purchased. Doing this keeps them interested, and you are converting a logged-in user to a potential client.
WooCommerce Table Rate Shipping PRO


You may use this plugin to calculate the shipping depending on different parameters such as weight, item quantity, total cost, destination, etc. With this powerful plugin, you can add handling fees to the orders, hide particular shipping methods, include or exclude tax, and more. Also, what this plugin offers you is to establish shipping rules only for logged-in users, and today we will primarily focus on that aspect of this plugin.
Now, we will show you how you can utilize one of the best features of this plugin – logged-in user rules.
This feature is a convenient tool that many people make use of. You can use it to reward clients, encourage them to create accounts, etc. Overall, a useful feature that is very simple to use.
After successfully installing and activating this plugin, visit the navigation panel and look for WooCommerce. In the submenu, click on Settings. After that, select the Shipping tab, and you will be provided with a dashboard where you can create, add, or delete a shipping zone. Just remember one important thing – you have to choose the WooCommerce Table Rate Shipping PRO plugin, which is Table Rate Pro in the dropdown list.
The process is quite simple, click on the button "Add shipping zone" and then add the details of your zone, such as name, regions, and desired shipping method. Also, if you do not want to use a specific shipping method, you can disable it.
If you want to check out and perhaps try all of the WooCommerce Table Rate Shipping PRO choices, click on the plugin's name, and a list of all shipping methods available will appear.
You may call this shipment method whatever you like. However, for the non-logged-in user rules, a good label might be "Not logged in".
When adding table rates, you can choose whether the rate will apply to all goods or just a specified category of products. Setting "Total price" as criteria for a table rate, for example, allows you to provide the shipping price for all goods with a price within the range you choose. Then you may pick a starting shipping fee and name it with whatever name makes sense to you.
On the other hand, you can set a cheaper shipping price for logged-in customers. You can do this by returning to the shipping options window and making minor adjustments to the parameters.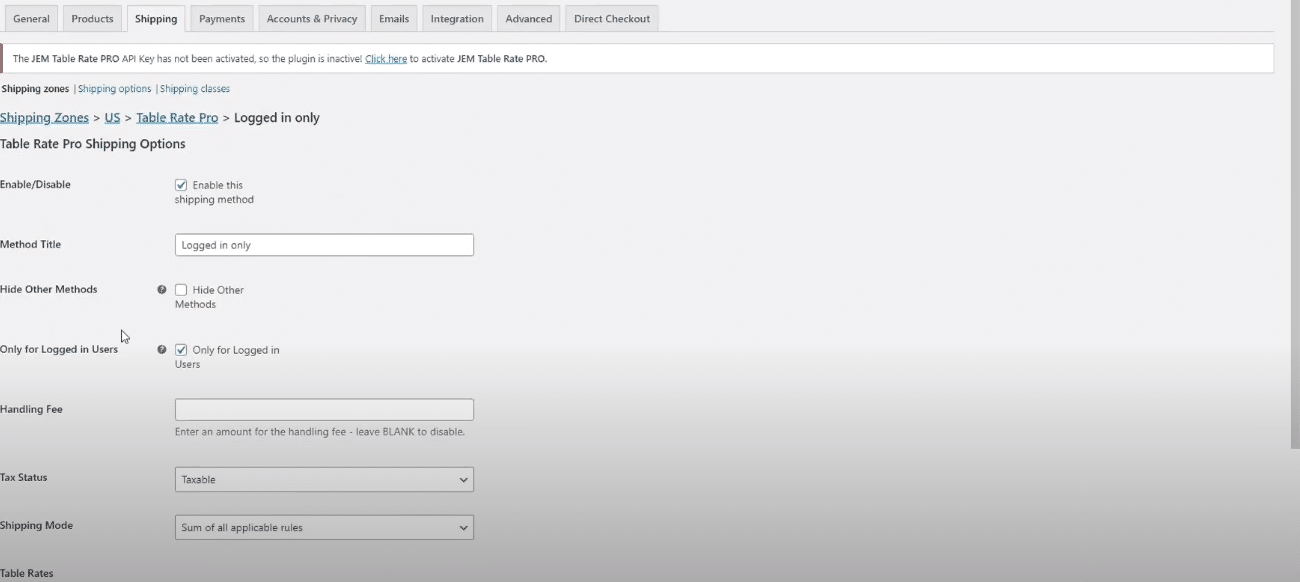 You can set different prices for logged-in and non-logged-in users. While setting the rules for them, give meaningful names to the shipping methods.
To ensure that you have set up everything correctly, go manually through your website, and try everything out. Test the cart in both cases – when you are logged in and when you are not.

Conclusion
We can conclude that you need to know what your customer likes to run a successful online business. To do that, you should track which items your customers have visited.
By giving an option to users to log in, they freely share their email addresses and an easier way to track their actions on their website. Having their email can also help you send newly arrived items that will suit them.
The best way to thank them for making an account is to give them a discount on the shipping. By doing it, you are getting closer to your customer and making them come back to your store.
This plugin will give you an option to make your customer feel amazed by your service. At the same time, you will be happy to have more traffic and make your business successful. So, give it a try and test it!