How To Pick The Right Website Theme For Your New Ecommerce Business?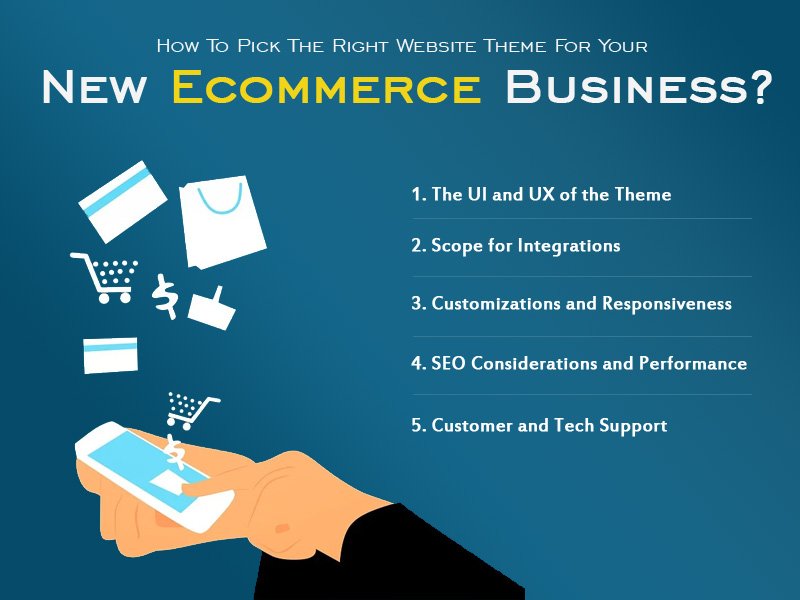 If you are reading this article, you have finally decided to take your store online. Congratulations, this might be just one of your best decisions ever!
The question is- how hard can creating an Ecommerce website be? All you need is a:
Great Ecommerce Website Theme
Integrations with Customer Support and Service
Creating High-Quality SEO Optimized Content
Using Social Media for Aggressive Promotions
Fixing up a Logistics Company for Deliveries
While all the above points, might appear to be simple, it is only proper application and optimization that can help with winning results.
In this article, we look at some of the key ecommerce trends in the industry. Specifically, we will focus on how business owners can pick the right website theme for their new Ecommerce.
Things to Check for when selecting an Ecommerce Theme for your New Online Business
In this section, we list down some of the major things you need to check for when selecting a new Ecommerce theme-
The UI and UX of the Theme

An Ecommerce website needs to have a theme that is catchy, attractive, and leaves a lasting first impression. This means that on both fronts, User Interface (UI) and User Experience (UX), it needs to be a great performer. Design matters as it helps in establishing good first impressions. The UX should be optimized to make the buying process simple and effective.

Scope for Integrations

The best Ecommerce themes have inbuilt integrations that can be very helpful for a new business. This can be integrations with your CRM software, delivery partners, and social media platforms. What this ensures is a centralized dashboard of sorts from where you can control all the verticals of your Ecommerce business. This not only saves time but reduces complications.

Customizations and Responsiveness

Rarely will you come across an Ecommerce theme that fits all your requirements and needs? In other words, there will always be areas where you will have to customize. Checking whether the theme can be optimized is necessary. Experts also suggest that business owners should only work with responsive themes that are already optimized for screen sizes and operating systems.

SEO Considerations and Performance

Anyone who says that SEO does not work for Ecommerce platforms is simply lying. Experts state that any Ecommerce platform looking to optimize performance needs to pursue a solid SEO strategy. You need to ensure that the theme is SEO-optimized and has scope for further optimizations. This will ensure a fast-loading site and allow you to rank on search engines.

Customer and Tech Support

There will be multiple hiccups whenever you pick an Ecommerce theme. However, f you have great customer support from the vendor, you will always be able to address them within a short period. Go for Ecommerce theme vendors that have 24×7 online real support on hand. This will ensure that your site is always live and ready for any untoward incidents.
Why Simplicity in Design and Experience works best for Ecommerce Platforms?
According to leading experts, business owners looking to create Ecommerce platforms should pay emphasis on simple designs and easy interfaces.
They suggest that the more complicated the design and experience are, the lower are the chances of customers purchasing from the platform. To this end, your Ecommerce website's checking-out function must be as smooth as possible.
Removing barriers can go a long way in ensuring that the Ecommerce platform delivers on sales and can raise revenues. Simple themes that are customizable, have great UX, and allow for software integrations should always be the preferred option.
An Ecommerce website also needs to have a well-designed Internal Blog that can help the brand with its Content Marketing needs.
The Final Word
Most businesses that have suffered because of the pandemic are now looking to take their stores online. There are multiple benefits to doing the same. By focussing on all the points in the article, you will be able to choose the right website theme for your new Ecommerce business.