How to Make Money with WordPress Blogging in 2023: 8 Proven and Realistic Ways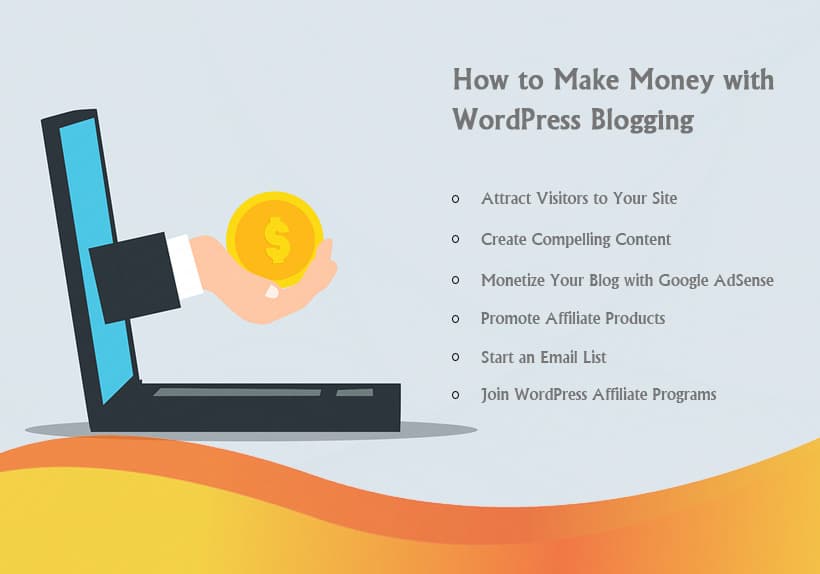 WordPress is one of the most well-liked content management systems (CMS). Why? Because it's easy to use, scalable, and robust. The WordPress platform has also become a favorite with bloggers looking to host their sites online.
Launching a blog using WordPress doesn't take much; you only need an internet connection and some basic computer skills. Becoming a WordPress blogger can be incredibly lucrative if you know how to do it right!
Let's look at proven and realistic ways to make money in WordPress.
Attract Visitors to Your Site

How do you attract visitors? That is simple.

A good quality website is more than the looks. To want people to visit your site again and again, remember to keep it neat. Organizing is not just for clothes and shelves. It is also for your website. Follow the below points to keep clean in check:

An excellent blog theme – A good-looking theme will ensure that your site has a clean look that makes sense with its purpose.
A brilliant design – The design should be straightforward so the visitor knows what they can expect when they click through.
A solid title with CTA – This well describes what your content really is about or what you do for money online (examples like "How I Write Blog Posts for Profit," or "How I Make Money From Blogging").

Create Compelling Content

Creating compelling content is the key to making money with your blog. If you have a blog, then you probably already know that content is king. The more blog posts you publish, the more traffic you'll get from search engines and social media sites like Facebook and Twitter.

But how do you create compelling content? Here are some tips for creating valuable content for your readers:

Write about topics that people care about. Don't write about things just because they are popular or trending on Google. Instead, write about things that matter to your audience.
Write about things that readers want or need to know about — not just what interests you personally or what you think will be most interesting or entertaining to them.

Make sure your content is easy to read and understand by using simple language and avoiding jargon (unless it's necessary).

Monetize Your Blog with Google AdSense

Google AdSense is an advertising platform anyone can use to make money from your blog. Once you sign up, Google will place ads on your site based on the page's content and other factors. When people click these ads, Google pays you a share of the generated revenue.

You don't have to change anything about your blog; all that's required are some simple steps to enable AdSense for it:

Sign up for an AdSense account at Signup. This quick and cost-free method only takes a few minutes!
The next step is adding tags and keywords to your blog so that it shows up when people search those terms in Google Search or YouTube Search (or any other search engine).

Promote Affiliate Products

Using affiliate marketing to promote things on your blog is a terrific way to make money. It's basically like having your store, but instead of paying rent and salaries, you pay commission to other companies who sell the products.

With affiliate marketing, there are many ways to generate income, including through social media sharing or email campaigns.

Start an Email List

Without an email list, your blog will always be incomplete in generating income.

An email list is a way to communicate with listeners eager to hear what you have to say. It's also an excellent way to build a community around your blog, which will help you grow and make more money. You'll want an email list because:

It's easy and free! You can create one using MailChimp or other services like ConvertKit and Drip (which I use).
Your readers will thank you. Most people don't want their inbox filled with spammy newsletters from random companies they don't remember subscribing to. So, if they know they can unsubscribe from your emails, they won't hesitate when it comes time to hit that button! For leveraging email marketing, you can use tools like Hubspot or ActiveCampaign

Join WordPress Affiliate Programs

If you're already a WordPress blogger, you can start promoting affiliate programs on your blog.

WordPress has many affiliate programs that offer commissions for the sales of their products, services, or even other people's products and services. You can promote any of these programs by using links to them in your blog posts or on your website.

The commission you earn depends on the terms and conditions set by each program and how many clicks (or impressions) your link gets from readers who view it on their device.

Create and Sell Products or merchandise

You can also earn money or make money in WordPress by accomplishing the following:

Create and Sell Physical Products
Create and Sell Digital Products
Create and Sell Services
Create Content Marketing Products

Also, monetize your site by offering access to exclusive online events, coaching programs, or workshops.

Check out some money-making tips by Forrest Webber, an expert in blogging.

Write Reviews of Products and Services

One of the best ways to make money with your blog is by writing reviews of products and services. This can also be a great way to promote your own business because you're offering value to readers who might also be interested in what you're selling. Ensure you're honest with your reviews but don't go overboard so they become too harsh or damaging. Instead, write about how a product or service has helped improve your life (or how it hasn't).
Conclusion
Remember that you can earn more money if you sell more things. As long as there are people who want to buy your products, there will be an opportunity for you to make money with them. You don't need a lot of capital upfront, and it doesn't take much work – just some creativity and hard work.