How to Fix WordPress Not Sending Email Issue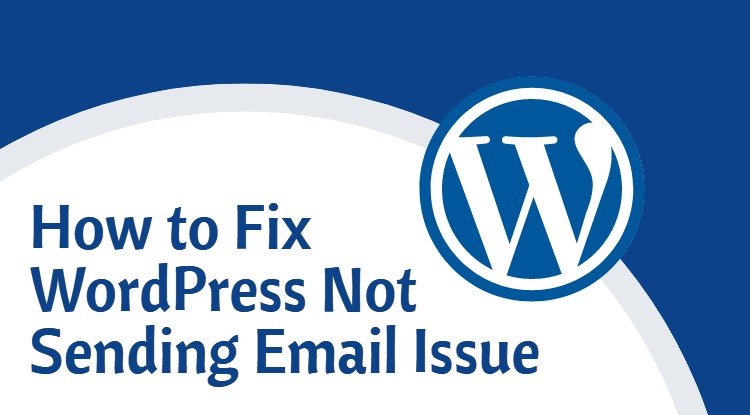 Do you get annoyed when your WordPress isn't sending emails that are actually crucial from a business perspective? Well, in that case, you are not alone! There are numerous people out there that are striving to get a relevant solution to fix WordPress email issue.
The issue could be due to numerous reasons that you have to figure out in order to ensure smooth functioning of your emails. Sometimes the issue could be a minor error in the SMTP setup of the emails while it could be some severe issues related to the configuration of PHP mail () function.
There could be instances when these configurations are adequately done from your end but still, you face issues that are actually annoying. Thus; it is important for you to analyze the root cause of the glitch and rectify the same. Dive in here to know more about the issues and how you can fix them for the smooth functioning of your email.
Testing your Email on the Servers
The perfect way out is to test the mail on your server before you move on to the advanced procedures. For this, you can consider downloading a third-party plugin that is capable of testing your email and eventually determines how many emails you can send.
Consider downloading Check Email Plugin that is available free of cost and helps in fixing the issues that hurdle the smooth functioning of emails on your WordPress. You have to visit the official website to download the plugin, which further would help you in getting the things done without any hassle. Steps to follow to test your mail:
Step 1: Once you have installed the plugin, it is recommended to click on "Check Email" by visiting the tools menu on the left side dashboard on your WordPress website.
Step 2: Enter the email address in the blank to send the mail. Now click on "Send test email".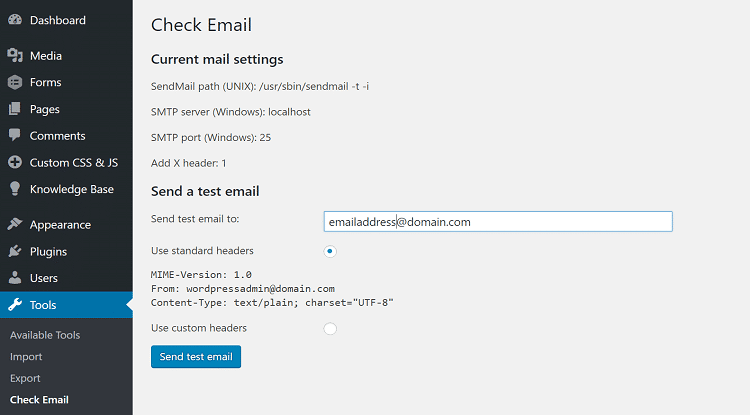 Step 3: Once the mail is sent, you need to check the corresponding email id for confirmation that whether the email is received or not. If you have received the email, then your email is running smoothly and there could be an issue with your contact us form page. You can ask your developer to fix the same as your email isn't the reason behind the issues related to email services.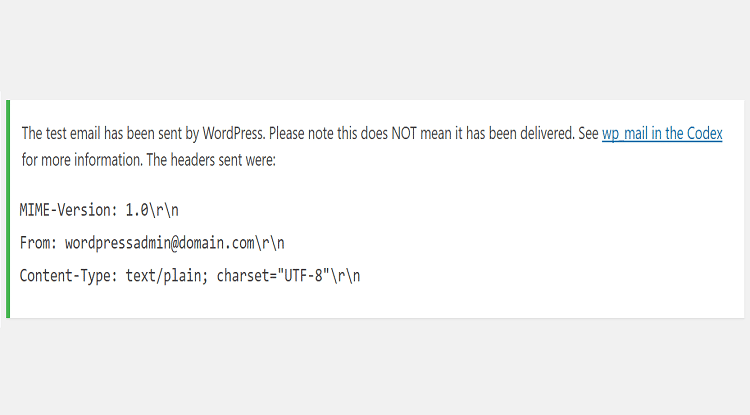 It is always a great idea to rely on third-party email service providers that can help you out in setting a hassle-free email on your WordPress that can augment your business needs.
Try Using another Email Service Provider
There are ample email service providers that you can prefer for sending emails from your WordPress website. One of the best email servers that you can use for your website is the Mailgun server. As per the expert developers, relying on a third-party email service provider is perhaps the best and easiest way to resolve the issue.
You only need to setup the same with your WordPress website and can enjoy hassle-free mail delivery services that you cannot expect from the conventional linking. This is a paid mail server and you have to purchase the same for seamless services.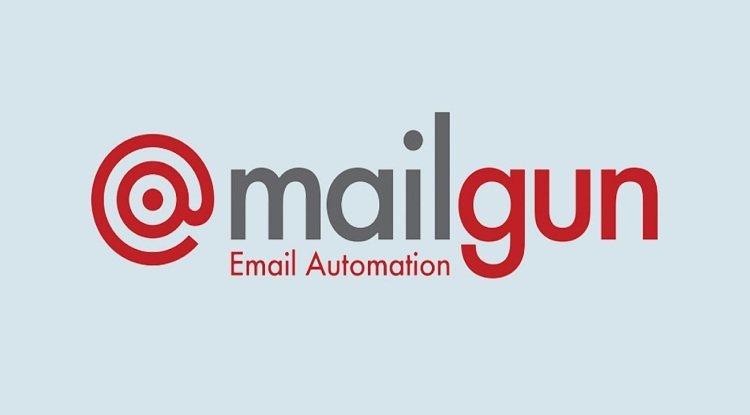 Here is the overall setup procedure for setting up Mailgun for your WordPress website:
Step 1: Initially, you have to visit the official website of Mailgun where you need to sign up for this email service. Once you are done with the signing up procedure, it is the time to enter your domain name in the box provided. Click on "Add your Domain" button to continue.
An Add Domain page would be opened where you have to create a sub-domain of your website. For instance, you can enter it in the format: xyzmail1.domain.com.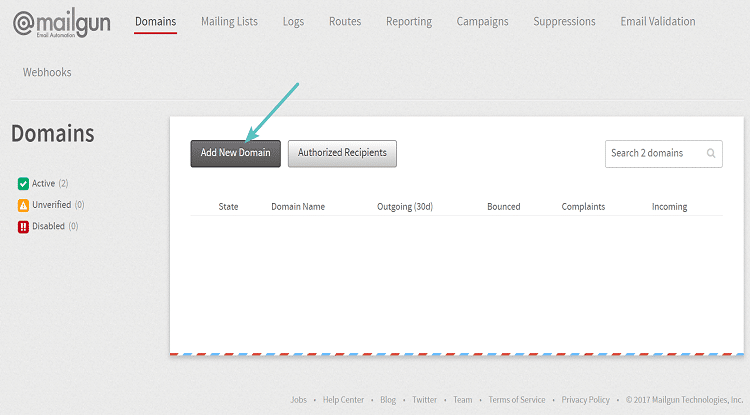 Step 2: Now you need to select the root domain of your website. You have to scroll down and click on "MX Entry" where you would see an option that shows: create a new record.
Make sure to check the domain status of your website by visiting the Mailgun account and checking the domains. You would witness status as Active once the verification procedure is done and the DNS changes have been applied.
You can now use Mailgun services for sending emails from your WordPress website. You only need to install a plugin named WP Mail SMTP by following the normal procedure of installing a plugin.
Once the plugin is installed, you have to provide the sender's email address along with the signature or the name that you wish to show as the sender's name.
Step 3: Select Mailgun as your default mailer and make sure you check the box that is visible next to set return path. After this, just provide the private API key of Mailgun and the sub-domain name. Now save the settings and start sending emails without any hassle!
The above-mentioned solution is one of the best ways you can use your emails with the use of third-party mail service providers.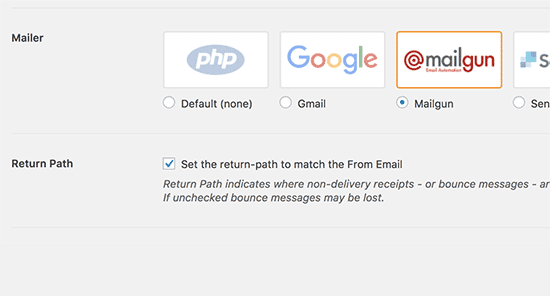 Check your Contact-Us form
Most of the people out there aren't really aware of the fact that there could be issues with their form that is affecting the email services. You can check the same via a plugin as mentioned-above. Apart from this, it would be great to seek professional help from the developers that are experienced enough to cater your needs.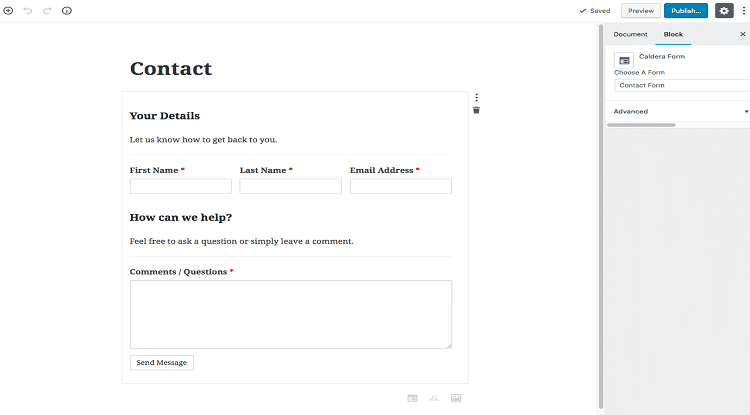 Prefer Using the WordPress API
The most advanced way of dealing with email issues is to develop a custom API for WordPress that can help in avoiding the issues related to the email. You can consider consulting a web developer for the same and get the source code embedded in your website code.
This would help you in sending emails through SMTP in WordPress without putting many efforts. Detailed tutorials and code is available on numerous websites and is free of cost. Just copy paste the same in your website's code and you are good to go.
Final Verdict
These are some of the best ways that can surely help you in getting grid from the issues related to WordPress not sending emails. You just need to follow these aspects as described and you would be able to send emails through your website.