How to export orders from WooCommerce
When having a large number of orders, managing them can be challenging, and that is why it can be beneficial to invest in a tool that will handle those orders. WooCommerce Order Export PRO is a great plugin that offers plenty of features to help you manage and export your orders, storing them in CSV format. It is an easy-to-use plugin that allows users to quickly export data from their WooCommerce store. The free version provides features like easy setup, simple interface, filters for orders, exporting data, drag and drop sorting, etc. The paid version has more features like additional fields, exporting customers, exporting shipping, exporting coupons, exporting category data, exporting tags, scheduling exports, delivering exports via emails, etc.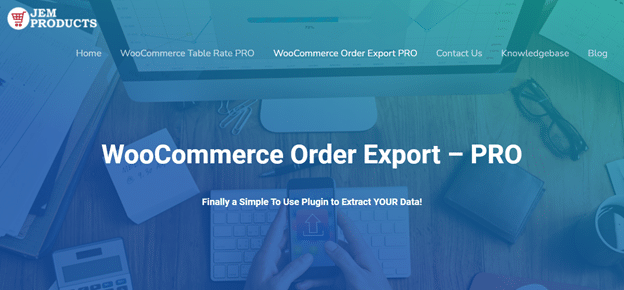 Using the WooCommerce Order Export PRO plugin is easy. The installation process is simple. After installation, in your WordPress site, go to the WooCommerce tab and Order Export + PRO. Now, you are ready to export your orders. As we mentioned earlier, there are plenty of features to choose from. We will highlight some of the most useful.
The first option you are met with on the main plugin page is the date ranges of orders to include in the export. You can choose from custom range and predefined ranges that include orders from the current day, the previous day, current week, last week, last month, last year, etc.
The next section has an option to choose how the exported data will be formatted. You can choose how the data will be sorted, date format, file name, field delimiter, non-western characters handling, etc.
One of the top features is the export new orders only feature, which allows you to export only orders that haven't been exported so far. This plugin remembers which orders have been exported and helps you get only the new ones.
Filters are a great new feature with which you can choose and filter out specific orders you are interested in. For example, you can filter orders by currency, order total, shipping amount, shipping tax amount, discount, payment gateway, etc. What is great also, you can set as many filters as you want. When choosing any of the mentioned fields, the "Values" dropdown menu is automatically populated with all possible values from the database. In addition to this, you can choose to filter by product, product category, or by coupons.
The fields to export feature has plenty of options for choosing desired fields for the export. All options are drag-and-drop, allowing you to quickly get the result you wish. You can also see the metadata the other plugins on your site have collected. Also, reordering the fields is super easy, thanks to the drag-and-drop functionality.
Exporting orders can be time-consuming depending on the factors mentioned above, and simple mistakes or things we forgot to add can make that process a lot longer. In order to avoid this, this plugin has implemented a preview button that allows you to see the first 25 records that match your preferences. In this way, you can verify if it is what you need and then proceed with the actual export.
The settings page keeps a log of your scheduled exports where you can see exact input parameters or how many records have been exported. This can be useful when you have issues setting up your exports and getting them working. Another cool feature is the option to export or import settings. So, if you want to transfer settings from one site to another, that has become very simple thanks to this copy/paste option. This can help with troubleshooting by sending your export settings to the JEM Products support team for them to test your settings on their test sites.
Last but not least, one of the best features is scheduled exports. You can set as many of these as you want in the scheduled exports tab. On the summary page, you can see all your scheduled exports from a higher level, and you can check or modify them by using the action buttons on the right-hand side of the table. Adding a new job is done by clicking the "Add New Job" button at the top of the page. Most sections are the same as we explained earlier, with one additional section, "When to Run the Export". Here you can select a custom day(s) or a predefined schedule between daily, last day of the month, 1st day of the month, or every hour export schedule. Exports can be delivered via email by entering receiving email address, subject, sending email address, file name. They can also be delivered via FTP by entering host, port, user, password, initial directory, timeout, the maximum number of retries, and filename, or stored in a directory located on your WordPress site.
Conclusion
Just like other JEM Products plugins, this one does not fall behind. It is easy to use, and a simple setup puts it on the top of lists for the best WooCommerce plugins on the market. In conclusion, the WooCommerce Order Export PRO plugin gives you a great way to automate your order exports by setting up scheduled exports. This way, you will receive updates and exports on a predetermined schedule. So, you will be on top of your orders at all times. It will streamline your business process, improve efficiency, and help you gather only the data you want and need to see when processing your orders. This, ultimately, enhances customer satisfaction since orders are processed faster than before, and products are delivered to the customers in the fastest time.