How to Create a WordPress Blog with HawkHost Hosting?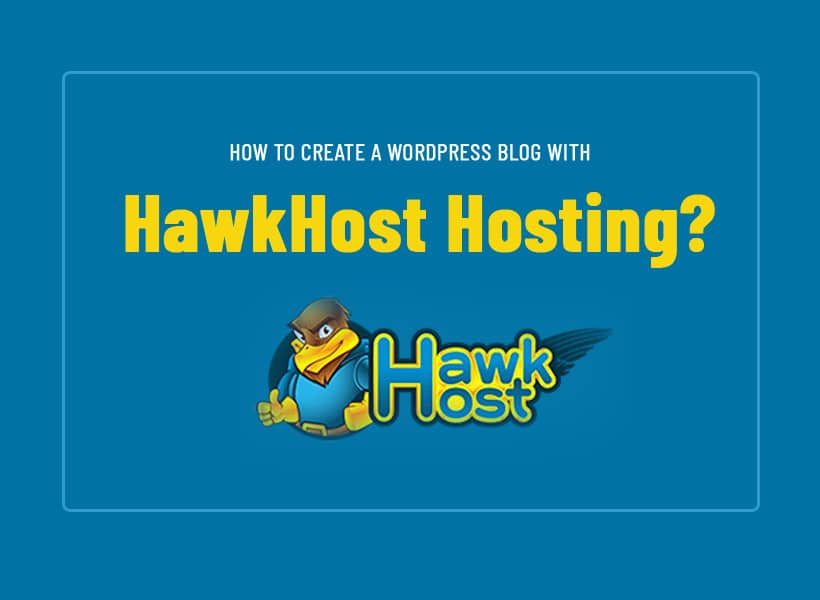 In the past few years, blogging has taken center stage as it has become increasingly popular and recognized as a lucrative digital publishing business. And if you are someone who wants to start a blog but doesn't know where to begin, then you are at the right place.
In this guide, we will walk you through easy steps of how you can create a WordPress blog with HawkHost hosting. But first, let's understand why and how HawkHost can be your ideal solution for creating your WordPress blog.
HawkHost Overview
HawkHost is one of the most popular and user-friendly CMSs, which helps you create and manage your website efficiently. Not to mention, their prices start at just $2.99 per month, which is affordable even if you are someone on a tight budget.
With HawkHost, you get many valuable features, such as a 99.9% uptime guarantee, unlimited space, bandwidth, free domain, and free migration. Along with these features, you also get an award-winning expert team dedicated to resolving your issues and a comprehensive knowledge base.
HawkHost Hosting Plans
HawkHost offers four different types of WordPress hosting. They are –
Primary Plan

This plan is specially designed for beginners, and you can get started at $3.74. But if you use our link, you can get a direct discount of 25% on all its yearly plans.

Professional Plan

This plan is designed for seasoned professionals, and you get all the features of the primary plan along with unlimited SSD space for your website. You can start with this plan at $7.49 per month.

Nestling Plan

The Nestling plan is for getting extra resources along with the primary plan. In this plan, you get 20,000 MB of space along with all the other features. You can get this plan for $14.99 per month.

Talon Plan

The Talon Plan is for professionals who need extra resources that the Professional Plan cannot fulfill. You can start with this plan at $37.49 per month.

The important thing that you should note is that you are getting 25% off on all the plans offered by HawkHost WordPress hosting. This means 4 months of free HawkHost.

Let's see how much you can save using our discount-

| | | | | | |
| --- | --- | --- | --- | --- | --- |
| Plans | Original Prices (per month) | Discount (only applicable on yearly as well as monthly plans) | Discounted prices (monthly billing cycle) | Discounted prices (1 year billing cycle) | Discounted prices (monthly billing cycle) |
| Primary | $4.99 | 25% | $3.74 | $2.99 | $2.44 |
| Professional | $9.99 | 25% | $7.49 | $6.74 | $5.99 |
| Nestling | $19.99 | 25% | $14.99 | $13.49 | $11.99 |
| Talon | $49.99 | 25% | $37.49 | $33.74 | $29.99 |

You can follow the above list and decide what maximum discount you want to claim while buying HawkHost WordPress hosting plans.
How to create a WordPress Blog using HawkHost Hosting?
Follow these steps to get started with a WordPress blog using HawkHost WordPress hosting-
Choose a domain name

Selecting a domain name is the first step to creating your WordPress blog. You can do this by purchasing a domain name from HawkHost or any other domain registrar.

Sign up for hosting plans

Once you have a domain name of your choice, you then need to evaluate your business needs and select a plan that suits your business needs most. HawkHost offers WordPress hosting plans that are optimized for the platform and is giving away a 25% discount on all hosting plans. Check out your options and select the plan.

Once you have purchased the plan, you will get confirmation regarding the same in your email.

Install WordPress

After signing up for hosting, the next step is to install WordPress on your domain. HawkHost offers various add-ons, such as Softaculous, which lets you install WordPress with just a few clicks. Install that and follow the tutorials to configure all the right settings on the first go.

Customize your blog

Once you have successfully installed and configured your WordPress, You can customize your blog by selecting a preferred theme, adding necessary plugins, and creating important pages. You can also add a logo or a header and set up all the essentials of your blog.

Publish the content

Once you have your blog up and running and have made any necessary customizations, you are ready to publish your first post and begin sharing your material with the world.
It's important to remember that the Internet is full of tools that can help you set up a WordPress blog at HawkHost hosting. There are online tutorials and step-by-step guides that can help you. HawkHost also gives support 24 hours a day, seven days a week, to help you with any questions or problems you may have along the way.
How to avail 25% off on HawkHost plans?
Follow these simple and easy steps to avail 25% straight off on HawkHost WordPress hosting plans –
1. Click on the HawkHost WordPress hosting plan link. You will be taken to HawkHost's main page after you do that.
2. Click on the "Get Started" tab. Now, you'll see a list of different price plans and choices. Choose a plan that fits your business needs.
Note – Our recommendation for you is to get the professional plan as you get maximum features and technical support at just a few more bucks than the primary plan.
3. Under each plan, click the "Sign Up Now" button. Once you Sign up, you'll be asked for your domain name. Now, you can get a new name if you want to or keep the one you have.
4. Enter your domain name and all the other information that is asked for. After you're done, you'll be taken to the checkout page.
Note: There's no need for a code to get a deal. The discount will be taken off of the total amount of your basket when you check out.
5. Pay the bill. After you pay, you'll get an email with all the login information and the receipt of the payment.
Apart from HawkHost hosting, you can opt for other affordable hosting services as well including Asura Hosting, iFastNet, WPX Hosting, and many others.
Conclusion
HawkHost's WordPress-optimized hosting plans are reliable and inexpensive, making it easy to create a profitable blog. You can follow the guidelines mentioned in the blog, select a domain name, acquire hosting, set up WordPress, personalize your blog, and make your first post.
You can trust HawkHost with your blog because of its dedicated customer service, rigorous security measures, and reliable uptime. So, what are you waiting for?
Start your blogging journey today with HawkHost hosting!