How to Create a PayPal Donate Button for Your WordPress Site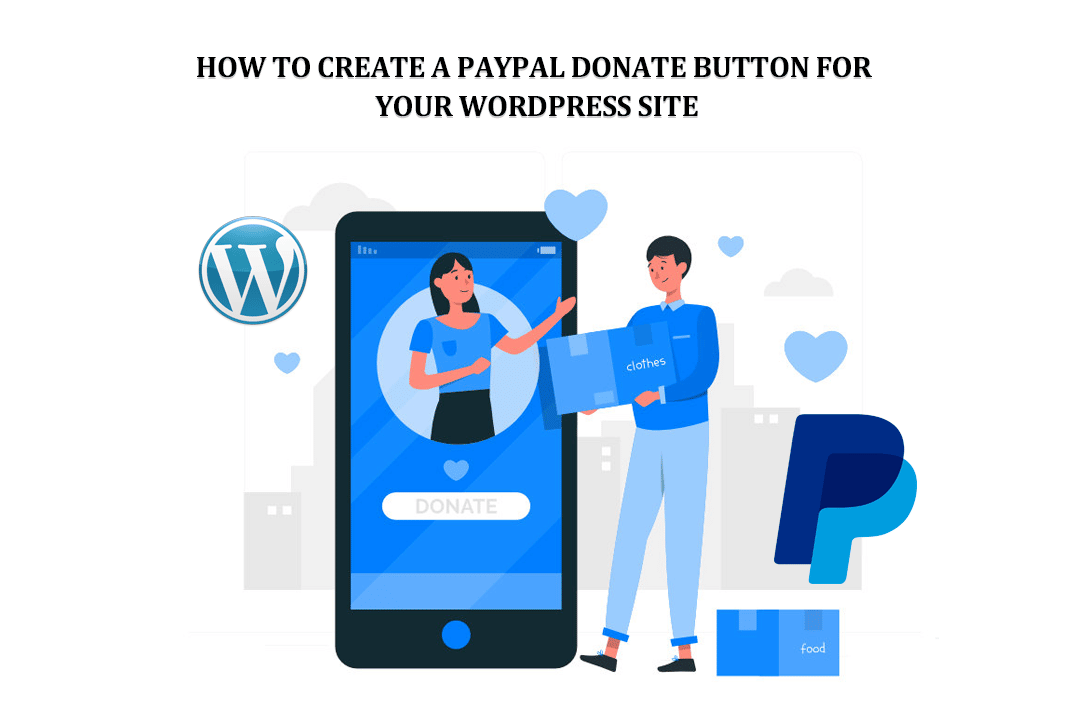 From non-profit organizations to churches, from politics to bloggers who need immediate help, there are many situations in which to apply for donations. Many WordPress plugins are available for collecting donations or providing best price guaranteed, but you usually need a simple PayPal donation button.
You can place this button anywhere on your website: a sidebar, footer, home page, or blog. It shows a button that website visitors can click to donate via PayPal. The user is removed from your site for a short period. Once on the PayPal page, the user can contribute to a PayPal account or credit card.
Before we show you how to add a PayPal donation button to your website, let's first understand what it is and does.
What is a PayPal Donation Button?
The PayPal donation button is an effortless way to collect donations from loyal viewers. Instead of installing heavy equipment and mounting, you can use PayPal.
Since more people use PayPal today, the donation service on your website will be more accessible to your users. The best part about the PayPal button is that you can place it almost anywhere on your website, whether it's the footer, sidebar, or homepage.
After clicking the PayPal donate button, the user will be redirected to a payment page where they can donate via their PayPal account or any major credit card.
The PayPal Donate button will also add a layer of security to the entire donation process. With PayPal, you can easily create and customize a donation button on your home page, allowing you to start receiving donations immediately.
With the donation button, your website can:
Handle all major credit and debit cards.
Select specific donation amounts to offer.
Allow donors to schedule donations directly from your homepage.
Give donors the ability to pay their dues.
Donation Fees & Charges
PayPal recently made changes to transaction fees for business accounts. PayPal's renewal fee is 2.89% + $0.49 per transaction. As for registered donations, PayPal offers a reduced commission of 1.99% + $0.49.
Please note that the above-fixed part of the transaction price depends on the amount received. In addition, there is another percentage base fee of 1.50% for international donations.
Non-profits must prove their charitable status to receive PayPal fees. Learn more about registering for a PayPal account and verifying your charity status here.
Donorbox has partnered with PayPal to help non-profits eliminate fees (as well as Donorbox platform fees) from donations. With Donorbox, you can let donors choose to pay fees. Donors are happy to help their favorite non-profits by choosing to pay these bills. Research shows that 53.4% of donations are enabled by donors when organizations allow this option on their default donation forms.
Donorbox also offers one of the lowest fees on the market, giving non-profits a wide range of customization options not available with PayPal. Through this partnership, you can accept donations through PayPal and Venmo and use all the other features of Donorbox for your non-profit organization.
How to Create a PayPal Donate Button on WordPress
This method is recommended if you want a free PayPal donation WordPress plugin. It's more accessible but limited in terms of what you can do.
First, you need to install and activate a plugin which is designed to collect PayPal donations. This is a step-by-step guide to installing the PayPal donation plugin. After activation, go to the settings » PayPal page to create a donation button.
There, you must enter your PayPal account. This is where you use to log in to PayPal. The donation will be denominated in US dollars. To change this, select your preferred currency from the drop-down menu. Add the plugin for your PayPal history and the PayPal Donations plugin.
You can create a thank you page on your website and add it as a return page in Settings. You can add the amount, purpose, and details of your PayPal donations.
You can then select the PayPal payment method or enter a URL for a custom payment image. You can also change the country and language of the donation; the default is US and US English.
After that, don't forget to click the "Save Changes" button to save your settings. Choose the donation button style you want to use on your site. The plugin makes it easy to display the PayPal donation button anywhere on your WordPress site using a shortcode.
Just edit the post or page you want to display the donate button and then add the shortcode block to the content editor. Add a shortcode block to your website to enter the PayPal Donations shortcode in the settings; you must add the [paypal-donation] shortcode. You can now save your changes and preview your post or page.
This plugin also allows you to add a PayPal donation button to your sidebar or widget footer. Go to the View » Widget page and drag the PayPal Donations widget to the sidebar or footer. The widget is standard, so you must provide a title and text. Don't forget to click the "Save" button to create the device.
Benefits of Using PayPal for Donations
At the heart of why your non-profit organization should accept donations through PayPal on the Classy donation platform is to increase your conversion rate. Below are some examples that PayPal offers options to make transactions easier.
A flexible payment option

As one of the most trusted digital wallets – with over 400 million customer accounts – the PayPal plugin can help you increase your online fundraising. A modern payment option like PayPal meets your donors where they are, allowing them to donate how and when they want. PayPal can help increase online donations. A modern payment option like PayPal meets your donors where they are, allowing them to donate how and when they want.

Increase donor trust

PayPal has been a trusted brand for over 20 years, and Morning Consult recently named it the second most trusted brand in the world. Donors are familiar with the company and what PayPal offers regarding fraud prevention, 24/7 monitoring, and reporting. By providing PayPal as a payment method, you can reach donors with a payment method they trust.

Reduce barriers to donations

A donor might want to donate to your campaign, but at the same time, they need help getting their credit or debit card to enter all their payment information on the donation form. They may want to avoid looking up their bank account number and transaction information to set up an ACH payment.

PayPal is a global product

If you are hoping to reach a wider audience, PayPal is your payment method. PayPal is an international platform that allows you to collect donations from donors worldwide. PayPal has access to over 200 global markets, so your donors can customize their money.
Bottom Line
Adding a PayPal donation button to your website can serve various purposes. This can help generate income or help you fund a good cause. It is a safe and secure way to receive money online.