How to Choose a WordPress Multilingual Plugin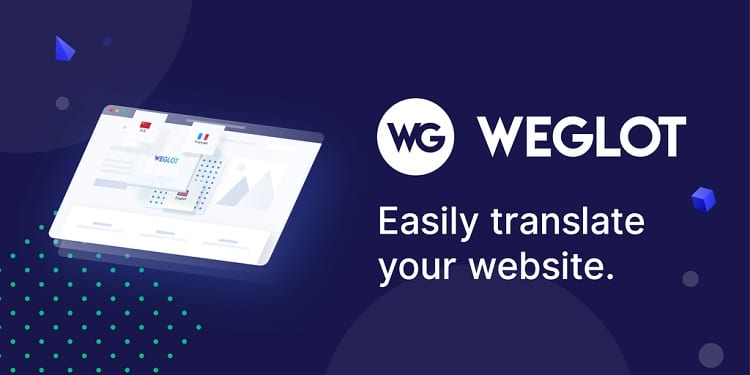 It's a solid decision to commit to a multilingual website. There are a lot of benefits for those willing to make the effort. Though, part of that process is to choose a WordPress multilingual plugin, because the wrong one means more work and effort on your part.
The good news is Weglot is the only plugin you'll need to translate your site. It's quick to set up, easy to use, and translates 100% of your site's content.
In this post, we'll look at the elements of a good WordPress multilingual plugin. We'll also discuss how Weglot can help you. Before this, let's talk about why running a multilingual website is a good idea.
Why You Should Want to Run a Multilingual Website
The world is more connected than ever before. This means your local customers aren't the only ones you should think about.
Customers across the other side of the world are as valuable as any other. Given this, you'll want to cater to them as much as those a few miles from your business.
When it comes to why you'd want to run a multilingual website, there are a few benefits to consider:
There's an increase in the number of customers you could reach. For every language you cater to, this is an extra share of the market you could capture.
You're able to set yourself apart from competitors. Offering a website in the native language of the new markets your targeting gives you the edge over personalization.
You can diversify your revenue and switch attention based on how markets perform. In other words, you can make your income more consistent, and 'go where the money is'.
There are lots more reasons, but these could keep you busy for a while. Note that you'll still want to target customer niches in new non-native markets. Looking to capture every single user in the world is a fool's errand. It's also one that could see spend more money and time than is necessary.
Why a WordPress Multilingual Plugin Is the Best Solution For Translating Your Site
When it comes to WordPress, there are many ways to translate your site. Here are a couple:
You could translate your site by hand. This would need either a professional translator to work with you or your own work. Of course, if you choose to take the task on, you'll need to speak a second language or spend a lot of your budget on a professional translator
Your original language could get translated through an online free translation tool. Though, this would be incredibly time-consuming and messy in terms of copying and pasting all your website content.
Both of these solutions have major drawbacks. The most prominent is on your time, although your bank balance could take a hit too.
And, don't forget, how would you then display the translated content? Weglot has a handy website translation cost calculator that helps you understand the full process and price breakdown.
However, there's a solution that balances time, budget, and quality and not to mention displays your translated content…a WordPress plugin.
What to Look for in a WordPress Multilingual Plugin
To translate your website, a WordPress multilingual plugin makes the most sense. This is down to a couple of reasons:
It integrates with your site and lets you access its functionality through WordPress.
You'll often find the cost is more effective than other solutions.
Though, if you don't select the right plugin, your experience will be poor. Here's what you should look for when choosing a WordPress multilingual plugin:
The number of languages it supports. If a plugin doesn't support your desired language, it's as good as useless.
Whether it offers different types of translation. You should have a wide range of options, such as machine, manual and professional translations.
The ease of use of the plugin. Figure out whether the plugin is quick to install, and if it suits your own workflow.
Whether the plugin supports multilingual Search Engine Optimization (SEO). A plugin that can offer good multilingual SEO means a potential boost to your search engine rankings.
The type of support on offer if you need it. If you get stuck, you'll need to know the plugin developers have your back.
The good news is there is one plugin that shines above the rest. It can also meet every need you have when it comes to site translation. Let's introduce it next.
Enter Weglot: A Full-Featured Multilingual plugin
When it comes to translation services, Weglot can't be beaten. In just 5 minutes you'll have a fully translated WordPress website up and running, displayed under language subdirectories.
The plugin connects Weglot's service to your site, at which point you can access the full range of services. You have access to quality machine translation, what's more, there's also access to professional translators to help perfect your content or, you could of course manually edit the first layer of machine translation yourself.
The plugin automatically detects, translates and displays the content on your site. If machine translation isn't up to your quality, you're able to step in and make amendments where necessary.
On the whole, between machine translations and your own efforts, you can create a multilingual website to be proud of.
How to Add Weglot to Your WordPress Website
The best part of using Weglot is how simple it is to get up and running. Your first task is to install and activate the plugin itself. To do this, head to the Plugins > Add New screen within WordPress, and search for "Weglot":
Once you've found it, install and activate the plugin in the usual way. When WordPress has finished, you'll see a new Weglot admin panel on the left-hand side of the screen:


Clicking through to this page presents a few different fields. The main ones let you set the original language of your site, the 'destination' language, and your 'API key'.
To access your API key, you'll need to sign up for a Weglot account. (There's even a 10-day free trial of Weglot to test the service out).
Once you've entered all the relevant information, you can save your changes. At this point, your multilingual site is live!
If you want to customize your site further, you can head to the Translations tab within your Weglot dashboard.
This lets you adjust your translations further and work on any new content you may have added in the meantime.
In Summary
Once you've decided to make your WordPress website multilingual, that's not the end of the job. You'll also need to find and install a suitable WordPress multilingual plugin. The good news is Weglot has all the functionality you need to translate your site.
In this post, we've looked at a few aspects of choosing a good WordPress multilingual plugin. We've also shown you how to install and begin using the Weglot plugin on your WordPress website.