How to Build a Great Website and Ensure People can see it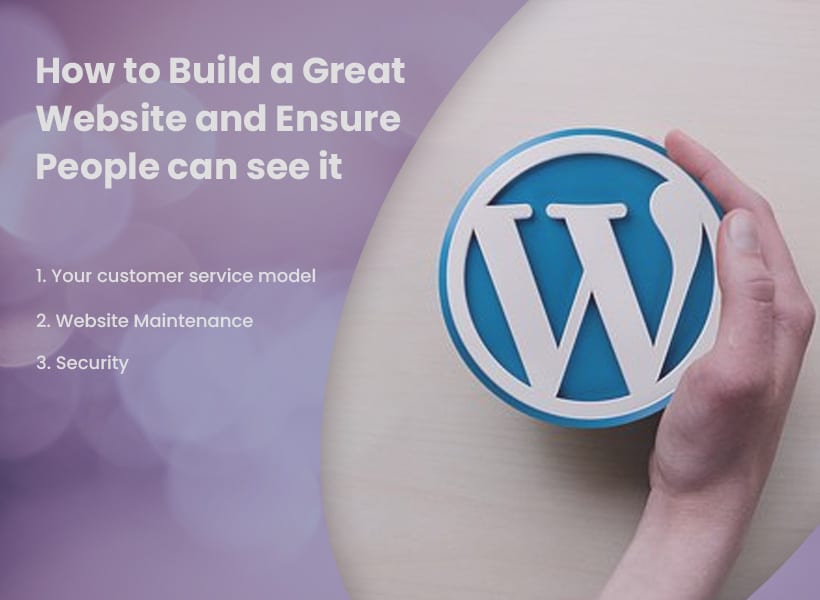 Building a great website is something that every business should be focusing on. There are so many benefits to having an impressive website, and although it can be a lot of added work, it will almost always be worth the time, effort, and money it took to create it. Whether that is with the amount of money it can earn you, increased appeal to customers through an ease of use, or attracting new customers from around the world – you will find that the better your website, the better the results.
What is the importance of a good website?
There are a lot of things that a good website can bring to your business. It can bring you more loyal customers, a larger online presence, and a far better platform to market from. It can put you into the world of international trade, which can help your business with expansion.
These are all the things any website can do for you, but a great website can do so much more. It can be a space where you create larger customer communities, improve loyalty rates and run more successful marketing campaigns. This is much easier said than done, and there are some basics you need to get a handle on if you want to succeed.
Your customer service model

You are going to need to invest in an excellent customer service model. This means that you are going to need to know what kind of business you own, and what your customers expect from you. Learning about relational and transactional customer service models can be important to building an effective business. It can be key to ensuring that your business has a website congruent with the type of products you sell. If this is not the case, your customers will think that your business is not as legitimate as it may seem, which can scare people off.

Website Maintenance

Website maintenance is essential for keeping your website secure. This can help give your customers the best experiences possible with your website, and help you to bring a touch of quality to everything they see while they are there. Making sure that it is frequently updated can lead to a host of benefits, such as having it working faster, working on a landscape and portrait device, and being up to date with what is happening within your business. This is likely to be a major contributing factor to your customer retention numbers and how those brought in by your social media or marketing interact with your business.

Security

The more secure your website is, the more confidence your customers will have in your business. This is essential to making sure that your customers are not second-guessing your company. If someone manages to hack into your website, they could steal data and sensitive information that can permanently damage your reputation, not only as a business but as a business owner. It is well worth putting in the extra money and the extra care to ensure that your website is secure, as the damage that might occur could be irreparable.
What is the importance of a large digital presence?
A large digital presence ensures that the incredible website you have built for your company does not go to waste. It can bring in new customers, build better relationships with them, and keep the more loyal ones coming back for more. This will directly influence the longevity of your business, and your ability to make the most out of each customer. Put simply, the more you increase and improve your digital presence, the more success you are likely to have.
Social Media influencer marketing

Social media influencer marketing can effectively market your business to your target audience through an already trusted source. Getting the right social media influencer or blogger, can be problematic, however, so you may need to look into getting some extra help. This can be anything from looking into guides or even looking into highly regarded and reliable blogger outreach service reviews, which can help your business to be seen from all sorts of places on the internet and bring more people into your business.

Data Analytics

You also need to ensure that you are making the most out of every scrap of data coming into your business. One of the best ways to do this is through using BI software or something similar. You are going to need it to build better marketing techniques and bring more ideas into your business. Data analytics can help you make more intelligent purchases and make the most of what you already have.

SEO

SEO can be the most effective way to make the most of a great website in the longer term. Yes, it can take a little bit of time to see any results, but if done correctly, it is a highly effective tool that can be used to passively elevate your website through the search engine results for relevant keywords and searches. As with the blogger outreach service, this is best left to the professionals rather than trying it yourself, so look for a reputable agency that can provide those valuable backlinks.
To wrap everything up
You will find that your business will need a great website to succeed, but once built, you also need it to be seen. There is no point in putting time, effort, and money into a website and then just letting it sit, so you need to use methods to bring more people into it and enjoy it.
Some of this you can, of course, do yourself, but in key areas, you will need to employ experts to give your best results possible. Whether this is maintaining your new website, bringing in new audiences to view it, or planting yourself near the top of the search rankings, you will find that getting this right is all but essential to your success.