How To Add The Facebook Pixel To WordPress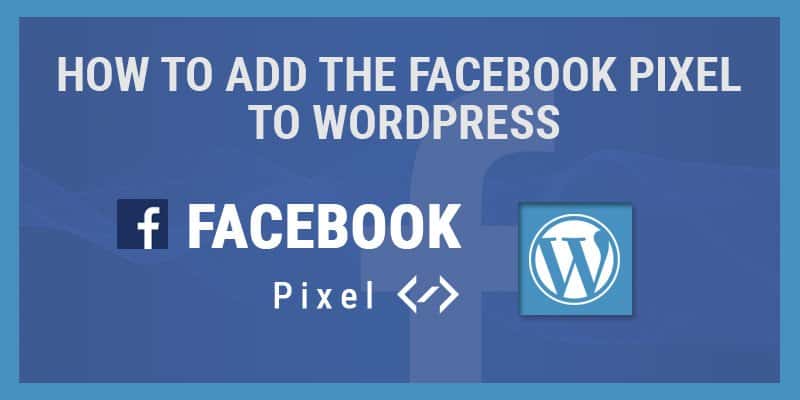 If you plan to advertise your WordPress blog on Facebook, there's something very important that you will need to do: add the Facebook Pixel to your WordPress blog.
You see, blogging means that you need to do more than just write and publish blog posts. It's also imperative that you reach out to the correct audience and generate conversions back to your blog. A Facebook Pixel will help you to do exactly that.
In this article, we will discuss exactly what the Facebook Pixel is and its benefits, how it works, and then two separate methods that you can use to add it to WordPress:
What Is The Facebook Pixel and What Are Its Benefits?
In a nutshell, the Facebook Pixel is a JavaScript code that allows you to measure how effective your Facebook advertising campaign is and reach out to Facebook users who are the most likely to be interested in your blog.
On the Facebook Pixel dashboard, you will be able to keep track the performance of your Facebook ads as well as all of the traffic that your blog is receiving.
Furthermore, you'll be able to monitor conversion rates carefully monitor what action a user takes after clicking your Facebook ad.
If someone expresses interest in your blog (or in your services or products), the Facebook Pixel will allow you to then serve ads to those specific people, which greatly increases your odds of making a conversion.
One final benefit to the Facebook Pixel is the fact that it can help you find new potential blog visitors on Facebook as well.
It does this by searching people who have similar likes and posts to the content of your blog, and then it distributes ads to those people.
To sum things up, the Facebook Pixel essentially works as an analytics service for your Facebook Ad campaign by presenting you with the data on people visiting your website while enabling you to expand your outreach to other users who are the most likely to like your blog's content.
How Does It Work?
The Facebook Pixel is very similar to Google Analytics, being a unique invisible image file embedded into your website and then using Facebook's JavaScript code to track conversion rates and reach out to more users.
If someone ever visits your blog after clicking the ad, Facebook will use an HTTP cookie to force the browser to download the invisible image from a Facebook server to the device of the user.
This way, Facebook is able to track how many times the invisible image has been downloaded and how downloaded it, as well as what browser, IP address, and operating system were used to download it.
Then, when the same user logs into their Facebook account with the same browser, Facebook is able to track the downloaded image back to that user's Facebook ID.
This results in conversion optimization, and it enables you to serve targeted ads to greatly expand your reach.
Adding A Facebook Pixel To WordPress: Method #1
You're probably wondering at this point, how can you add the Facebook Pixel to WordPress?
Well, there are two primary methods.
The first method, if you are using a WordPress site lower than version 4.4, is to set it up manually.
You'll just need to follow these individual steps:
The first thing you will need to do is generate your Facebook pixel base code
Go to Facebook, log in, and go to 'Ads Manager'
Select the hamburger menu, in the top left corner
Select 'Pixels Tab Under Events Manager'
Select 'Create A Pixel'
Type in your pixel name
Select 'Create'
A notification saying 'Install Your Pixel Code' will now come up
Now go to WordPress, and when you are prompted to select an option when installing the Facebook pixel code, select 'Manually Install The Code Yourself.'
Do not select the 'Integration' or 'Tag Manager' options
Next, you will be shown where you need to insert the code onto your website; copy it onto your clipboard
Choose which specific events you would like to track
Go to the WordPress dashboard
Select 'Appearance'
Select 'Editor'
Look for the tag, which is the theme's header .php file.
Copy and paste your Facebook pixel code
Update the file
The process is now complete
Adding A Facebook Pixel To WordPress: Method #2
For the second method, if you have a WordPress version higher than version 4.4, you can set it up using the Facebook Pixel Plug-In.
To do this, you will need to follow these steps:
Repeat the first eight steps in the first method
After you install your Facebook Pixel code by following the first eight steps of the previous method, you will be given three options
Choose the 'Use An Integration or Tag Manager' option
When asked to choose a partner, select 'WordPress'
Click 'Download' to officially download the Facebook Pixel Plug-In
With the Plug-In downloaded, you now need to upload and activate it to your WordPress dashboard
Sign into WordPress
Go to the Administration Panel
Go to the 'Plugins' Tab
Select 'Add New'
Select 'Choose File'
Upload the Facebook Pixel Plug-In you downloaded previously
Select 'Install Now'
Select 'Activate Plugin' after the installation is complete
Wait for at least 30 minutes
Go to 'Ads Manager'
Select the Pixel tab in the top menu
If the status reads that it is active, then the Facebook Pixel has been properly installed
The process is now complete
Conclusion
You now know what the Facebook Pixel is, the benefits of using it for your WordPress blog, and two separate methods for how you can add the Facebook Pixel to WordPress.
The Facebook Pixel is an absolutely essential tool for expanding your WordPress blog's outreach to users on Facebook who stand the greatest chance of being interested in your blog's content while simultaneously keeping track of the activity of users who do visit.
This is not something you will want to ignore as a WordPress blogger, as the payoff of better targeting your advertising campaigns can really help you draw in more visitors.