How to Add Discount in WooCommerce Programmatically?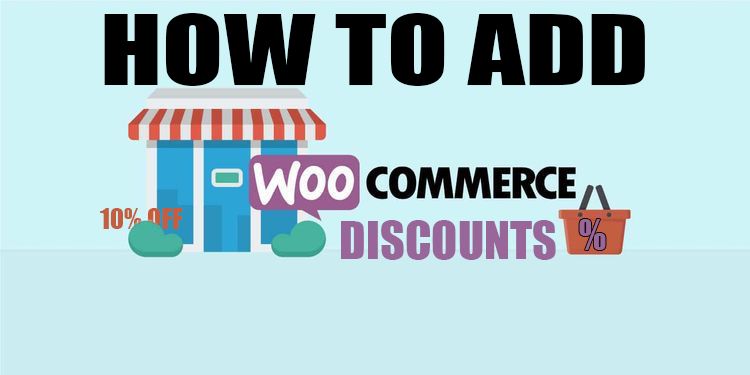 Everyone wants their business to perform the best in sales. However, to make that happen several techniques are required to be done. The one strategy that boosts sales more than any other is offering discounts on your products. Many people have a hard time implementing this technique. That is why we will tell you how to add discounts to your WooCommerce store programmatically.
There are several different types of discounts that you can add to your store. The most common types of discounts include the 'reduction in price', and 'buy one get one free' discounts. The important thigh is to carefully calculate these discounts and the impact they will have on your business. Similarly, you will have to make these discounts noted by the visitors to your store.
The best way to add these discounts and make them noticeable is by using a WordPress plugin. We recommend using "Discount Rules for WooCommerce" by FlyCart. This plugin is extremely easy to use and it has all the things you need to create an effective discount campaign on your online store.
Coupons are one other key aspect of adding a discount to your online store. The Discount Rules for WooCommerce can be used to create appealing coupons for your products. They have all the guidelines and tools for you to create an attractive coupon.
If your website is focused on only a few products, then you can create sitewide discount campaigns on your website. These are flat discounts with the same reduction in price on all of your websites. You can do this on festive occasions like Christmas.
Tune to the end of this article to know more about WooCommerce discounts and how can you add some to your store.
What Is A WooCommerce Discount?
Before learning how to add a WooCommerce discount to your store, you should know what a WooCommerce discount is.
A WooCommerce discount is a strategic way of selling your products at cheaper prices to visitors. This increases your customers by a huge margin and the conversion rate can skyrocket.
A discount can be in the form of a coupon or it can be availed using a special link. All this is determined with a WordPress plugin, 'Discount Rules for WooCommerce' in this case.
Here is an example of a discount. If somebody is selling decoration products, they can say that their products are 10% off on Christmas. This is guaranteed to be increasing sales as the customers will feel like they are saving money and getting stuff at cheaper prices.
Steps For Adding A Discount On Your Store
There are several different steps for you to add a discount to your store. The number one and most essential step is to install a discount plugin like Discount Rules for WooCommerce on your website.
The full list of steps is given below and more details for each step can be found below.
Install the Discount Rules for the WooCommerce plugin
Set up the plugin on your WordPress website
Determine the type of your discount by looking at your options
Once you know your discount type, you can use the Discount Rules for WooCommerce plugin to create
More details are provided below.
Installing Discount Rules for WooCommerce
This is the most important step to adding a discount to your store. First of all, you will need to purchase this plugin from FlyCart's official website. It's a paid plugin and its price starts from $69/per year to $169/per year but you can redeem some FlyCart Coupon Codes from grabhosts.net and get an exclusive discount. Once you have bought this plugin for your WordPress website, do as follows.
Go to your WordPress dashboard and look for the 'Plugins' section.
You will see the Discount Rules for WooCommerce plugin there.
Click on the Install button and then activate once it is installed.
You can also try out the free version of this plugin. But that has limited use for your website and it will only last a short duration.
Setting Up the Discount Rules for WooCommerce Plugin
Adding a plugin to your WordPress website is an easy job. But setting up that plugin is even easier. You only have to look for the tabs that let you use this plugin.
The function setup on the left side of your WordPress dashboard will have a tab called 'Woo Discount Rules'. You have to click on that and all the useful options will be in front of you.
Choosing The Right Discount Type
Before you go any further in the discount-adding process. You will need to understand the types of discounts and which one is more effective in which case. Choosing the right type of discount is important as it will ensure to bring conversions.
The most common discounts are offered through coupons or special links. Now you may ask what is a coupon? It is a special code/voucher that people can use at checkout to get discounts. Usually, it is a code that you have to paste in a special box at the checkout page online.
Another type of discount is when someone buys one product, they get one for free. This is even more effective. Similarly, you can choose to use this method for alternate products as well.
How can you know what coupon to use? It depends on your audience. If you want to offer a short-term discount for your social media users that is valid for a day or two, you can create a special link. That link will give those people a discount on your products.
If you are thinking long-term, then you can create a coupon code. This can be advertised on your website, social media, and other blogs. There can be more than one coupon code for different products or one coupon for all the products. It depends on your choice.
Another key aspect of adding a discount is knowing how much the discount should be. For this, you should look at your business' competitors and see how much they are offering. You should also take the financial impact into consideration before putting a discount on your products.
How Do You Add A Discount In 'Woo For Discounts'?
This is the final step of putting out discounts on your store. You must have installed the "Discount Rules for WooCommerce" plugin for this step. There are different types of methods when it comes to adding different discounts. However, a common step-by-step guide is provided below for you to add the discounts.
Step 1: First of all you have to go to your store's WordPress dashboard.
Step 2: Once you are there, you should look at the left side of your screen. Find the tab named Woo Discount Rules there and click on it.
Step 3: There, select a specific type of discount. The simple discount is the most common one.
Step 4: Customize the discount rules as you like them. And add the categories of products that you want to add discounts on.
Step 5: Once all the customization is done, you can go ahead and submit the discount.
Why Add A Discount?
You know that adding a discount will increase sales. But there are some other perks of it as well. And we are here to tell you all. The different types of discounts on your website can tempt existing as well as new customers to buy these products.
A cart discount can also make people checkout and actually buy the product instead of just adding to the cart and leaving it.
Similarly, a lot of coupon websites will write about your website and the coupons you are offering. As a result, your business will get additional reach and popularity.
The key is to drive sales into a huge increase, and it lies behind adding new discounts.
Final Words
In this article, we talked about WooCommerce discounts and how you can add some to your online store. The significance of these discounts is often undermined, but they have a true potential to increase conversion rates. Many businesses use this strategy to finish off underselling stock.
These discounts can be added by using a discount plugin for WordPress. The most popular plugin is called Discount Rules for WooCommerce which is distributed by FlyCart. You can buy it from their official website anytime and start adding discounts to your store.
Long story short, WooCommerce discounts are a great way to increase sales and the popularity of your website. You can find a detailed guide about how these discounts can be added to your online store.