How to Add an RSS Feed to a WordPress Blog


When it comes to website development or even maintenance, many beginners will overlook the importance of having an RSS feed. In this guide, we break down the importance and benefits of RSS feeds, and show you how to set it up!
What is RSS?
RSS stands for Really Simple Syndication or Rich Site Summary; sometimes simply referred to as an RSS feed. It is a type of web feed that enables users to receive regular and consistent updates from a website they have subscribed to.
RSS feeds used to solve the problem of users needing to manually visit websites each time by allowing users to keep track of them with ease. For creators, RSS allows them to automatically send out their content so that users can view it in their email and devices.
How does RSS work?
RSS feeds typically work by publishing the latest content you provide in an XML document. This will contain your full articles and metadata for each item (date, category, etc). This document can then be read with an RSS feed reader, with many different types of software available for all mobile devices, operating systems and desktops.
Through feed readers, viewers will see brief information about the full content they've subscribed to. These are typically posted in chronological order so that the first piece of content is what was published most recently. The RSS feed will show a title, description and links back to the content on the website.
This is all taken care of with an aggregator that's responsible for the convenience of RSS feeds. The aggregator will check websites automatically for new content every now and then. It will proceed to capture new content onto feeds so that views don't have to continuously check websites for new updates. The aggregator will keep track of what viewers have read and what they haven't by listing the total number of pieces that haven't been seen on each website.
How can you benefit from RSS feeds?
Using RSS feeds for your WordPress gives you many benefits as a website owner and content creator. You're able to syndicate your website content, share your headlines and content with ease, have personalized views for different pages, update your files and content automatically and distribute your new content to other websites.
For viewers, RSS makes it extremely easy for them to subscribe to your daily content. By using an RSS feed, they can receive updates directly from your website to their apps and readers, across multiple devices that they may own. With an RSS feed, it takes away the need to remember your exact website URL as they will be receiving your content in one central place at one time. It also makes your content portable and users can access it even when offline!
What Can You Do With an RSS feed?
RSS feeds are extremely powerful and can take websites to new levels of success. But outside of web development, RSS feeds have proven to be beneficial for many other profiles and services online.
You can make use of these feeds to increase website traffic through your social media profiles. But of course, this requires you to post content on the regular in order to make a significant impact on your website traffic. Tools like Hootsuite and IFTTT allow you to publish your blog pieces automatically on social media using RSS feeds.
How to Set Up RSS Feeds on WordPress
Detect Your RSS Feed

By default, your WordPress site will have one or more RSS feeds put in place. Your first step would be to identify those URLs, and you can do so using Google's FeedBurner tool.


Simply enter your domain and you'll be able to see every feed that's associated with your website.

Redirect Your Feed Within WordPress

Once you've added a minimum of one RSS URL, you need to make sure WordPress redirects your feed to FeedBurger, which can be done using dedicated plugins (RSS Redirect is a good tool).

Once you've installed the plugin, head to the RSS redirect panel on WordPress and active your redirect. This will now redirect your feed within seconds!

Display Your Feed

Once you've finished setting it up, you'll want to add an icon that's clickable on the front end of your webpage so that visitors will actually be able to gain access to your RSS feed. You'll be able to find this in the Widgets section when editing the appearance of your WordPress website. From there, drag the icon to your widget area and save your settings!
How to Use RSS Feeds with WordPress
One of the first steps you should take is to add an RSS Subscribe button on your web page. This will act as the distribution gateway for all your content without needing you to do any manual work on your end.
To add a link and icon to your RSS feed, you have a few options that enable you to do so. First, download an RSS image from Google, place your image film in a widget and then link the image in your sidebar. This prevents the need to install any additional plugin even if it's not the ideal way to include an RSS button.
Identify whether your WP theme includes a custom widget for any social media icons. If your theme allows you to do so, insert it into a widget area – this could be in the sidebar, footer or at the top).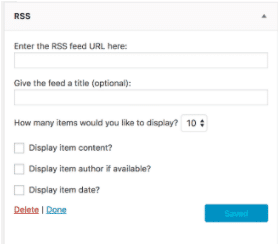 How to Track RSS Feed Statistics
Now that you've set up your RSS Feed URLs, you can now submit your link to syndication websites, let readers subscribe through their own RSS readers or add an email subscribe plugin.
This part is useful if you're looking to track your subscriber data so that you know if you're on the right track with your website and whether people are interested or not. There are plenty of tools out there that can help you track these statistics efficiently.
Google's FeedBurger is still useful for creating RSS links, but when it comes to tracking your subscriber statistics, you might find better tools as FeedBurner hasn't been updated since 2012.
Feedblitz is an email marketing and RSS management service. With the tool, you're able to deliver content through their software while also tracking your statistics. Plans with Feedblitz are affordable – it's only $1.49 per month if all you want to do is manage your RSS feeds. If you want to add on email marketing services, the price does increase.
RapidFeeds is also a great tool that allows you to manage your blog, RSS feeds, podcast feeds and allows you to view tracking metrics with a pro account at only $6.95 per month.