How Mobile App & Website Development is Disrupting the Digital Marketing & Online Publishing Industry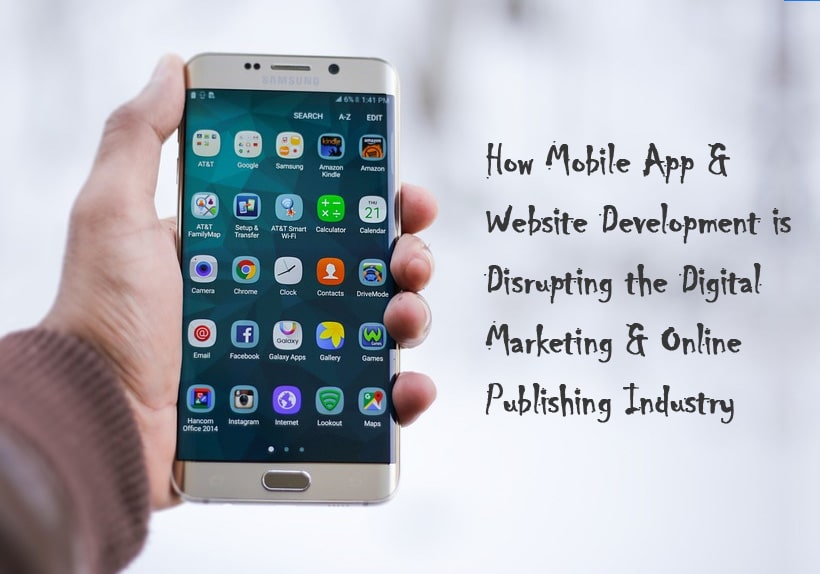 Mobile apps and websites are becoming more popular than traditional digital marketing platforms. The reason for this is that they are cheaper and easier to develop, as well as being able to reach a wider audience.
Apps are also much more engaging than websites, which makes them a better choice for advertising purposes. This has led to an increase in the number of app developers, which has in turn led to a decrease in demand for web developers. This article discusses how mobile app and website development is disrupting the digital marketing and online publishing industry. Mobile app development is the process of designing, developing, and maintaining mobile apps. It is a core component of digital marketing and online publishing. Mobile apps are used in various industries such as healthcare, education, retail, gaming, travel, and more.
As mobile app development evolves at a rapid pace with new technologies emerging every day such as Artificial Intelligence (AI), Augmented Reality (AR), Virtual Reality (VR) and more; the industry is constantly changing its landscape. In this article we will explore how these new technologies are disrupting the digital marketing & online publishing industry.
What is the Development of Mobile Applications and Websites?
Mobile app development is a highly competitive industry where the demand for apps is increasing at a rapid pace. The development of mobile apps and websites has been evolving rapidly. With the advent of new technologies, companies have been able to develop better, more powerful apps and websites with fewer resources. This has led to an increase in the demand for these types of apps and websites.
The global mobile app market was worth $100 billion in 2017 and it is expected to reach $1 trillion by 2022. Mobile applications and websites have become the most used medium for companies to reach out to their customers. Mobile apps are a great way to reach out to your audience in a convenient and easy way. They give you the opportunity to engage your audience with timely content, provide them with value-added services, and increase customer loyalty.
Why should you Start Developing Mobile Apps or Websites?
Mobile apps and websites are the fastest way to reach a large number of people. They provide a platform for your business to reach out to a larger audience. The app market is booming with more than 2.5 million apps in the Google Play Store and 1.2 billion apps in the Apple App Store, according to data from Statista. In addition, mobile websites have seen an increase in popularity with about 1 trillion mobile visits per month, according to SimilarWeb.
Mobile apps are becoming the new norm for businesses because they can be easily accessed on any device and provide a one-stop destination for all of your marketing needs such as advertising, customer support and ecommerce functions.
Mobile apps and websites are some of the most popular ways to engage with consumers. These apps provide a way for consumers to stay up-to-date on your brand, learn about new products, and interact with your company. Mobile apps are more interactive than ever before. They allow consumers to have a more personal connection with brands and companies that they care about. Websites can still be used as a way for companies to reach out to their customers in this digital age. As mobile technology continues to grow, businesses should start investing in mobile apps or websites now while they have the chance.
How to Choose Which App Developer or Website Developer Fits Your Project Needs?
There are a lot of app developers and website developers out there. It can be hard to determine which one is best for your project. There are several factors that you should consider when making this decision:
What type of technology does the company use?
How long has the company been in business?
How satisfied are their previous customers?
What types of projects have they completed?
What is their pricing like?
When it comes to choosing which app developer or website developer fits your project needs, you have a lot to consider. The first step is finding out what you need for your project, particularly, define the best mobile app tech stack. It can be anything from a website with an online store front to a mobile app that helps you find the best restaurants nearby.
Once you know what your needs are, the next step is deciding on what type of developers you want to work with. There are many different types of developers and each one has their own set of skills and experience levels. After figuring out what type of developer you want, it's time to choose which company will fit best for your project.