How Gutenberg Editor Has Revolutionized the WordPress Content Creation Process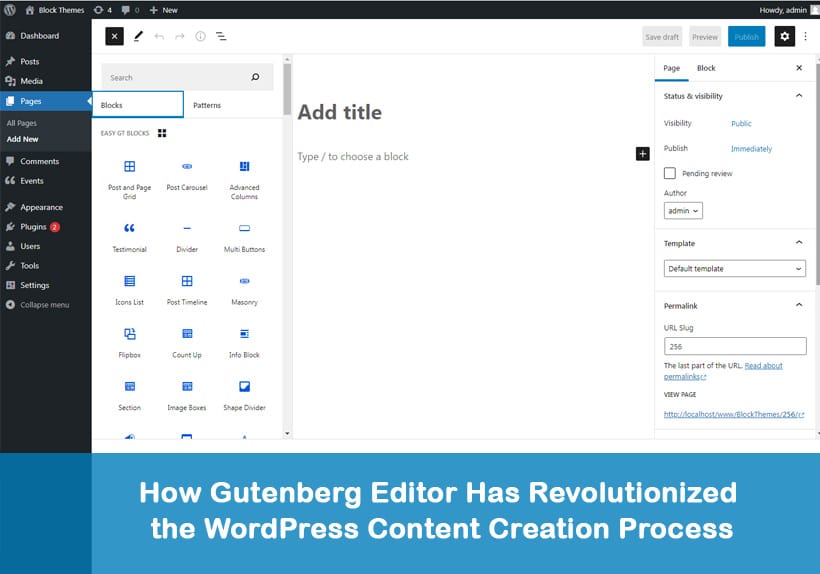 WordPress provides an easy-to-use visual editor for creating content and a wide range of formatting tools. Content creation in WordPress is a simple process but demands efficiency when multiple authors work to create content.
A typical process involves –
Creating a post or a page.
Sending it for review to an editor.
Working on the edits.
Posting it.
For those needing a more robust content review process, a WordPress editorial review plugin can help manage the content creation process easily and efficiently. Such plugins enable users to send content for review, collaborate on edits, and publish posts in a much more organized manner.
But, the content creation process may prove inefficient and tiresome if multiple authors work on the same piece.
This is where you can use the power of Gutenberg Editor for WordPress which has revolutionized the way to create, edit, and publish content.
It is a block-based editor that allows users to create content more visually, with the ability to add blocks of text, images, videos, and other elements. Leverage the Gutenberg editor to customize websites without coding, which includes easily creating content without needing technical knowledge. This makes it easy for non-coders to create great-looking websites.
Let's see what else the Gutenberg editor does.
How can Gutenberg editor create a difference?
Gutenberg editor eliminates the need for HTML coding thanks to its block-based design. Anyone with little (or no) coding knowledge can create content by simply dragging and dropping blocks onto the page.
Moreover, the content editor is designed to make collaboration easier and more efficient, allowing everyone with project rights to see what changes have been made and adjust accordingly quickly.
It offers various customization options like adding custom classes, layout customization, etc. The editor also provides many features, including multiple columns, text styles, cover images, etc.
Let's start with the basics of Installing the Gutenberg editor—
Download the Gutenberg Editor plugin from the WordPress Plugins Directory.
Activate the plugin in the WordPress dashboard by clicking "Plugins" and then "Activate" for the Gutenberg Editor plugin.
Once the plugin is activated, you can access the Gutenberg Editor from the WordPress dashboard by clicking on "Posts" and "Gutenberg Editor".
The drag-and-drop blocks system help create posts, pages, and other content from the Gutenberg Editor.
How can Gutenberg Editor add value?
Following are some of the ways through which Gutenberg Editor can drive collaboration and make way to revolutionize WordPress content creation.
Real-time collaboration: The WordPress Gutenberg Editor helps users collaborate in real-time, enabling multiple people to work on the same project simultaneously.
Streamlines communication: This feature also allows for better communication between team members, as they can discuss changes and make adjustments without waiting for someone else to finish their work.
Task tracking: Users can track changes made by other users. For instance, if someone makes a mistake or changes something that wasn't intended, it's easy for other users to see what was changed and make corrections accordingly. This helps ensure quick correction of mistakes before they become an issue.
Flexible layout options: Enhance the look and feel of your WordPress using the Gutenberg editor's layout options. It has various layout features that blend with block structure to offer a flexible framework for page designs. Get layout customization for a spacer, columns, button, media & text, page break, and separator, among others.
Improved SEO: You can implement many SEO tips to improve your rankings, one of which can be Gutenberg Editor. It helps add SEO-friendly titles and meta descriptions to posts. Also, its 10.1 version offers minimized and optimized style code that loads only those sections of the page which are viewed. The result — Core web vital metrics improved while drastically enhancing the site speed.
Mobile-friendly: The Gutenberg Editor is designed to be mobile-friendly so that users can create and edit the content on the go.
Customization options: The Gutenberg Editor allows users to customize their content with plugins, themes, and other tools. It simplifies creating a unique look and feel for any website or blog without coding.
Key Features of Gutenberg editor
Here are some of the highly valuable features of the Gutenberg editor. The below list is not exhaustive but showcases some of Gutenberg's highly impressive capabilities that have revolutionized content creation in WordPress.
Blocks: Gutenberg editor uses blocks to create content. Blocks organize content into sections, such as paragraphs, images, videos, and more.
Content Widgets: Gutenberg editor comes with widgets, allowing users to quickly add elements like tables, columns, and buttons to their posts and pages.
Reusable Blocks: Use the reusable blocks to save time when creating content by saving content blocks and reusing them in other posts or pages.
Drag & Drop Interface: Gutenberg editor has a drag & drop interface that makes it easy for users to move blocks around on the page and rearrange them as needed.
Template Library: Gutenberg Editor includes templates that can quickly create pages with a professional look and feel. This helps create stunning pages without designing them from scratch.
Revision History: Gutenberg Editor includes a revision history feature that allows users to view and restore previous versions of their content easily. This makes it easy to undo mistakes or revert to an earlier version of a page.
Wrapping up
Gutenberg Editor is a powerful and user-friendly tool for creating content on WordPress websites. Leverage its intuitive and easy-to-use interface that helps create, collaborate, and edit content.
Simplify content creation using Gutenberg Editor through its wide range of features like blocks, widgets, and templates. It is a significant change from the previous editor, considering Gutenberg offers frontend customization options without much coding.