How does SSL certificate helps in search engine ranking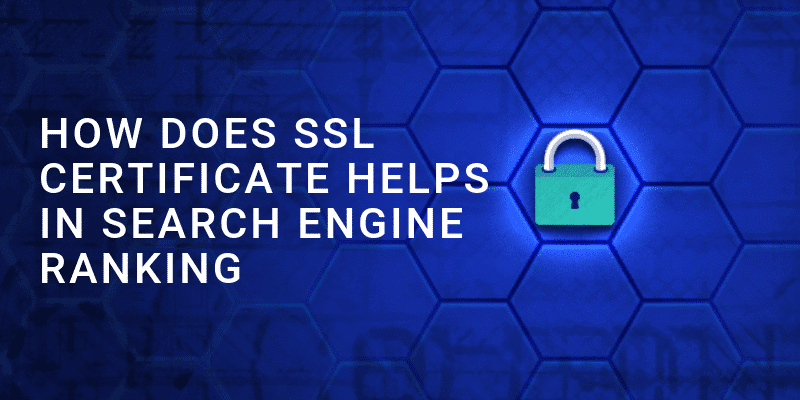 What is SSL?
SSL certificate (secure socket layer) is a Google security technique/legacy protocol to immune the web communications across the globe between clientele and web servers system.
By using various encryption algorithms at different levels, it's easy to configure numerous websites and CMS in different ways.
With encrypted data and information, this security protocol builds up the safe and secure environment for browsers on the internet
By default, the personal details that visitors choose to share with web servers are often vulnerable to cyber attacks. This accidental exposure of information may draw a line of differences between browsers and servers.
In most cases when hackers or unauthorized individuals get an access to any website's passwords and confidential files, then it becomes easy for them to target the company and its customers' privacy.
In order to avoid such worst scenarios, nowadays web managers are installing SSL certificates for an additional layer of protection against web related vulnerabilities like Drown, breach, freak and more.
It is even suggested to users that do online shopping and transactions only with SSL certified sites as it shields both sent and received data from hackers.
Keeping alarming cyber crime rates in mind, Google takes an initiative to blacklist those websites that seem to be harmful for its users. In a study, more than 10000 websites come under the blacklist bucket.
Moreover, since security has a great importance, Google also gives timely warnings to its users when they access to any unsecured sites and also when it finds that there is a high risk to their personal stuff.
Recently Google came up with an updated regarding the SSL. Now the sites which do not have SSL certificate installed will be displayed as 'Unsecure' site. This will hugely impact the websites where online payment facility is involved. So it is important for the webmasters to install the SSL on their website.
How to Identify If You Have SSL Installed or Not?
Now the question arises that "how do we come to know that a particular website has SSL certificate or not". Just keep watch on the URL of sites, as if they are having that extra "s" in URL window like https://sitename instead of http://sitename then they are SSL certified.
Additionally, a green padlock with the label "secure" in the address bar of websites also mark the presence of SSL certified websites.
After assuring that website is SSL certified, you even proceed to check the type of its SSL certificate. Majorly/broadly, there are four SSL certificates in the market, domain validated SSL certificates, organization validated SSL certificates, extended validation SSL certificates, cheap wildcard SSL certificates.
Types of SSL Certificates
Domain validated SSL certificates: As the name suggests, the prime focus is on checking the domain ownership only. It is the most economical certificate and generally used by small enterprises, general websites, and blogs.
Organization validated SSL certificates: While awarding these certificates, CA authorities keep an eye on the online government database of an organization as well as publicly accessible authority resources. Its costing is a little higher than DV SSL certificates.
Extended validation SSL certificates: One of the expensive SSL certificates used by genuine companies to build the high level of trust among its users. While awarding these certificates, CA authorities involve a thorough wetting of an organization. The best way to differentiate EV SSL certificate is by its green browser address bar.
Wildcard SSL certificates: In the list of SSL certificates, this is the most expensive certificate. These certificates are in use by large and international companies having more than 1 subdomains. These are/ serve as a complete package of security including identity and ownership validation.
By filling the simple certificate signing request(CSR) form, web managers can buy any of the above-mentioned SSL certificates for websites according to their budget and needs. In case of any discrepancies, you may contact to your web host. It will guide you with complete procedure.
Apart from protection and privacy, SSL certificates play an important role in search engine ranking, improving brand impression, strengthening the foundation for future and more.
How Does SSL Helps in SERPs
Show positive growth on search engine ranking: No doubt, Google keeps security as one of its top priorities and make sure that websites that are being accessed through it are secure.
Know in advance that as per google guidelines, if two websites have the same points for a rank in search engines then the priority will be given to the websites having SSL certificate over other.
This means that if your websites lack SSL certificates then it may lead to a demotion in your search engine ranking.
Although it's difficult to give an exact estimate that how much does it serve to good ranking but with available information, we can infer that without it, websites have to bear a loss in a competitive niche.
Enhance the user experience: Its crystal clear that Google has taken into account whether websites are secured or not for SER. Google believes that if a website is unable to provide a safe and secure environment for its users then it never becomes a user choice.
As a result, more and more web developers show their interest in SSL certificates for encrypting web communications between their servers and customers.
With SSL certificates, web managers can enhance the user experience for respective websites. Even these certificates help to distinguish the original websites from phishing websites.
As Google indexes only HTTPS sites over duplicate versions and derives more organic traffic to original ones.
Conclusion
The uses of SSL certificates are many and in today's world where hacking, fraud and phishing are on the constant rise, using SSL can only say to be a wise decision.
It's a high time for business financers to invest their time and money both in SSL certificates as new users demand them for their security on internet.
So if you are a web manager and wants to upgrade your website rank in search engine ranking then your homework is to create CSR form and sent to a trusted certificate authority for purchasing the certificate.
After installation of SSL certificate, enjoy the secure connection and boost in search engine ranking.