How does Gantt chart help in Website Development Planning Process?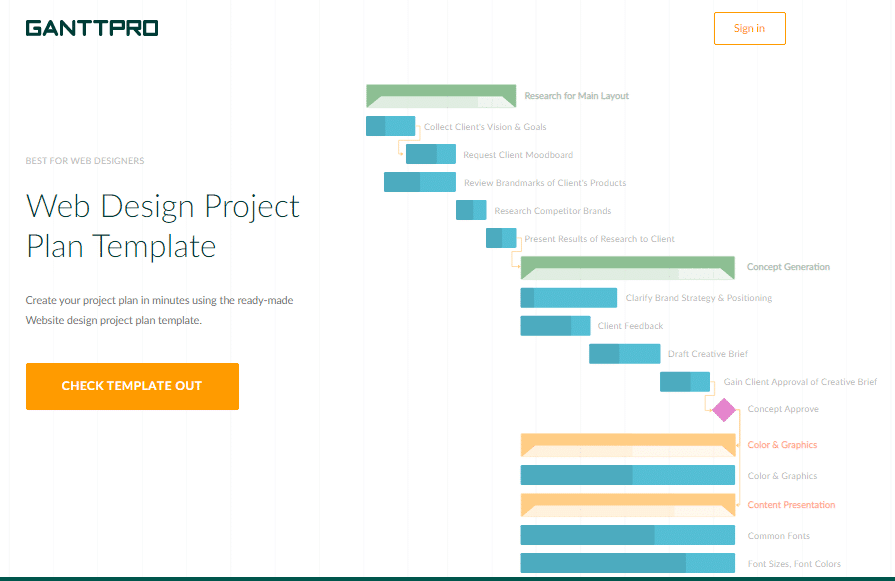 Website development is a growing field that has taken the business world by storm. Every sector wants a piece of the virtual space. However, starting your website is not all rainbows and roses.
You need to invest a lot of time and effort to ensure that your venture yields a profit. This is where Gantt chart comes into the picture.
Research and concept generation
The first step to website development is figuring out your market. A start-up doesn't magically become successful overnight. It takes a lot of painstaking research to gather insights about what your customer wants.
Figure out your niche, your demographics, and then determine what's trending among your audience base. Also, have a look at what your competitors are doing. This will give you an idea about the latest technologies being used.
Planning
Now that you know about your market, the demand trends, and your peers, it's time to get down to business.
Create a plan that incorporates and highlights the bestselling points of your brand. You can then pick an appropriate medium, post your content, and advertise it as you deem fit.
The website planning template involves creating a new sitemap for your web pages. The basic wireframe describes the website's overall skeletal structure and appearance.
Designing and prototyping
Once the blueprint for the website is complete, you need to populate it with relevant content. Thankfully, there are website building tools to help you with that.
Pick any drag and drop website builder, and you will find an extensive collection of themes and layouts to pick from.
These layouts are optimized for mobile screens and fully customizable. You can tweak pretty much everything here, from the design to the headers, the color, the border, and more.
The right website planning template is eye-catching, simple, and intuitive. It should be easy to navigate through and user-friendly for first-time visitors and loyal customers alike.
Writing the content
The higher your SEO, the more chances you have of being visible to your target reader. For, every day we have new trends and content usurping the web traffic.
It is tough to establish a substantial online presence if you don't adhere to the SEO standards of the day. Adding relevant keywords, title tags, Meta descriptions, and more are some practical ways to make your content more authentic.
Coding
Some coders and developers have the technical expertise to access the HTML source codes and CSS style-sheets of a web page.
With basic programming knowledge, anyone can tweak the pages and make them more efficient. The website development project plan for professional plans involves a great deal of coding.
Testing and launching
Now that the website is created, you need to launch it on the server. This is the moment of truth when you finally know how your content would fare with the audience.
A/B testing is one of the major marketing strategies used for monitoring your brand's reach. This involves pitching different ideas to different audience groups and then tracking their reactions accordingly.
It is a more accurate, customized, and effective way of knowing what's working and what's not.
Maintaining
Merely creating a website and setting up an advertising strategy is not enough. You need to check how it is faring online continually. Website maintenance is a massive thing in a website project plan.
This is one of the toughest parts of website development. Create posts based on current trends and customer preferences.
Also, ensure that your content is in accordance with the latest SEO solutions laid down by search engines. Most search engines like Google, gauge the readability of your content based on its credibility and relevance
What is a Gantt Chart?
A Gantt chart is a space where you collect, curate, and comprehend the metrics about your website. It is a tool that tells you where you stand in the competition. It is an accurate representation of your overall performance and reaches.
Also, the platform uses infographics like charts and graphs for the same, which are easier to read.
In the chart, the horizontal axis measures the time spent while the vertical axis is about the milestones you've accomplished.
It gives you the details about a particular project and its current status. This way, you can know precisely how much of the work is done and what's left incomplete.
The Benefits of Online Gantt Charts
The Gantt charts are easier to access than other performance tracking spaces. It gives you all the details that you need in a comprehensive and compact way. Plus, the fact that the infographics are interesting and more relevant only adds on to its popularity.
The interface and infographics used by this platform are not cluttered with unnecessary information. You only get to see what is crucial for your business.
Gantt is also compatible with different devices; you can access the charts on the go, anytime, anywhere. This saves you a lot of time, trouble and money
Exploring the GanttPro Design Template
The latest addition to the platform has been the Gantt Pro Web design project plan template. Here, the developer gets access to the roadmap of the website. You have all the details about the projects in one place.
All you have to do is pick your website planning template and populate it any way you want. With the GanttPro model, you get to create separate prototypes for every project.
You can also research about each aspect of your business and know exactly how the resources are deployed and used.
The Bottom Line
With tools like GanttPRO, anyone can get a good idea about their online venture. It is an interactive, attractive, and exciting way of presenting and analyzing information. You can process large volumes of data quicker, without a lot of efforts.