How AccuRanker Is Becoming Top SEO Tool For Big WordPress Enterprises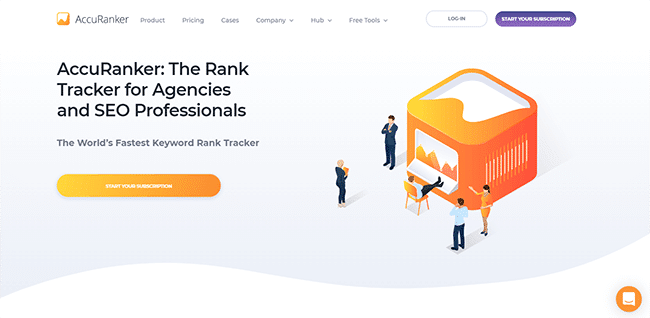 SEO is an unavoidable need for every website. Even if you utilize pay-per-click advertising to drive visitors to your website. You need SEO to ensure a consistent flow of organic search traffic to your website.
If you own a website or have started a blog. In SEO, we have keywords whose search engine results page rankings must be maintained (SERPs). It might be difficult to manually monitor all of these keywords and their current search rankings.
You'll need a dependable tool and serp checker that can monitor your keywords on a regular basis. A tool that may assist you in collecting and analyzing your recent search position data in order to assist you in making educated SEO decisions. This is where AccuRanker enters the picture.
AccuRanker is a cloud-based tool for monitoring a website's keyword rankings. It enables you to access your search keyword placements at any time. You may examine your rivals' keyword rankings to see how you stack up against them. The good news is that AccuRanker offers a 14-day free trial period.
AccuRanker – What Is It?
Whereas Ahrefs is a leader in keyword and backlink analysis, AccuRanker takes the lead in keyword tracking. Indeed, the whole system is based on monitoring your SEO rankings and the phrases that help you rank higher in search engines. While the fee is somewhat lower than that of Ahrefs, it's worth noting that this is not the same sort of SEO tool. Many agencies around the world use AccuRanker to track the performance of their content marketing in the SERPs.
AccuRanker is priced at $44.95 per month for tracking up to 600 keywords. Additionally, you may utilize the service on an infinite number of domains and check in on a single rival. These figures increase when you upgrade to further plans, with agency and corporate packages available.
AccuRanker monitors both Bing and Google, as it provides exact daily results based on keywords or other factors.
Why We Adore This Search Engine Optimization Tool
Daily keyword monitoring is performed. However, you may always manually renew your keyword ranks. This is one of the most advantageous aspects! Most keyword tracking software has restrictions on this capacity.
You may search for local companies by city, state, or zip code.
You may travel back in time to check how you achieved your objectives and how specific keywords fared over time.
Additional analytics data for each term, such as traffic potential, traffic per keyword, and search volume, bolsters the keyword monitoring.
The SEO tool has an automatic reporting section in which you may drag and drop elements into a future report template. Thus, whenever you want a certain report, it is always available for download.
You get rankings for keywords and searches on mobile, desktop, and local devices.
AccuRanker Review – Advantages and Disadvantages
AccuRanker Pros
Simple to use and configure
Data is centralized in one location.
The ability to re-rank keywords as needed
Feature for professional reporting
Google SERP Checker for Free
Simple Integrations with Third-Party Providers
The Share of Voice (SoV) functionality
Distribution of Rankings
Reasonable price
Beneficial for agencies and brands alike
14-day free trial of AccuRanker
Over 25,000 agencies, SEO experts, and businesses rely on us.
Exceptional client service
AccuRanker Cons
It's beneficial to monitor your keyword ranks. nonetheless, for other SEO jobs, you will need to use other SEO tools.
Refreshing data might be a slow process at times.
Why Should You Hear What We Have to Say About AccuRanker?
Why should you take our advice on rank trackers seriously? Hundreds of marketers, bloggers, and affiliates are available to provide their perspectives on a number of various technologies. It's tough to know who to believe, much more so when everyone claims their program is "the best rank tracker of all time."
The reality is that there is no one instrument that is objectively superior. It's entirely dependent on your SEO requirements, capabilities, expertise, and current procedures. That's why we'll give you impartial assessments of the most popular rank trackers, walk you through each tool's capabilities, and point out any shortcomings or disadvantages.
Conclusion
A successful SEO campaign needs a tool that allows you to monitor all of your websites, keywords, and rankings across desktop and mobile devices in order to determine the effectiveness of your plan. However, finding an accurate and up-to-date solution for monitoring keyword ranks is difficult.
This post will help you make the decision of selecting AccuRanker as your top SEO tool.