Here's How to Get Google Sitelinks for Your WordPress Site?
Are you looking at how to improve your search ranking for your website? Do you know much about Google sitelinks? Well, it is a new player in the digital marketing strategies which can help you to bring in that extra traffic.
As the rankings are crucial, you also need more users to click on your websites in order to appear in the high search rankings.
One such way is to increase your CTR with the help of Google site links. You may question what exactly it is and how it can help your site?
In this article, we will be looking at how you can make use of Google site links for getting higher search rankings and boost the presence of your site. Let us get started with.
What is Google Sitelinks?
Google Site links work as a tiny sub-listing that appears before the users when they search for anything using the keyword. You must have seen the multiple numbers of where there are multiple links attached to the website in order to reduce the hassle of visiting each page.
The main aim of Sitelinks is to guide the proper navigation to the users across the entire website. For instance – if a user searches for the term 'Amazon' then they really don't look forward to seeing only a homepage. Rather, they are interested in directly heading to their products list for saving time.
For this process, site links are utilized by placing the crucial links right within the search results. It helps to direct the users to the best results for branding purposes.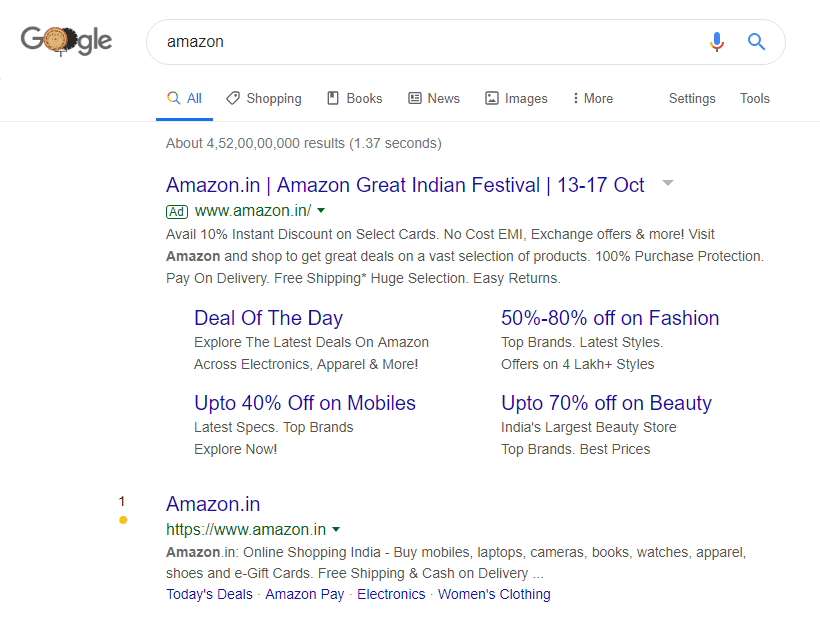 It is important to know that the site links do not get displayed for every website if you input a wrong search name.
How to get Google Sitelinks for your Website?
There is no such definite pattern to get Sitelinks for your website. Also, you cannot just log into your Google's Search Console, create a switch and get the Sitelinks because it is automated, created using the best practices of the website and Google does not let you know how to control its appearance directly. So, how do you get the site links? Let's see.
Unique website name
The absolute most important venture to get Sitelinks is to ensure that you utilize a unique brand name for your site. More unique Sitename, more high chances of it is to get displayed on the users' search results.
Take an example of QuickSprout – a content optimization site from Neil Patel. Being unique in its own kind, Google ensures that only this is displayed when the users search for the same name.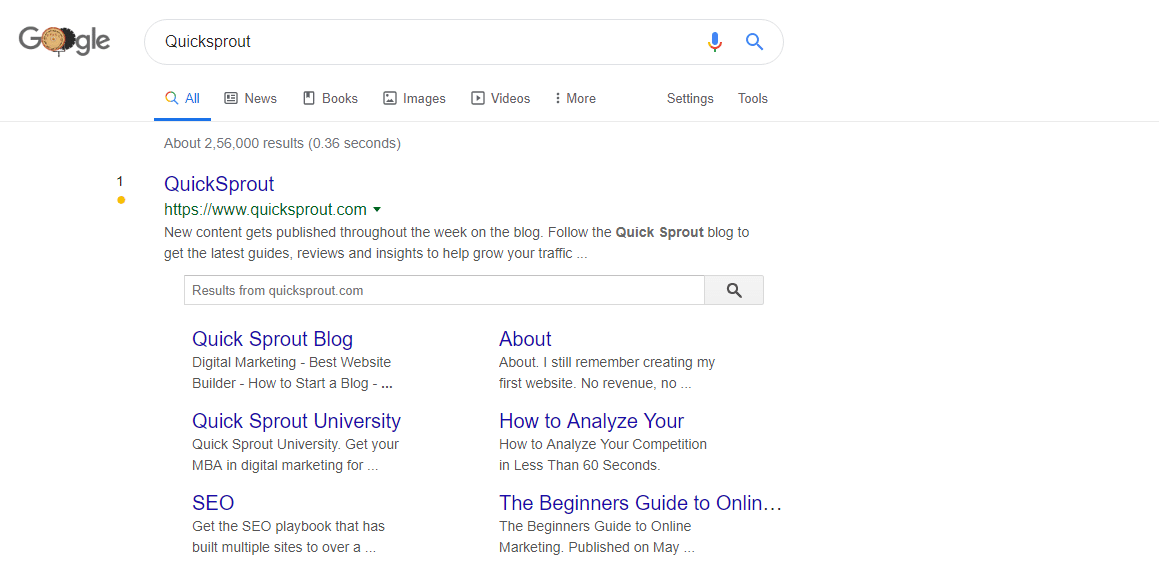 And, not this!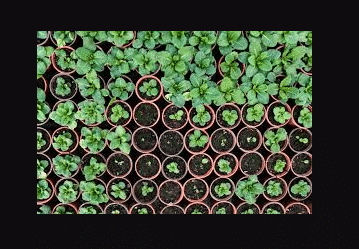 Organize your website by adding Structured data
It is vital to know that structured data helps Google to understand your website in a better and effective way. If you have not heard about the rich snippets or schema.
In addition to this, you can add some more code that lets the Google know which menu to consider for Sitelinks where you can specify the contact page, about us or enable Sitelinkes search box.
For the WordPress users, you can make use of the plugin named Schema Pro which handles all of this on behalf of you. The user can make use of all the variant types of structured data along with the setup wizard.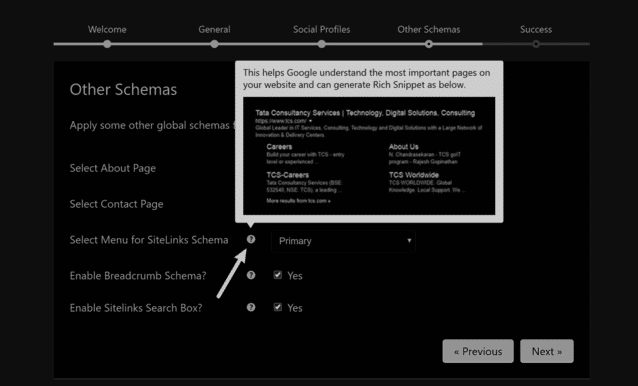 Other than this, you can include an article blueprint for all your blog entries without utilizing any abnormal boxes on a programmed premise toward the front.
Smooth Website Structure and Navigation
We have witnessed how easy it is for Google to rank your website with a clear hierarchy and structure for better performance. Henceforth, if Google is not able to find all the pages or fails to understand their position then it can lead to no site links.
This depicts how your website 'homepage' can be taken as a 'root' page for the most visited one and begin the website navigation for your end-users. Using this page only, you help your visitors to find other web pages on your site.
Adding a sitemap.xml file for Google Search Console account
A sitemap is said to crawl Google in a better and efficient way. This does not only increases the coverage of your webpages but it also helps to define the most crucial pages of your site.
It is seen that Google reacts based on need and the produced traffic which you may get on your site pages.
Drop into the Google Search Console and click on your site. Then, select the 'Sitemaps' link from the dashboard.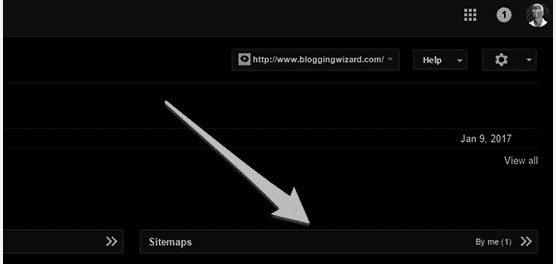 On the next screen, click on the 'Add/Test Sitemap' and you will come up with a pop-up box by adding the location of your sitemap.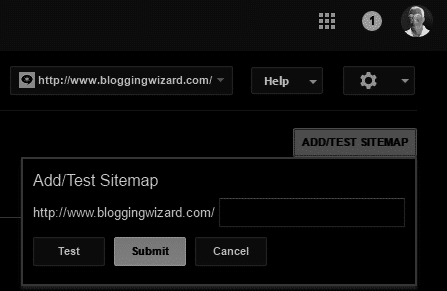 Create Internal Links
We all are aware of how internal links are helpful for SEO as they help Google to tell which the most important pages on your site are. If you link any product page repeatedly then Google can take it as a signal for judging the page importance.
Google recognizes the podcast page that is vital for your site and not only it is frequented by actual users but it consists of internal links that point to it. Therefore, it is a good idea to add internal links to pages that want to show up in Sitelinks.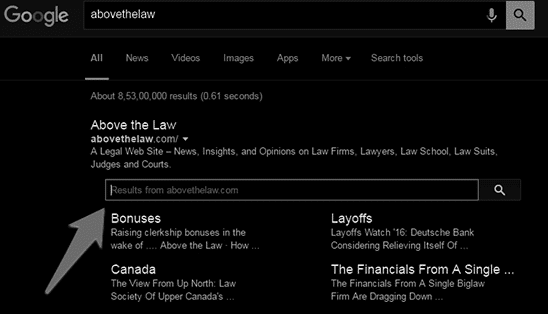 Increase your Brand Awareness
Ensure that plenty of people get to know about your website and you even find it because you do it for every single query. There are plenty of ways when it comes to increasing your brand name and to make it more reputable.
For instance – you can begin with the guest blogging on a popular website in your niche or introduce a free tool for giving out website credits.
It is critical to make sure that your site is so popular that people will get to know your brand by name. This increases the number of branded searched you get in the future for improving your chances of getting Sitelinks.
Wrap Up
Here, we come to the end of the article. You must be similar to the importance of Sitelinks and how it is vital for your website to get it ranked higher in the search engines. Try all these strategies and enjoy better search rankings. Till then – Keep Learning!