Google Search Engine Rankings Dropped? 6 Things to Check before it's too late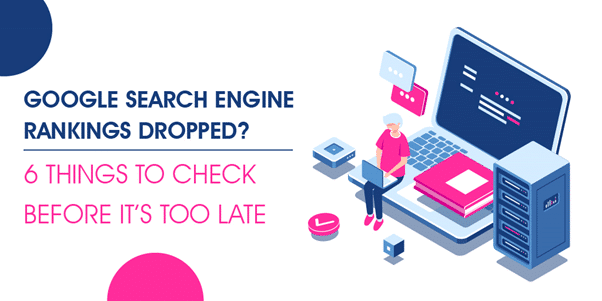 Google SERP drop is one of the deadliest things that any online business would refuse to face. In reality, the ranking drop is a common happening that every business face online.
Several strategies can be used to boost ranking on Google SERP one of which Google has made compulsory is the SSL certificate.
There is a certain thing that Google expects every website to have and we are going to take a look at 6 important things before it is too late.
Let's get started!!!
Before we could see the important things that are reasons for better ranking on Google Search Results, let us consider taking a look at the reasons for the ranking drop.
Reasons why your Google rankings may drop:
Here are some of the important reasons why your website experiences a rank drop.
1. Manual or Algorithmic Penalty Rank Drop:
Google's penalty is an impact on the website's ranking. The penalty brings down the ranking of your website on Google's search.
The penalty is based on Google's search algorithm or manual review. Google penalizes any website that practices black-hat SEO.
Every website is intended to follow the guidelines of Google webmaster and any website that fails to do so is put to penalty.
The penalty may result in the rank drop of every page of a website, for a specific keyword or even for a particular page.
To know if the website is penalized due to Google penalty, a website owner can use Google webmaster tools. Most penalties are due to devious backlinks.
These backlinks are intentionally used to rank better on Google search results.
Some of the common spamming techniques used are,
Paid links
Spamming through the comment section
Blogging Network
Guest Posts
If one can avoid using such phishing techniques, they can pass Google's algorithm and rank better on Google search results.
2. You Got Outranked by a Competitor:
There are chances of losing traffic or rank drop even after being genuine and following Google's algorithm. The reason behind must be your competitor who is equally working on the other side and putting in a lot of effort.
It is likewise important to check on your competitor, analyze and monitor their activities on social media and link building strategies.
There are chances that your competitor may play well with his content, link building agency and social media strategies and gain better ranking on Google.
All you need to do is use tools like Way back Machine to check on your competitor and know what changes they have made.
On finding them you can try implementing the same changes on your website to rank better or just as they are on Google searches.
3. Your Site was Demoted due to On-page Issues:
The loading time of your website is one of the important aspects of ranking on Google. Google is entirely dependent on its users and it tries to make searches completely user friendly.
Consider a website loading more than 10 seconds. In this fast phase world, people would try to access websites at a higher loading speed.
Nobody would wish to wait for a website that loads more than 10 seconds. Hence your website page speed is very much important to rank better on search results.
You can also use some of the famous page speed checking tools or you can even try Google's new Page Speed Tool. By checking the page speed, you can optimize your website accordingly and make it a favorable one to rank on top searches of Google.
4. Losing Links on your site can cause a ranking drop:
Link building is one of the most valuable at the same time trickiest strategy that affects Google ranking. Not all links are rank boosting, a few links may be spammy or outdated links that can penalize your website.
Google states the following very clearly on the Link Schemes section,
"Any links intended to manipulate PageRank or a site's ranking in Google search results may be considered part of a link scheme and a violation of Google's Webmaster Guidelines. This includes any behavior that manipulates links to your site or outgoing links from your site."
Hence it is valuable to create good links. You may also consider the following in building good links for your website.
Make use of Press Releases to get cited
Generate unique content and promote them on social media
Fix broken links by building new ones
5 Google algorithm update:
Google's Algorithm is the first and foremost thing that you should check when you find a rank drop on Google's ranking.
Google has a certain algorithm which Google expects every website to follow to rank on its search engine results page. Moreover, Google keeps it updated to provide a better experience to users. This has resulted in major rank drops and even a few had collapsed.
To withstand Google's algorithm update, it is better to invest much in cross-channel marketing or social media marketing through which you can still have a major boost in Google ranking.
6 Google Flux:
Google Flux refers to the redistribution of website rankings on search engines which happens before the search engine update.
Consider the following, apart from the most familiar updates such as Panda, Penguin, Rankbrain, Pigeon, Adwords etc., it is said that Google makes further updates every day.
In 2012 it was witnessed that Google made 665 improvements to the existing search algorithm which exceeded even higher in the year 2014 which was around 890. Therefore, the result of these updates is considered the Flux.
The following is a graph that shows how Google monitors rankings for keywords every day.

Things to check before when your Google rankings drop:
1. Google Search Console:
Google search console is a free tool offered to monitor, maintain and troubleshoot website presence on Google search results.
It is not required to sign up for Search Console rather it helps you to understand and improve your website according to the rules of Google.
The following are included in the Google Search Console,
It helps you to confirm that Google can find and crawl your site
Fixes indexing issues and initiate re-indexing of newly updated content
Provides insight on Google Search Traffic for your website
Receives alerts on the encounter of indexes, spam or any other issue on your website
Displays site links to your website
Troubleshoots issues related to mobile usability, AMP and search optimization
2. SSL associates with higher rankings:
The biggest and the most influential thing about installing a free SSL certificate to your website or switching your website from HTTP to HTTPS is, it ensures the security of users on the page where they try to share their personal or transactional details with you.
This HTTPS is enabled by installing an SSL certificate to your website. There are two ways you can afford it, either paid SSL certificate or a free SSL certificate. Using a paid SSL is durable and valuable when compared to Free SSL certificate.
Once an SSL certificate is installed to a server it works as a green padlock and ensures security between the server and the browser.
Provided the SSL certificate makes use of a public key and a private key through which it encrypts data being saved or shared on the browser.
The following image represents the working module of a HyperText Transfer Protocol Secure Module.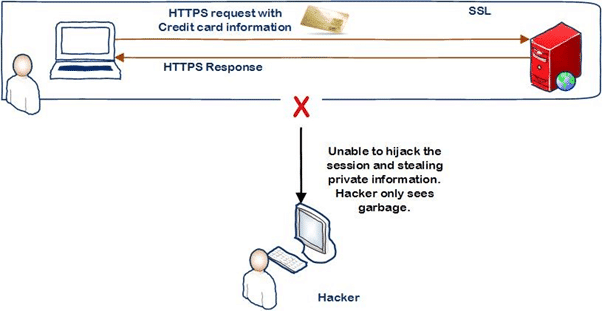 On the other hand, Google has mentioned SSL to contribute to search engine ranking. Considering the security of users and their need to trust a website, Google has made SSL installation a mandatory to all websites. Hence, SSL contributes a lot to search engine ranking.
3. Content quality serves search ranking:
Content is considered the King from day #1 only when it is not duplicated or similar within domains.
Google considers content, the most important of all other aspects of ranking. When Google finds content is plagiarized or stuffed with keywords to rank, your site has the highest chance of getting penalized.
Make sure that your website holds original and unique content that both your user may benefit and that your website may rank on top searches of Google.
4. Trace out bad links:
Google is much concerned about the links that you use on your website. Finding backlinks for the sake of gaining a link is never going to help you anyway. Some websites draft guest posts on low DA website for which Google has warned already.
Before offending Google or being penalized by the giant it is better that you make use of the tools like Ahref or Majestic to trace out suspicious links on the web.
These tools help you out finding problems with posted links. The best way to sort this out is by guest posting on high authority sites and try social media promotions.
5. Be safe when you migrate:
Migration is one of the mind-boggling tasks that one could handle. Most website owners face drop once migrating from one destination, lose traffic, website design collapsed and so on.
This happens only when your website is not being designed by a reputed website designing company.
There are several other disruptions that you might face during migration,
Broken service
Loss of content
Broken links
Broken internal links or missing links
Poor redirect
So, you should consider approaching a reputed website developer or a website building company and have an interrogation about the website migration before it is done. By this way, you can avoid the interruptions that you face in your services.
Wrapping it up:
By no way, you can improve your ranking on Google or any other search engine. If anyone has suggested you bypassing the techniques to obtain a better ranking, I can assure you, your website may witness a sudden or an instant drop at any time nor be penalized by Google.
It is always better to take the right way to obtain success and we have given you some of the easiest and the most important techniques and strategies to be followed.
Also, make sure that you are aware of the frequent updates from Google that you may not skip any nor be charged penalty on the same.