Google Rankings Drops: 10 Reasons Behind them and How to Deal With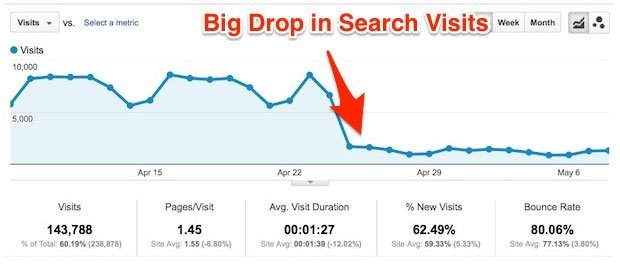 The day was normal as other days.
You opened your Google Analytics account to assess how your blog has been performing recently.
You find that the things aren't normal.
You find that there are fewer sessions, low page views, and also organic traffic has been continuously reducing.
You start blaming Google for not loving your site and decreasing your SERP ranks.
Well, that is what typically occurs when you lend a Google Rankings Drop.
When I saw a number of threads by authors stressing about their rankings drop, I chose to write a complete article about it explaining what one has to know.
In this guide, you'll discover:
What is SEO Ranking Drop
The best way to identify Goole Rankings Drop
10 Reasons you are losing Google rankings
Let's begin.
What is Ranking Drop in SEO?
In simple words, Google rankings drop is a situation where your pages always struggle to rank and they keep on declining ranks.
It means there is something wrong with your site and it has to be fixed ASAP.
How to Detect An SEO Ranking Drop?
There are many things which can lead to detecting drops in position.
A Decline in organic traffic, i.e.traffic from search engines.
Low revenue and traffic stats.
Your pages are getting kicked out of the first page on SERP.
You're facing problems with indexing new posts.
Your rank tracker shows a surprising drop.
You may observe at least one of these signs which essentially signals that something's broken in your site that isn't appealing to Google.
But what's broken? Read on to find out.
10 Reasons For Google Rankings Drop and How to Recover
You were hit by Google Penalty


Getting struck by Google Penalty is something I have dealt with — not one time but on multiple occasions.

It's heartbreaking when you get an email that your website does not comply with a couple of guidelines, and because of this, your pages lose its rankings.

You can check if your website has been hit by browsing Search Console > Select your property > Search Traffic > Manual Actions.

There you may see if any active action has been taken on your own site by Google.

To repair this issue…

The only possible means to save your site from Google penalty is to ask Google to get a reconsideration. It's available on the same manual activity page.

To get a thriving reconsideration, you want to provide some evidence that you have worked on the stated issue, and also, you need to explain why that occurred, and it was your error.
Being honest is the key here. After you submit the petition, somebody from Google will visit your website and verify your site is based on Google guidelines.

Your site was hacked


Let's just hope that it is not the origin of your Google rankings fall. Getting hacked not just impact your positions, but all the information and data of your blog is on the stake as well.
If your site is marked as hacked by Google, you'll see a warning stating"this site may be hacked" under your domain on SERP — like this.

There are many reasons why your website may get hacked, like the use of unknown plug-ins or themes.

Once the hackers are in, they could insert links to low-quality sites or malicious scripts which leads to rankings drop.

Fortunately, Google does understand this dilemma given that every other day someone gets hacked.

To ease the procedure, Google has made a troubleshooter, to help you figure out whether your site is hacked and how to fix it.

As soon as you have dealt with the issue and also"fixed" it, then you can ask Google for an reconsideration.

Bunch of search-engine mistakes

Google's primary focus would be to improve the User experience. And a website filled with search-engine Error can lead to obvious ranking drops.
A few such mistakes may not affect the rankings, but if you have many of them, consistently, it becomes a serious issue.

Some of the main on-page Search Engine Optimization factors you have to focus on are:

Content Quality: Quality of your articles should be top notch if you want to be on top. Focus on grammar, readability, and word structure while creating content for your website.
Also, frequently update the older posts with the latest information.

Page Headings: Each page must have only 1 H1 heading used for the title alone. If your site has more than one, it might give rise to some serious errors. Additionally, you need to maintain a proper headings structure for better comprehension.

Keyword stuffing: Those days are gone when you would just keyword stuff your content and it would rank in a few days. Google's Artificial Intelligence aka RankBrain is considerably smarter today so keywords stuffing, and over-optimization can lead to an Algorithmic penalty.

Ads: Adding too many ads on a single page can influence user experience to a great extent and irritates them to leave the site straight away.

404 Errors: This takes place when the bots couldn't locate the pages on your website. You might have deleted the page or altered main URL that results in 404 error display when someone lands on this page.

Continues Increase in 404 errors in pages gives a wrong impression to google and eventually leads to Google ranks drop.

Bounce Rate: In simple word, it is the rate at which users hit back button after visiting your page from search results.

A high bounce rate indicates that your page is not suitable for that query and users don't enjoy it. And finally, it has rolled to last pages on google.

Ideally, a session time of 2 minutes is regarded as good, whereas 5 minutes is excellent. Thus, try to create an engaging content that your traffic would stick to your page at least for 2 minutes.

Page Load Time: A page that takes more than 3 minutes to load could turn away the readers resulting in high bounce rate. Changing to a better hosting can boost site speed by 90%.

There are many search-engine variables that can affect the rankings but these factors would do the job.

Your website is down

If your website is hosted cheap web hosting which often struggles to stay online, you may face this situation.

Also, you might be a busy individual who works on the website on weekend days. So, if your site goes down at the starting of the week your site would remain down for days– it would give a wrong impression to google bo that your site is dead.

Because of this, your Google rankings will drop continuosly until you fix the problem and crawlers reindex the web pages.

In the case of hack or low server loading speed, the identical situation may arise. You can check whether the website is down only for you or it is the same for everybody.

To fix the problem…

The optimal way will to use a much better web host like HostGator or GoDaddy that offers a guaranteed 99% uptime. It will save you the trouble, and the support team will help you to fix any technical issues asap.

Additionally, make use of downtime notifier to receive notifications if your site goes down and keep track of it. This way you will be able to correct the problem or can discuss the issue with your web hosting company.

If that is not enough, you can use a CDN support like CloudFlare. So, even if the site goes down, your visitors can visit a cached copy of the site.

Increasing unnatural hyperlinks pointing to your Website

The quality of links pointing to your website is a significant search engine optimization factor. Although Google may not accept it as a ranking factor, everyone knows that high-quality links can improve your SERP positions to a great extent.

In the most straightforward language, backlinks act as a voting system. When you receive a backlink (i.e., a vote) from a reputed origin, your value increases. Google begins giving significance to your website.
On the flip side, backlinks from low-quality resources indicate poor practices and lead to trust issues.
A sudden increase in low-quality unnatural links can reduce your authority which in turn influence the SERP positions.

The way to fix it?

To fix this issue, first, you need to keep close tabs on your backlink profile. Tools like SEMrush and Ahrefs can be used to keep track of backlink profile and detect bad-quality links.
Once you've identified the bad links that you don't want to keep, there are just two ways to Eliminate Them —

1. Ask the owner to remove the link: It is possible to email the site owner and ask him/her to remove the link.

2. Request Google to remove it: If the option mentioned above didn't help you, then utilize Google's disavow tool to disavow the low-quality backlinks. I recently used it to eliminate many directory traffic that was damaging my Google rankings.

Your site is losing backlinks

Acquiring fresh backlinks are not necessarily the issue. The backlinks you have established over time must also need to stick.

According to a search by Brian Dean, he discovered that pages rank on top rankings has significantly more [niche-relevant and autority] linking domain names.

For odd reasons, you might lose backlinks from a respectable site which impacts the overall site authority.

Since Google was providing importance because of this link, you would soon see a dip in ranking.

SEMRush again can be deployed to keep tabs on missing backlinks. To avoid such circumstances, you should first analyze what are the reasons behind backlink removal and then ask the owner to include it again. Or you can acquire a similar quality link from another authority website.

Changes in Website Structure

Changing the website theme, codes, permalink, etc. is a frequent practice amongst bloggers. But it may result in some unknown problems causing rankings drop.

When rebranding your website, you've got the highest chances of confronting these problems related to site construction.

Your team may delete any pages, alter URL, update internal links, or make modifications to navigation while rebranding. One or several of such reasons united can result in rankings lost.
However, the recovery from this issue is pretty straightforward.

All you've to do is use the backup data (before rebranding) and substitute it with the new one.

It's a good idea to utilize a staging environment for Indices and completely test your site prior to making your changes go live. Cloud hosts such as CloudWays offer staging environment and completely free backup programs.

Additionally, use 301 redirects to inform Google about changes in URL structure of pages.

Problems with Robots.txt file

Robots.txt file is basically a text file which is meant for search engine spiders and crawlers. It comprises instructions or rules that specify how to crawl pages on the website.

Even though it's always suggested to stay away from editing the robots.txt file, either you or some plugin may have updated it and changed the way of Google bots crawling.

Having a disallow consent, bots will not be able to index your pages, and finally, your site will lose rankings.

You can study your robots.txt file, by navigating: www.yoursite.com/robots.txt
See whether any of these search engine bots are disallowed, and if that's the case, remove that particular rule.

Note: In case you aren't sure about what you're doing, then consult someone experienced instead of doing more harm.

Hint: If you just installed WordPress and confronting issues with indexing, then it is possible that you may have blocked search engines from accessing your website.

Your competitors are outranking you

In this case, you will not observe a significant drop in position but by a little margin including 1 or 2 position fall.

You'll also see your competition (s) picking up the top ranking, and Google is favoring their articles over yours.

To Recoup your previous positions, you first need to understand why competitor's page outranked you with the following strategy:

If possible, compare a previous version of the content using archive.org and see exactly what did they do to outrank your own page.

Backlinks: Your opponents might have got links from several reputed Websites that makes Google favors their article over yours (assuming a similar level of content quality)

Interlinking: Did the competitor changed their internal linking structure to pass more link juice?

User experience: Do they have greater Dwell time, bounce rate, and click-through rate? Assess why.

Tools such as SEMrush can help compare your site with competitors and sneak into their working methods.

Google Updated his Algorithm

Unlike ancient days (2015), Google algorithm changes were rolled quicker and declared which SEO community used to analyze and understand the motives behind winners and losers.

But, with the addition of machine learning, these changes have become more sophisticated and rolled gradually which creates confusion and less comprehension of what the upgrade was all about.

If the positions drop does not signify any of the above-mentioned circumstances, then the Google algorithm update ought to be the reason.

Panda: Copy, plagiarized content, and thin articles
Penguin: Low-quality links
Pirate: Pirated and copyright material
Hummingbird: Keyword stuffing and low-quality articles
Pigeon: Poor on-page and off-page SEO
Possum: User location-based
Conclusion
Getting surprising Google rankings drop may be a painful experience when you have worked hard to attain the positions and never wanted to lose the rankings.
Irrespective of the motive, you can *almost* always regain your rankings with the right procedures and appropriate plan. I am hoping that this article will allow you to do exactly the same, and firmly face the Google rankings sudden drop.
Do leave a comment if you've got questions or suggestions for me. Additionally, make sure you discuss this article with your own friends and followers.