Getting Started with the Jetpack Plugin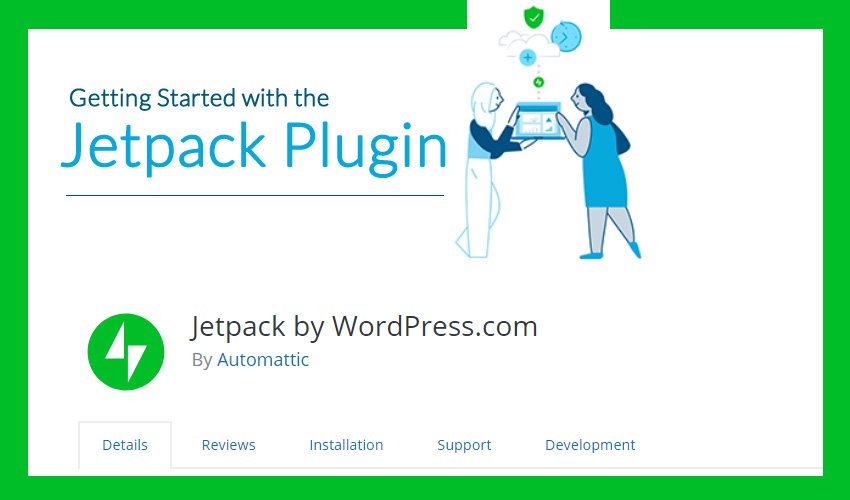 The jetpack plugin is one of the most widely used and iconic plugins in WordPress's plugin marketplace – if you go online and look up any random list of the most required plugins, you'll probably find Jetpack among the ones listed.
This article will help you get started with the plugin properly and learn how to effectively use it to make your website better secured, more visible, and adequately integrated into social media platforms.
How to Install Jetpack?
Installing Jetpack isn't particularly difficult, and the requirements are rather basic:
You have to have the latest version of WordPress installed – when you try to install Jetpack on an older version of WordPress, it'll prompt you to update your WordPress.
Once the installation is complete, the plugin will ask you to connect your WordPress.com account. If you don't have one, you can create it for free – it'll take only a couple of minutes.
Once you've logged in with your WordPress.com account, you'll be prompted to select a plan. Jetpack has four plans, and they are priced according to their features. The basic plan is free and you can use it without any impediments. Although, if you want access to the more advanced features, however, you have to pay for them. Nevertheless, even the free features are quite powerful and useful.
What are Some of Its Noteworthy Features?
Now that you have installed Jetpack successfully, it is time to learn some of its powerful features. The best way to get started with Jetpack is to go over its most impressive features because it is rather intuitive and easy to get each of its features up and running on your website, but if you don't have comprehensive knowledge on what it offers, it'll go underused.
Publicize connections:

this is the name for a feature that allows you to automatically publicize on social media the fact you've published new content on your website. If you are a blogger, this will come in handy as you'll automatically notify all your followers you have new content for them.

Subscriptions

Jetpack allows you to easily enable your viewers and fans to subscribe to your blog and individual discussions. This is great for two reasons: it allows people to keep up to date with the information you release on your blog. They'll automatically be notified by email whenever you post a new article. They can also promote discussion as they'd be able to subscribe to the comment threads of individual articles – this allows your readers to effectively discuss the topics. This will increase traffic to your website and make it appear more lively.

Contact forms

most webmasters want their visitors to be able to leave feedback and comments, so it makes sense to want to implement it on your website. Jetpack shines here too, as it allows you to create feature-rich contact forms on your webpages.

Sharing buttons

your users being able to easily share your content on social media might be the boost you desperately need to grow your blog/company and ensure your content doesn't go unseen. Jetpack allows you to easily add social media buttons to all the webpages you want, and your viewers can share the content/product with a single click. This encourages more social media sharing and increases your visibility.

Image Galleries, Carousels, and Slideshows

Images are an integral part of every web page – for example, the way you display your product's images can be the difference between converting 5% of visitors into paying clients or converting just 2% (for reference, this could be the difference between selling 500 units and 200 units in a month – significant differences in the amount of revenue you'll be generating). Sadly, vanilla WordPress isn't great in presenting images – it has some standard elements you can use to display rather static images, but that's it. Jetpack adds the ability to add gallery, carousel, and slideshow elements to your website, which gives you significantly more leeway with the way you handle image presentation in your website. This can make all the difference if your website is visual-heavy.

Lazy Loading

Another very important feature that Jetpack allows you to use with images is a feature called lazy loading. Normally, when a browser tries to load a webpage, it has to load all the major elements before rendering anything on the user's browser. This not only has the potential to annoy your website's viewers but it also significantly hurts your standing with search engines. A major way search engines determine whether your website is worth showing to their users or not is by how fast is the loading time, and increased loading time as the browser waits for all images to download is a major negative.

With lazy loading, the browser will be able to progressively and slowly download the image while it renders the other parts of the page. This means you won't need to wait a few seconds for any text to show up, rather, you'll see most of the content on the page, and the images will finish loading a few seconds afterwards. Most SEO specialists agree this is the superior way to load images and has significant benefits both to the user and in your standing with search engines.

Jetpack Search – Premium Feature

Implementing the search function on your website used to be one of the most technically challenging tasks you had. It is really hard to read the user's intention, query the database, and create a dynamic search result page that could output the most relevant results. Thankfully, it has gotten easier and easier over the years, and even WordPress has some basic search functionality implemented, however restrictive.

If you have a large website and are in desperate need of a more powerful and customizable way to allow your users to search your website, Jetpack Search feature is for you. It is fast, it is technically sound, and it is widely acclaimed. This is one of the premium features you'll be getting if you decide to pay for the premium subscription.
Conclusion
These features should've given you an idea why Jetpack is so popular, and you're now positioned better to make use of it. Of course, these are not all its features, and it'll probably take a lot of time before you're able to fully make use of all the plugin's features. That's why you should hire an agency like Acclaim to help you build and maintain your website if you don't have the necessary technical skills.