Future of Digital Marketing for E-commerce in the Metaverse and Web 3.0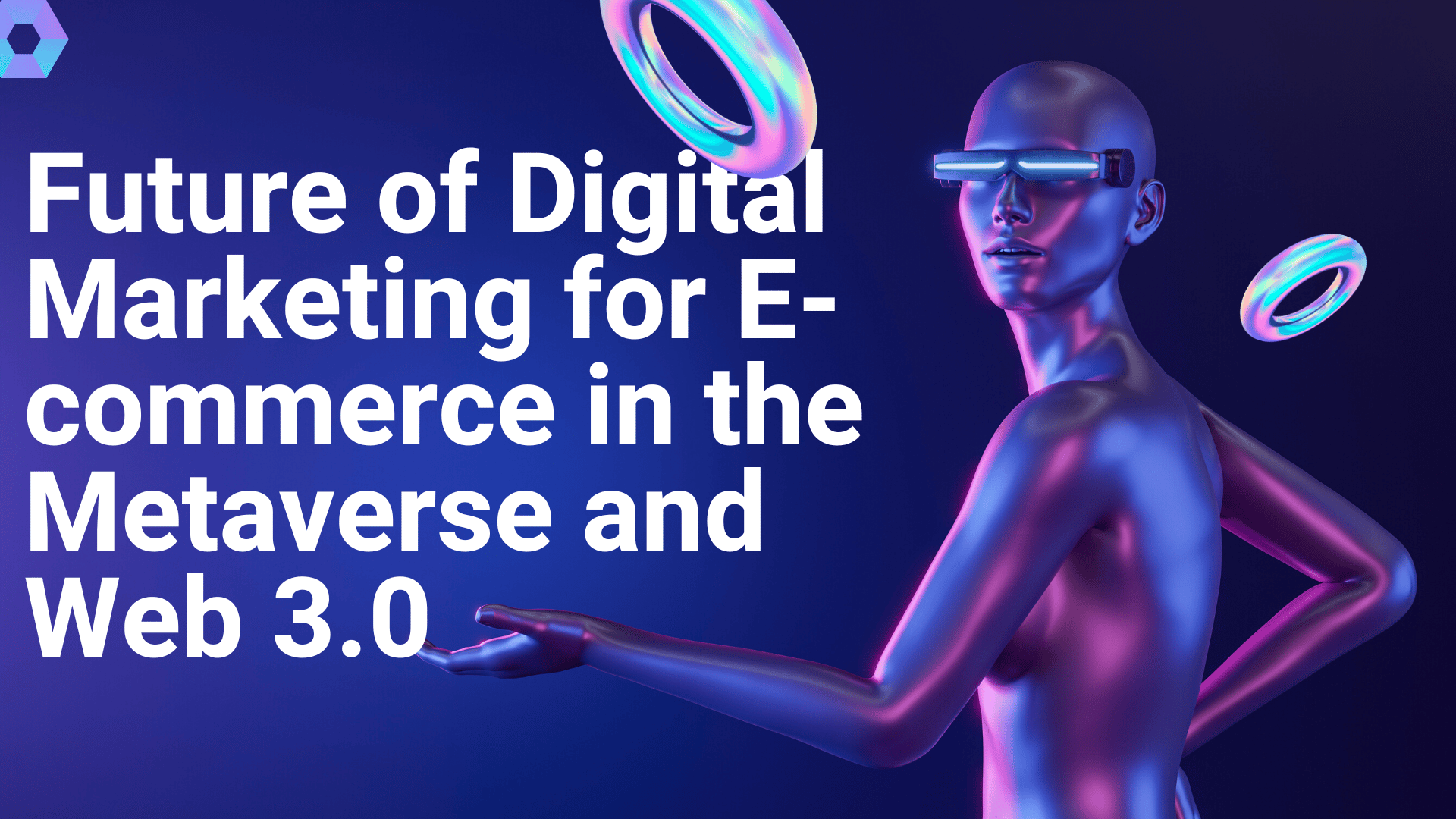 One of the many similarities between the metaverse and Web 3.0 is that they are often misinterpreted. People sometimes might get confused as they all have many versions of what the Metaverse and Web 3.0 will be like.
This guide shows where these terms are today, where they may go, and how that may affect your digital marketing approach.
What is Web 3.0?
Web 3.0 is a decentralized platform for unique user experiences. This strategy provides users more control over their data and privacy than Google and Amazon's.
Next-generation web would include better safety and privacy protections and more intuitive interfaces. It uses blockchain technology to make the web open, secure, and private for all users.
The 3 Main Characteristics of Web 3.0
Decentralized Concept

It is a crucial component of Web 3.0. Decentralization states that a single organization does not control the Internet in its basic form. It's a decentralized system where users are accountable for their media and information.

Increased Discretion and Safety

Web 3.0's primary characteristics include enhanced privacy and security. Decentralization improves safety by removing centralized authority.

The Blockchain System

Blockchain is a decentralized database that ensures immutable transactions. This technology can drastically change business.
Impacts of Web 3.0 on Digital Marketing
Information Privacy and Data Collection Will Evolve

Many businesses capitalize on user information to generate revenue. This information is then used in advertising or sold to other companies.

E-commerce website tips include strategies for the highest WordPress security requirements. After all, no company owner anticipates a website breach. Web 3.0's dispersed design may make it more challenging for firms to get client data.

So, for example, if any business wants a fashion e-commerce WordPress theme, their privacy will be checked through web 3.0 features. Advertisers might benefit from being more forthright about the information they gather.

The Content Creator Will Have More Control

Unfortunately, many creators feel constrained by the platforms where their work is published at the time. They could control their own material in every way imaginable with Web 3.0. Marketers and content creators may work together to reach more customers.

Marketers Will Have to Become More Innovative

Marketers must adapt their tactics to shifting circumstances and fresh opportunities. Advertisers will need to depend more on user data to create goods and services for better performance advertising. They might need to get help from a reliable performance marketing agency.

Performance marketing has combined aspects of paid advertising and brand promotion. Future e-commerce will be significantly impacted by Web 3.0. With a strategic approach, performance marketing will thrive in the new world of web 3.0 and Metaverse.

Web 3.0 Customer Experiences

Metaverse forces brands to rethink Web 3.0 customer service methods. This technology can change omnichannel shopping into 3D fitting rooms. In the new digital world, industries and retail need VR and AR.

You will know about metaverse in detail in this article below.

Marketing in the Web 3.0

Web 1.0 completely reworked international company marketing in the 1990s. There has never been a better time than now for innovative marketers to take advantage of Web 3.0. In virtual worlds, brands and organizations may reach a worldwide audience.

NFTs Will Change Marketing

NFTs are highly intertwined with the third-generation Internet. There are concerns about the effect NFTs will have on the environment, yet their use is on the rise despite this. Many well-known brands, like Nike and Gucci, have begun to produce their own branded NFTs.

Community-Based Strategies Will Be Crucial

Web 3.0 marketers must focus on community creation as consumer power shifts. Firms must build trust with their target market since customers decide and advocate for their operations. To better their financial outcome, marketers may seek the advice of a performance marketing specialist.
Web 3.0: What You Need to Know to Be Ready
Web 3.0 lets individuals construct online identities and pursue hobbies without restrictions. Future experiences will combine virtual and real.
In Web 3.0, entrepreneurs can create their digital representation and use it online and offline. This new class of business owners will use an avatar to connect with Facebook and Instagram users.
It's impossible to know what the Internet will be like in the future. We must foresee how the climate will evolve and position our organization to profit. Business leaders must consider how their skills will help in Web 3.0 and be flexible.
What Is the Metaverse?
No one location or technology makes up the metaverse. It refers to our connection with virtual and augmented environments.
Many compare metaverse debates to 1970s internet and "cyberspace" discussions. Over the next decade and beyond, the phrase's meaning will also evolve.
Social commerce, AR/VR, cryptocurrency, and Non-Fungible Tokens (NFTs) affect the marketing strategy. Many companies provide VR and AR applications for customers to sample before buying. As the metaverse becomes real, these technologies promise transformative goods and services.
Changing the Face of E-commerce Through the Metaverse
Trading is an integral component of the metaverse's development. Brands may prepare for the future of e-commerce by addressing these issues.
Innovations in VR and AR

Brands are experimenting with augmented and virtual reality to engage customers with their goods. The compound annual growth rate (CAGR) for the AR/MR market is forecast to be 79.2 percent. Amazon offers a Room Decorator service that enables customers to virtualize furniture placement.


Cost and equipment limit augmented and virtual reality's potential. Companies like Meta build VR headsets at ever-lower rates, signifying critical mass. Virtual reality will spur organizations to try new ways to engage customers.

Development of Online Social Commerce

Direct sales on social media platforms will generate $1.2 trillion by 2025. The metaverse will feature new sales channels like Facebook, Instagram, and TikTok.

Hyper-Personalization

The need to cater to each customer's preferences is increasingly essential. 71% of customers in 2021 expect firms to deliver personalized experiences, and 76% would be unhappy if they didn't. Live shopping and tailored product recommendations are ways brands attract consumers.

The metaverse will revolutionize the way businesses provide individualized services to their clientele. Digital customers may interact with goods and services without time, gravity, and distance limits.

They are not limited in terms of time or location while shopping online. In addition, companies are exploring novel experiences like online gaming.

Metaverse Digital Goods

Products, both real and imaginary, may now have digital counterparts. Virtual apparel and artwork are bought for their immersive brand experience.

Real-world companies may now benefit from online purchasing by building virtual stores. If a company wants to increase its brand's market share, the future of retail is in the metaverse.

Synchronous Digital Twins in the Metaverse

A digital twin is an exact digital copy of its physical counterpart. They can be connected to the real-world twin's metadata and sensor inputs for risk-free scenario testing.

Digital twins help organizations in virtual reality via simulations, cooperation, and more.

A Metaverse Workplace for Remote Workers

In today's economy, more and more people are opting to work remotely or in a hybrid setting. The metaverse can digitally alter the workforce to save money and enhance productivity. Face-to-face meetings have been replaced by video conferencing, etc.

Web 3.0 and the metaverse might change employment substantially.

Instructional Use of the Virtual World of the Metaverse

Immersive learning environments are the standard for the future of education. Virtual and augmented reality technologies provide more streamlined orientation and training.

Apprentices gain valuable skills in regulated online settings. The metaverse's cooperation, training, and problem-solving have enhanced the workforce.
Conclusion
Nobody can predict how the internet will evolve in the future. What is fashionable now may seem old-fashioned in a day or two.
Each upgrade adds to the Internet's choices. Algorithms can now meet the most exact user wants. Web 3.0 marketing and metaverse help marketers discover client preferences and behaviors.