Foolproof Security Tips to protect your website in 2022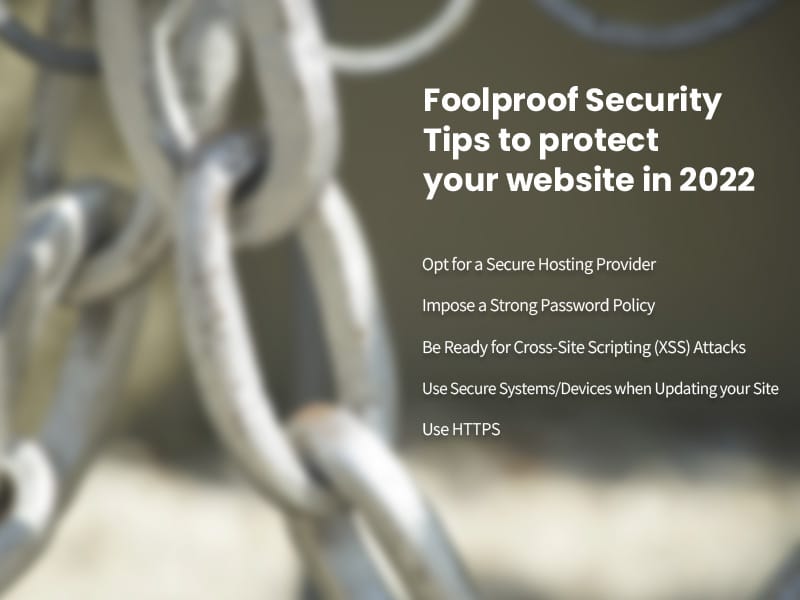 Whether you are running a business online or simply want to build a strong online reputation for your physical business, you need to ensure website's security for a number of reasons. After reading this, you may think that your business website has nothing precious being hacked for.
So, keep in mind that most of the website are hacked not only to steal your business data or other information available but instead hackers can also use your web server to host files that are of illegal in nature and can cause some major legal issues for you or your business.
You can simply keep your business away from today's classy cyber threats & attacks by implementing following foolproof security tips to protect your website in 2022 and beyond.
Opt for a Secure Hosting Provider

Choosing a reputable and secure web hosting provide should be one of your major concerns in order to maintain fail-safe website security. For this purpose, you need to make sure that hosting provider is aware of all the latest cyber security threats and also keen to keep your website protected.

A good hosting provider always back up your site data both on remote and local servers and also offer 24/7 technical support to help you get issues resolved in real time if any.

Impose a Strong Password Policy

Using hard to guess and strong passwords for your website logins is the very first and foremost layer of security that can keep your website from hackers' attacks.

Most of the bad guys get help from sophisticated software that use brute power to guess or crack your passwords for an easy access to the website. That is the reason; your passwords must contain 10 characters including numerals, special characters and numbers etc. to make them strong and hard to guess.

Be Ready for Cross-Site Scripting (XSS) Attacks

As digital thieves are ingenious nowadays, they can use a range of different ways to steal sensitive data or information from your website and XSS attack is one of them. They can inoculate malicious JavaScript into the web pages of your site, and change the content of your website.

Latterly, when users access your website either to get information or to use their accounts, their credentials and login would get taken by the hackers that they later can use to steal information. You can prevent Cross-Site Scripting or XSS attacks by not allowing any injection of JavaScript content into the pages of your website.

Use Secure Systems/Devices when Updating your Site

An unsecured system or device can also lead you towards some serious cyber security issues that you are using to update your website. For instance, virus in your computer or laptop can make files corrupt you are about to upload on your site.

That's why, you should always use a computer with Windows 10 installed on it because it has a strong built in defender that keeps viruses and malware away from your PC or laptop.

And if you are new to windows 10 and its start icon is not working, then here is what to do if the windows 10 start icon is not working;

Press the Ctrl+ Alt+ Delete keys at the same time and click on 'sign out' icon
Once your system reboosts, enter your password to log into your system again
Test the start icon now and it will be working

Use HTTPS

Internet users are wise nowadays and they always look for the green 'https' in the browser bar whenever they need to enter sensitive information or details into the website or online store.

They also know that these 5 green letters in the URL bar are most vital to keep their information in safe hands. In simple words, it is a green signal to internet users that it's safe to submit sensitive or financial information on a specific webpage.

Basically, information and details added to a webpage showing https in URL bar are encrypted and are useless for any third parties if hacked. That's why, you must add an SSL certificate to your website to enhance its security because cost of the SSL certificate is minimal but it takes your website security to the next level.