Five reasons why Website design is important for SEO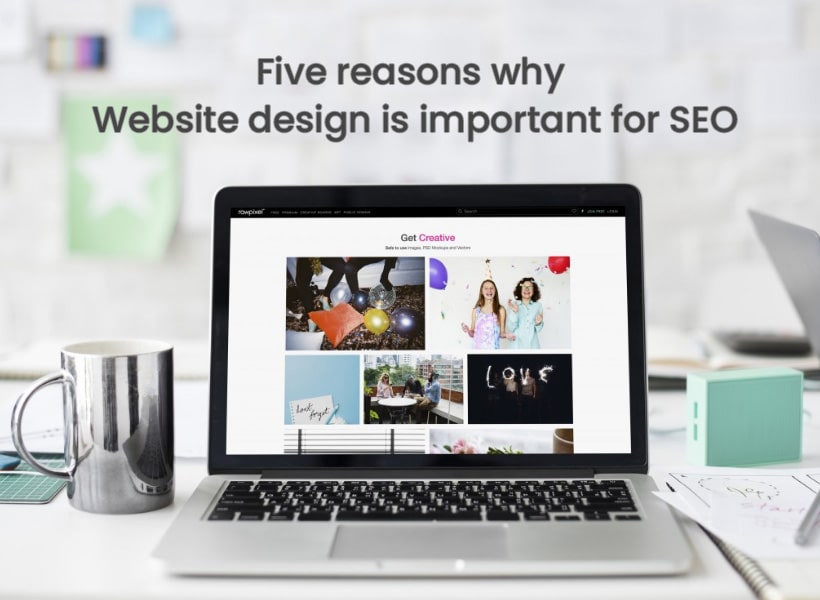 A website alone won't help you grow your business in Dubai or the UAE. Online presence is essential to reach your customers who are in need of your products or services.
As there are lot of business opportunities in Dubai, many are starting their own business and a website. With this increased competition, businesses have to come up with new ideas to attract customers, and focusing on web design is one of them.
Even though if a business has a high-quality website, it may fail to attract the target audience if it is not optimised for search engines. That's why designing web pages according to SEO is important and here are the five reasons for it:
A well-designed website will improve SEO ranking

While a poorly designed website will lower your search enginee rankings, a well-designed one can help your SEO. Your customers will leave if your website is poorly designed and challenging to navigate, and you will find it difficult to generate leads. The search engine will start de-ranking your website.

Search engines use algorithms, so rankings will gradually drop if they find a significant issue with your website. Dubai is one of the countries where the digital transformation is happening at the rapid speed. If you are business owner in Dubai and want to improve your online presence then Approaching an SEO company in Dubai that adhere to proper web design principles and improve your SEO ranking.

Mobile-friendly web designs will get priority in SEO

Search engines can recognize mobile devices and thus prioritize mobile-friendly websites higher in the results list. Naturally, better search engine rankings increase the capacity of your website to drive traffic and lead.

The most popular approach to making a website mobile-friendly is responsive design. Content in responsive designs is changed to fit the size of the mobile screen.

Nowadays, many designers prioritize mobile-friendly designs, however, if 90% of your consumers access your website through desktops, this strategy is useless. So, before entering the design phase, discuss with a web development company in Dubai to understand what type of design will suit you.

Improves the usability

Time on a web page can be an important sign of whether your material is relevant to the user's search and whether they had a good experience on your website. Users who are dissatisfied with your content are unlikely to stay further on your website.

Websites with a responsive web design created by an SEO company in Dubai can load quicker and would be easier to use. Users are generally encouraged to stay on your website if it is simpler for them to find the information they need.

Better usability might persuade visitors to return to your website in the future. Users not only remain on your website longer, but they are also much more likely to become paying clients or subscribers.

The speed of the website will be boosted with quality images

The credibility will grow, and users will feel more confident with good web design. In fact, 38% of site visitors are likely to quit if they are dissatisfied with the design. Your customer will remain interested in your products if the images are of higher quality, which will boost conversions and SEO.

Good design enables users to overcome their initial mistrust of brands and establish relationships with your business. Users are encouraged to concentrate on your material when you pair it with stunning and engaging photos, which tells search engines that your website is reliable. Your website's conversion rate will rise as search engines will rank the website in front.

Website speed

One of the most important technical SEO factors is website speed, which many websites have as a major problem. It is possible that your website is simply too slow, and visitors are leaving the page fast if you haven't been ranking high.

A user's chance of leaving your website increases by up to 50% if it takes longer than three seconds. Page performance is more important when viewed on a mobile device, where users are even less likely to wait.

The speed at which your website loads can have a significant user experience. Therefore your website should be optimized to load quickly and error-free. For increased website traffic and conversions, optimize your page speed.
Final thoughts
Web design helps in a website's growth and search engine ranking, apart from affecting how people interact with a website. The SEO rating of your site can be affected by poor web design.
So, investing in SEO-friendly site design from the beginning is essential. Get in partnership with a web development company in Dubai and create a website that can be highly prominent in the search results.