Everything You Need to Know About WordPress Widgets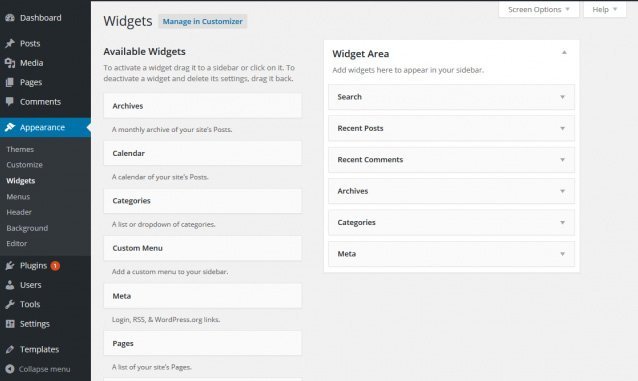 If you still believe that by putting up a huge board across the Highway will give you a nice publicity, than you are absolutely wrong. You will get some but that will be temporary and limited to only few people.
You need to broaden your vision and horizon of your approach. Going for a nice website well linked with social networking sites and Good SEO will make a huge difference. If you have not taken that decision!!! Take it now and explore the world of WordPress websites.
WordPress is the largest and fastest growing website development platform, thus giving you a global recognition along with a huge customer base across the international borders.
WordPress is all about playing with plugins and widgets, which really makes a difference to make you stand out amongst your competitors. In this blog I will be throwing light on WordPress Widgets and will share some of the trending WordPress widgets of 2018.
What is a WordPress Widget? And how it is different from a WordPress plugin?
This question is almost asked by all the people related to WordPress. WordPress Widgets are self contained or independent blocks of code (coded in PHP) performing a specific function.
These widgets can be added in the sidebars (or headers / footers) of website which is known as widget-ready area of your web page while, Plugins are the extension which are installed and activated over the server for its usage on website. You need to install a plugin for getting a widget.
There are some in-built widgets such as menus, archives, calendars, recent comments, RSS etc for a particular theme. To get some more widgets you need to install the specific plugin.
idget is just a part of plugin. These days fully widgetized themes are in trend as they allow you to customize and add widgets to any web page using Page Builder Plugins.
Why do we need a widget?
It helps to impart the desired flexibility to WordPress User by giving him full authority to add, delete or edit any functionality of your website without altering the code content. Widgets also help to re-arrange the elements so as to give a nice layout and catchy appearance to your website.
The main advantage of using a widget is that they follow a very basic Drag and Drop approach. This makes them easier to use and manage even by a non-technical person.
Accessing Widgets
Go to WP admin Panel. To get a list of available Widgets, go to dashboard and under the Appearance menu, click Widgets. You can perform the drag and drop of widgets from here to the desired location. This is how the widgets are added.
Let's look at some of the additional components that can be added to your sidebar/ header/ footer areas using WordPress widgets.
Shopping carts
Video gallery
Facebook feeds
Post categories
Menus
Testimonials
Poll results
RSS feeds
Calendars
Twitter
List of pages
Archives
So you can redefine your Look n Feel of the website by the use of these amazing Widgets.
A quick List of Best WordPress Widgets 2018
WordPress comes with some pre-loaded widgets but to cater the needs of growing social media and other features, there was a demand for some more feature specific plugins. In fact there are certain widget bundles available specially targeted to power a specific theme.
SiteOrigin Widgets Bundle: This plugin contains 20 very useful widgets. This plugin caters the needs of all business oriented widgets and are a must for a business website.

It has Google maps, testimonials, Image Slider, Call-to-action button, Pricing table widget etc.

Flash Toolkit Plugin: This is a multipurpose plugin best suited for any type of website. It has a collection of 12 very basic and essential widgets for any type of website.

Some of the widgets are Service, testimonial Slider, animated number counter, Team widget, and About Us section widget.

All in one event calendar: It is the most popular WordPress plugin across WordPress community having an active install count of 100k+. You can list your events in a very beautiful and elegant manner in your website. It has a widget, upcoming events, which can be added to any widget area of your WordPress theme.
Google Calendar Plugin: After installing this plugin, a widget named Simple Calendar will get added to your widget section. You can now simple drag and drop this widget across any widget area of your choice.
WP Twitter Feeds: Connecting with social media will definitely play an important role in exponential growth to your website. And what can be better, when you are able to link your twitter account with WordPress. This widget plugin helps you to display your latest twitter feeds on your website. This will make you draw more as more traffic thus making your site well engaged.
Social Icons: This widget should be your first preference. It has more than 100 social media square icons. This powerful social media plugin will give a widget "Social Icons", on installation. You can place it anywhere on your page.
YouTube Widget: For enabling this widget, you need to install YouTube Channel gallery plugin. This will allow you to add a video and a gallery of videos thumbnails to your website. It is very easy to use and customize.
Testimonial Widget: This widget enables the customer to write testimonials for you and your website. You can also display a list of reviews or testimonials on sidebar.
Enhanced Text Widget: WordPress has a default text widget for writing simple text but in case you want some more features then Enhanced Text Widget is the perfect pick. It can support HTML, PHP, CSS and even javascript.
Facebook Widget: It is a free WordPress plugin readily available at WordPress official website. This widget enables the user to add a Facebook page into the widget area. It also provides the Facebook Like button along with the number of users who have already liked that page. Isn't that a great medium for social marketing?
Wrapping up: The Final Words
WordPress Widgets can change your online experience completely by not just giving an attractive look to your website but also connecting it to the social networking websites. They are responsible for the desired x-factor to the website for making your presence felt globally.
The main advantage is that, these widgets can easily be used and customized by non-technical persons as it does not require any coding knowledge to operate. So, say Hello to your dreams and get stepped into the World of WordPress. Good LUCK!!!