Essential SEO Strategies for Your WordPress Blog in 2023 and Beyond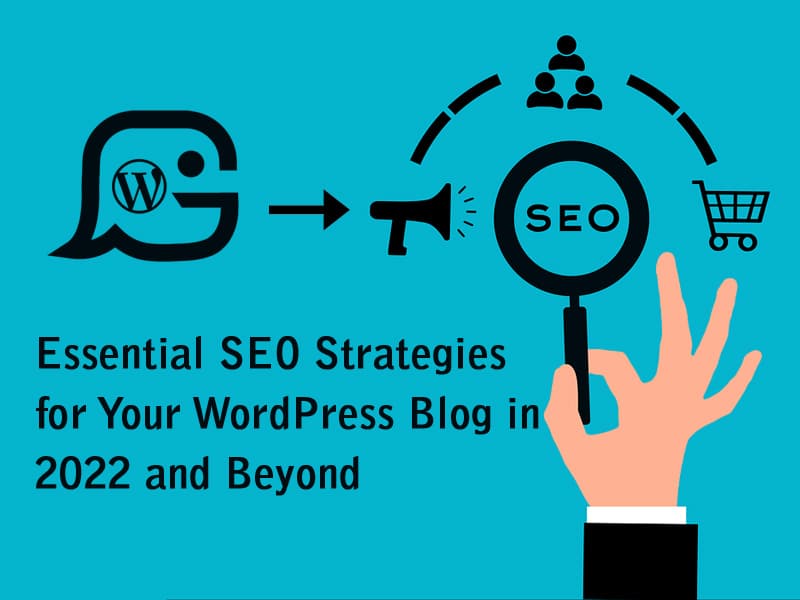 WordPress leads the pack when it comes to content management systems (CMS). Statistics show that an estimated 45.8% of all websites use WordPress. Now, that's impressive, especially when you consider the Joomla, the closest competitor stands at a mere 3%.
See, the platform is not only user-friendly, but also unrivalled SEO-wise. In fact, it covers all the basics of SEO right out of the box.
With that in mind, here's a rundown of tactics you can use to propel your WordPress SEO a notch higher.
But, before then, a quick note on WordPress.com versus WordPress.org (this post talks about websites built using the latter).
Sure, WordPress.com is an excellent tool for creating a quick, free blog. Still, it's no match compared to a self-hosted WordPress.org site regarding branding, versatility and of course, SEO. Some of the reasons you'd want to use a WordPress.org include;
You can use SEO plugins
You can access a host of super-responsive, SEO-friendly themes
You can use Google Search Console (previously Webmaster Tools)
You can code as per your specific needs
…And now, the SEO strategies for your WordPress.org website
Set your Permalink Structure to Static
The default permalink structure in WordPress, at its very core, isn't SEO-friendly. For starters, it looks something like this http://example.com/?p=N.
Even then, you can fiddle with the settings to create something more search engine-friendly such as http://example.com/your-post-title.
In your WordPress dashboard, hit the Settings tab – Permalink Settings and choose Post name. That way, you will ensure that the URL structure remains clean and straightforward. By extension, you will help optimize your new post URLs automatically.
On top of that, you can modify your slug to customize individual posts URLs for more SEO power. Move down your post creation page and type in your target keywords in the slug field. The idea is to make sure that you're replacing your default URL with specific keywords.
Place your Keywords in Title and Header Tags
Indeed, you should use your keywords (and variations) throughout your content. Still, you must include your primary keyword in your title tag, preferably at the start of your title.
Why is this critical? Well, because header tags enable Google and your visitors to know what your content is all about.
WordPress allows you to use header tags in a sec. Click on the text formatting and drop it down in your Visual Editor.
Upload an XML Sitemap
You don't require XML sitemaps for Google to navigate and index your content and pages. On the flip side, however, they can make the entire process less of a hassle by ensuring that your new material is quickly discoverable.
You can use plugins that will generate an XML sitemap for your website, including XML and Google Sitemaps. And the beauty of it is that they'll notify Google every time you add something new.
Set up Your Google Search Console
The last thing that you want is to miss out on essential SEO notifications or warnings when running a WordPress.org website.
It is essential, therefore, that you set up your Google Search Console from the get-go. In essence, this implies that you will get notified if Google is experiencing problems when trying to crawl, access and index your content.
Most importantly, this is where you will see any manual actions (including penalties) slapped on your site.
Further, your Search Console enables you to view some of the links to your website and the keywords attracting traffic.
Get your Content-Length Correct
The length of your content is essential. Yes, it is! Recent research shows that content ranking higher on SERPs is in the 2,000-word plus range.
It is important to note, however, that you should focus on churning out excellent content that answers your reader's questions. Here's how you determine how long (or short) your content should be;
Find out what's working for your specific keywords. Visit top ranking sites to see the length of their content.
Ask yourself if longer, more in-depth content would cover the topic better.
Use your reader's needs to determine your content's length. For instance, you can write a 500-word post if you want to answer a quick question. Or, write a 3,000 post for a complex topic.
One More Thing – Your Website's Design Still Matters
As, TyMedia Web Design explains, your website has to be appealing, user-friendly and mobile responsive. Of course, a well-thought-out design will boost your search engine optimization campaign in more than one way.
Visitors are likely to stick around your site longer if it loads faster and is easy to navigate. Think of it as a way to create trust with your visitors and by extension, potential customers.