Some Essential Do's and Don'ts of SEO for WordPress Websites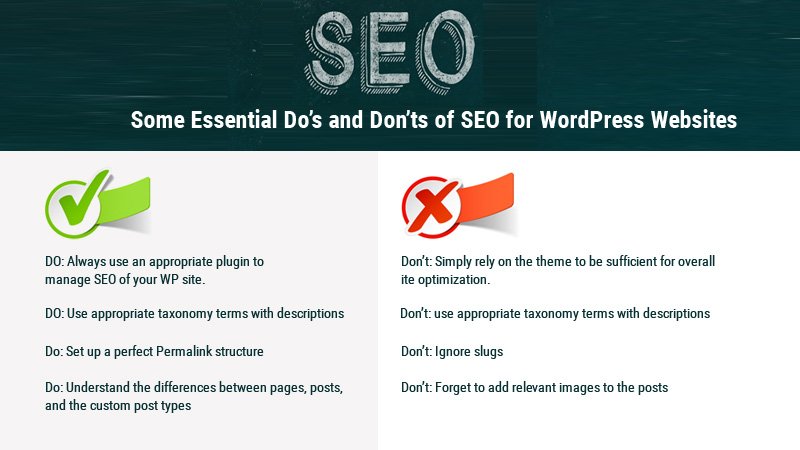 WordPress is, without a doubt, one of the best content management systems out there. Experts say it is also one of the most search engine friendly CMS platforms. With other platforms, you may face some problems.
For example, if you install a plugin or a theme and generate an HTML code, it may not work well on the search engines.
However, if you know your way around WordPress, the chances of errors are close to nil. Here is a list of do's and don'ts that you must follow when working with WP sites to have the best results.
Functional SEO

Experts say that a third-party plugin can best handle any theme for an independent functionality on a WordPress site. So:

Do: Always use an appropriate plugin to manage SEO of your WP site.

WordPress offers a host of plugins, some of which are specifically designed for search engine optimization. These plugins can help you administer basic optimization tricks that you do not need an expert for. Even a novice marketer or website owner can use these plugins to reap the benefits.

Don't: Simply rely on the theme to be sufficient for overall site optimization.

When switching to a new theme or revamping the site layout, you should always focus on elements such as meta tags and titles. If the SEO functionality is built into the theme by default, implementing a new theme with the same SEO elements will be impossible.

Taxonomy

Do: use appropriate taxonomy terms with descriptions

You can custom decide whether or not you want to index the taxonomy archives, but if you are planning to make them available for search engines, do everything possible to enhance them.

Adding adequate meta descriptions to the taxonomy archives is now much easier with the leading WordPress SEO plugins. You have to add meaningful and easily identifiable descriptions to every term, and you should also configure the SEO plugin to use these as meta description tags in the archive pages.

It is possible to be carried away creating content and then finally realizing that you have thousands of categories with each tag assigned to multiple posts. Considering that you allow indexing of the taxonomy archives, you may have thousands of archived pages which may simply be the duplicates of posts to which you assign these terms.

An ideal pattern to follow is to maintain between 5 to 7 categories per site and up to 3 tags for each post. It is a common sense measure as too many categories imply that your page covers too many topics and many tags imply that your posts do not have focus.

Permalink structure

Do: Set up a perfect Permalink structure

Example #1) https://www.sampleblog.com /?p=53065/

Example #2) https://www.sampleblog.com /essential-seo-for-wordpress-websites/53065/

Which of the above URL makes sense when it comes to your understanding of the content of the page? The second one, right? The search engines identify it the same way. You can easily change the permalink structure by going to Settings and accessing the Permalinks screen on the WordPress dashboard. You need to select the URLs to change them to be in line with the best search engine optimization strategies.

While setting the permalink structure, post slug or page slug is the /%postname%/ portion of the URL. It gets auto-generated from the title of the post by converting the entire text to lowercase, putting hyphens for spaces, and avoiding all special characters.

If the title is too long, the slug also will be long. You can have many WP SEO plugins which can help clean the slugs. However, it is advisable to do it manually to make it meaningful.

For example, the auto generated slug for this post would be like

https://www.sampleblog.com/some-essential-seo-dos-and-donts-for-wordpress-websites/

Which is further fine tuned to:

https://www.sampleblog.com /essential-seo-for-wordpress-websites/53065/

As you can see, the second option is much cleaner.

Content structuring

A proper content structure not only helps the search engine crawlers to identify your page as relevant, but it also helps the visitors to navigate properly around the site.

Do: Understand the differences between pages, posts, and the custom post types

Understanding page vs. post is simple. If you are considering something which must be appearing in the archives and RSS feed, it is a post. Pages are ideally used for static contents. Page examples are About page, Location, Contact Us and such.

The custom post types must be used for something which is neither a page nor a post. For example, if you want to add a portfolio section to the website, you can create a top-level page named as Portfolio and some subpages for each project. For this, you can enter custom post types. It is easy to create custom post types without touching the code.

Don't: Forget to add relevant images to the posts

There is a big update in the latest WordPress 3.4 for the media uploader. It has become much easier now for the users to upload images, but they tend to overlook adding relevant meta information before adding these to the posts.

For SEO benefits, it is essential to ensure that you accurately and meaningfully name images before uploading. It is the same in the case of videos too.

Search Engine Result Page (SERP) snippets

Do: Claim Google authorship of the content

You can do it easily with the use of appropriate plugins. You can display your social profile and bio. WordPress now posts a SERP snippet by default, which is optimized by the leading plugins like WordPress SEO.

Don't: Let your meta descriptions to be auto generated

As of late, descriptions do not play any vital role in search engine results, but they can still affect the click-through rates. So, avoid using the same description for all your pages.

Also, ensure that your descriptions are perfectly prepared to exactly represent what your posts and pages are all about. Search engines tend to show the first 156 characters of your posts if you do not set an appropriate meta description.
Take care of all these essentials while trying to optimize your WordPress site or blog for the search engines. The impact of these do's and don'ts may vary based on the nature of your website and posts. With an overview of these, you can run an intensive trial and error approach to identify the right strategy for you.