How to disable comments in WordPress (step by step)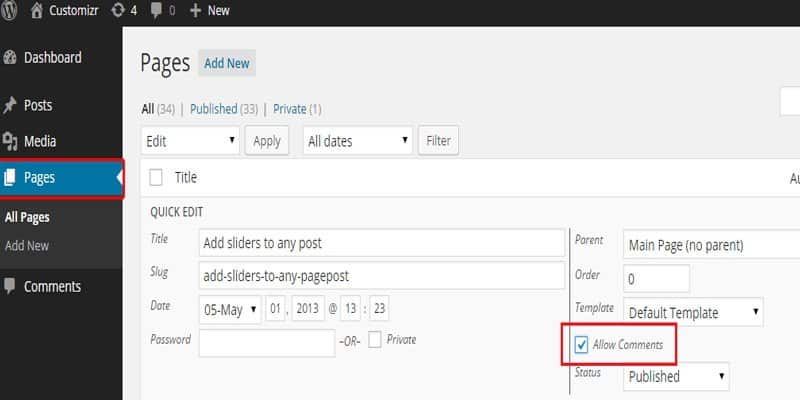 There are different ways in which you can stop comments on your WordPress blog. If you want to stop comments on all of your future pages and posts you need to uncheck the option that reads "allow people to post comments on articles". In this context, you can also disable your trackbacks and pingbacks.
This will make sure that comments and pings never appear on all the new posts that you have made on your whole site. In any case, the option of comments on pages would be disabled by default. However, if you are willing to allow comments on certain articles or posts you can do so as well.
More on this
You can easily change the settings in the heading discussions on a certain page or post.
Ways to stop comments on all pages and posts that have been published so far

The method that has been mentioned above would not stop the comments on your posts and pages that exist already. If you wish to do away with all the comments on your existing posts and pages you need to visit the comments part of your dashboard. Here, choose the comments that you wish to do away with, click on the bulk actions button, click the move to trash button, and then hit the apply button.

Ways to stop comments on certain posts and pages in bulk

In order to do this, you need to visit the all posts section. Then you need to choose all the posts from which you want the comments to be gone. After this you need to follow this path – bulk actions > edit > apply.

This will open up a new option named bulk edit – here you can choose an option named do not allow. This will make sure that comments do not appear on those pages or posts.

More on this
You need to keep in mind that there are a few restrictions in this case. You will not be able to choose more than 20 posts at a time. This is because the number 20 happens to be the default setting over here. This is the number of posts that will show on the all posts screen at a time. If you want more posts to be shown on the screen you would have to make changes in the screen options area.

Ways to stop comments on individual existing posts

In this case, you need to choose the post where you wish to make this change from the all posts section.

After this, you need to click on the edit post button. You would see a section named discussion underneath the area where you have written the blog. If you are unable to see this option you would have to enable said section by clicking on the screen options. Once this is done uncheck the allow comments part in the section in question. You can also do this by choosing the quick edit option for individual posts.

Ways to stop comments on media files

There is always a chance that even after you have disabled comments on the posts they would continue to receive comments in the media files area.

More on this
When you are uploading an image to your post you are creating a media file as well. This file can and would go on receiving comments even after comments have been disabled on the post where they are uploaded. If you wish to disable these comments as well you would have to go to the media library section. Here you can choose the media file and click on the edit button.

Here too you would find a discussion box that is a lot like the one that you see in the text editor section for the posts.

It is here that you would be able to disable the comments. Normally as far as the settings of WordPress are concerned you would not be able to do a bulk edit for the media files. However, if you are able to add some code to the theme file you should be able to do bulk edit as well.

How to get more control on the comments on WordPress

Apart from disabling the comments on your WordPress blogs and pages, it is also possible to gain control over the comments being made over there. All you need to do in this case is adjust a few things in the discussion panel part of the settings section.

You can make arrangements to make sure that you, the moderator, approve the comments before they are published as such. This way, you can do away with the spam comments as well as the bots that as tasked with commenting on posts and pages in platforms such as these. This will also make sure that no comment appears on the front end of your blog without your permission.

More on this
They will be pushed to the comments queue of your dashboard section and it is here that you would be able to deal with them. If it is certain IP (internet protocol) addresses that you wish to blacklist you can do that as well. You can also do the same with emails and usernames. This way, all the repeat offenders would be blocked – even ones that are partially matching the list of blocked entities will be barred from making a comment as well. In case you wish to deal with IP addresses that have bad intent you can use a bit of coding to .htaccess.

If you wish to make a user register in order to comment on your blog you would be able to do that as well. This would be beneficial in the sense that it would reduce the number of comments on your posts and pages as well as bring down the number of spam comments as well.

As an author, you can also approve comments on your pages and posts. If you wish to save time in this regard all you need to do is approve the comments by selected authors only.