How to Create an Ecommerce Website and Promote and Advertise on Instagram for Sales?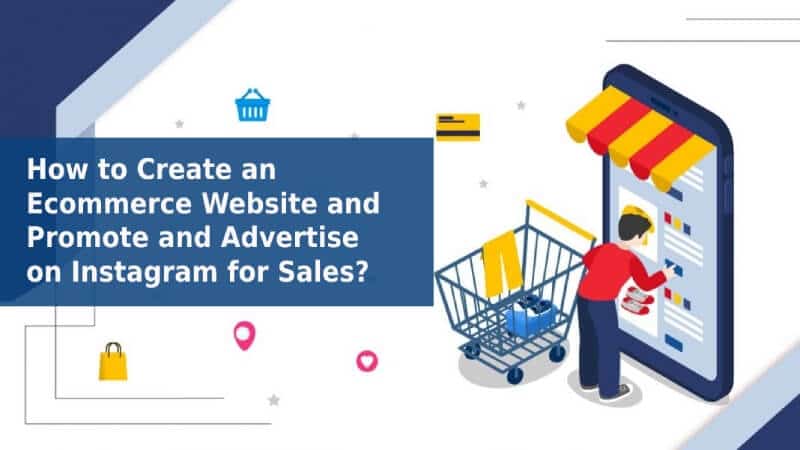 The ecommerce business is expanding, and people are increasingly opting to purchase online over in-store due to the unrivalled convenience. It's the best time to start your own ecommerce business and open an online store.
Starting an online business may appear to be a difficult task, but fear not: with the proper ecommerce platform, your company will be earning sales faster and simpler than you ever imagined.
Starting your own ecommerce website provides you complete control over the client experience, from branding to shipping and customer support.
You can construct it yourself or hire a developer, but understanding the process will help you make informed decisions so that you end up with an ecommerce website that is optimal for selling your products and services online.
How to Create an Ecommerce Website?
It's possible that creating an ecommerce website is easier than you think. There are now ecommerce solutions that perform the majority of the work for you, but you must still know what's available and what your site requires.
You can make your own selections that lead to a wonderful site that develops and changes with you over time if you do enough study. In order to create an ecommerce website, you need to follow the following steps.
Select an ecommerce platform.
Purchase a domain name.
Pick your ecommerce theme.
Customize your template.
Add your products.
Setup payments option.
Sort out your shipping settings.
Preview and publish your store.
How to Promote Ecommerce Websites on Instagram for Sales?
With 1 billion monthly active users worldwide, Instagram is unquestionably a marketing tool that ecommerce should not neglect. Because of Instagram marketing, hundreds of thousands of ecommerce firms have gone from zero to hero. Check out this link for Instagram tutorials.
The huge data collection that Facebook Inc. has gathered within its user base is the secret to this social platform's success in the sector of ecommerce marketing.
What You Need to Advertise on Instagram?
An ecommerce store.
An instagram business account.
A Facebook account so that you get more opportunities to advertise.
A credit card to pay for the promotion.
Some good pictures of your products.
Types of Instagram Ads to Promote Your Business:
Stories ad:

Instagram stories are Instagram postings in the form of images or videos that display at the top of the page in a vertical scroll section and vanish after 24 hours. Instagram stories might be natural or they can take the shape of a story ad.

Photo ad:

Photo advertisements are similar to Instagram stories advertising, except that they appear in the usual vertical feed rather than the top horizontal section of the screen.

If your target demographic is between the ages of 30 and 60, photo advertising are an excellent option. Stories are more appealing to millennial and younger generations.

Tagging items allows consumers to navigate right to the store, which is a common practice among online retailers. Remember to include aesthetically attractive content, an original and interesting caption, and appropriate hashtags.

Video ad:

Video commercials are an excellent way to raise brand recognition. While consumers browse through the feed rapidly, make sure your material catches their attention by being either visually attractive, unusual /perhaps even shocking/, or compelling — for example, brilliant shifting colors or a quick succession of pictures that acts as a feed in itself.

Carousel ad:

Carousel advertisements on Instagram are a sequence of up to 10 pictures or up to three videos within one ad that businesses arrange in a specified order for improved storytelling.

This is a sort of ad that provides users a sense of control while also allowing the advertiser to hold a user for longer and expose them to a wider range of items all inside the same ad.

Instant experiences:

Instant Experiences are a form of Instagram ad that functions as a mini-website integrated into the Instagram feed.

The features' flexibility allows advertisers to mix pictures, videos, carousels, and tilt features all inside one ad for the most comprehensive exposure of a product line or brand. Several ready-to-use designs are accessible to use with only a few clicks.

Collections ads:

Instagram ads are a form of advertising that is exclusively available to company accounts that have the Instagram Instant Storefront feature. It includes a hero photo or video, as well as three highlighted product pages that may be purchased straight immediately.

Collection advertisements are an excellent method to get your consumers involved straight away. They're ideal for cosmetics, apparel ecommerce, shoes, and accessory businesses, since they direct customers straight to the checkout procedure in the comfort of Instagram. This is a marketing funnel decision stage advertisement.

Ads in explore:

Users come to explore to learn about new things, to check what's happening, and to find new influencers to follow, thus using the explore advertising is like catching them off guard – making it a great ad location for brand exposure.
Instagram ad Tips for Producing Effective, High-Converting Advertisements
Audience targeting:

After properly knowing your target audience, this is the only way to create a digital campaign. Before you go into determining the ideal audience parameters for your campaign, do a customer journey, a comprehensive competition check in the digital dimension, and have 3–5 customer personas fully fleshed out.

Wise Use of Content:

Despite the fact that Instagram is largely a visual platform, the caption is still crucial. When applicable, use emoticons; don't forget the call to action; and deliver your narrative in a consistent tone of voice.

Use Hashtags:

Hashtags aid in the organic inclusion of your content in search results. So make the most of your hashtags by including some larger, mid-sized, and more specialized ones in your caption. In the bio of your company account, utilize one of the most relevant hashtags.