Corporate Website Building: Ways and Tips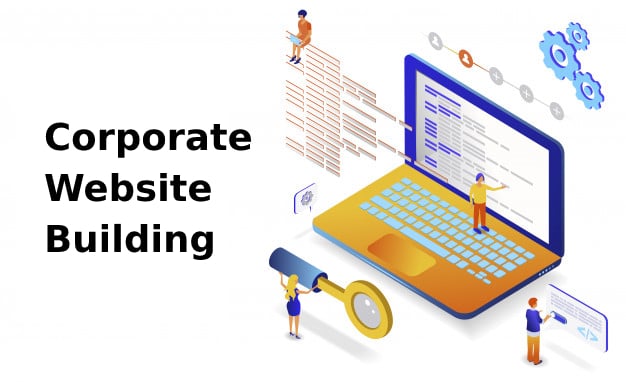 Today, the ways businesses highlight their online presence vary greatly. The digital sphere offers various channels of promotion, starting from social media platforms to email newsletters distribution.
Still, the role of a website remains of utmost significance. Thanks to the website's multifaceted functioning, companies have everything at their disposal to bring higher awareness.
Apart from being a powerful tool for managing business performance, the website can even serve as a company's digital face.
The corporate website is aimed at representing a company as a whole, demonstrating its scale, mission, and values. Besides, everyone who drops into the corporate website should get a clear understanding of the company's reputation and achievements.
For that reason, such websites usually showcase data concerning the company's operating, various reports, and statistics on pages that drive trust and credibility. And it's a must to remember when launching a corporate website.
Designing a corporate website from scratch might be difficult. How to make the website appealing and avoid overloading it with a flat narrative of the business cores?
The answer is to employ an already proficient draft design theme. Designing upon a theme saves time and ensures not getting off the intended path. These are plenty, but here is the list of the top 5 WordPress design themes.
1. Unifield PRO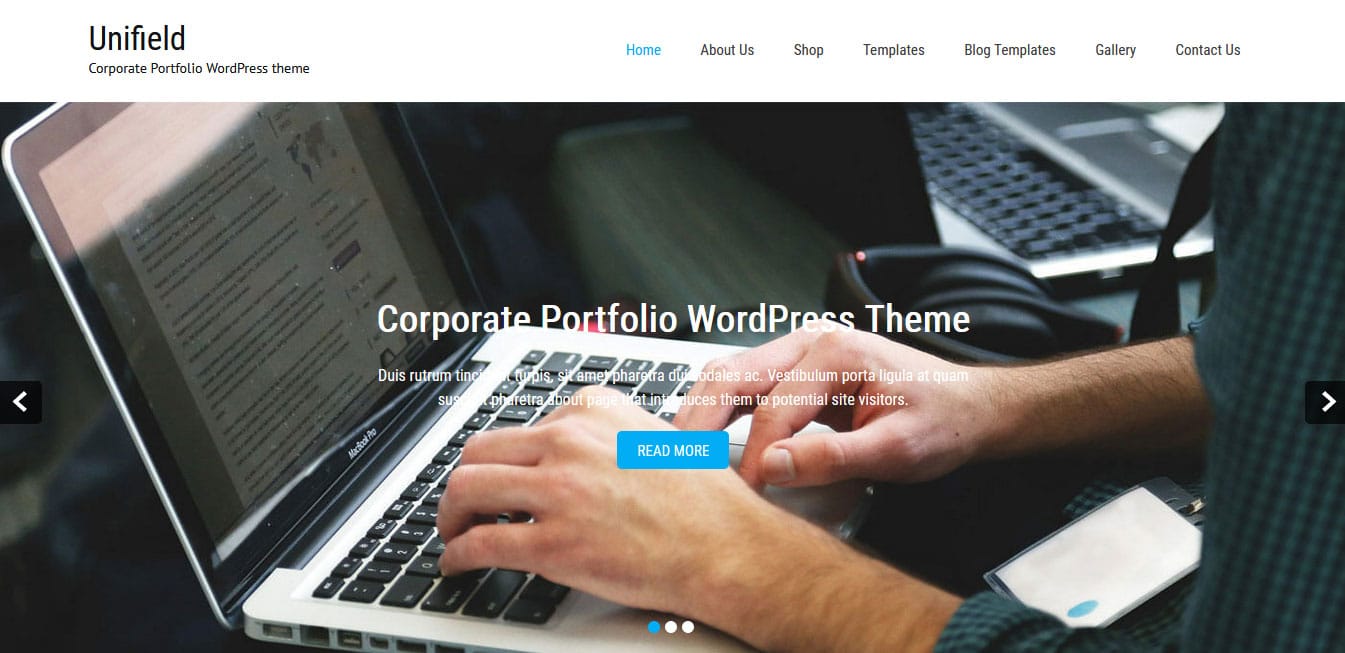 Unifield is a well-structured and polished corporate portfolio WordPress theme perfect for all sorts of businesses.
It provides everything for establishing excellent corporate and business websites, including flexible slideshows, company profiles, project showcases, photo galleries, clients reviews fields, service sections, product catalogs.
The theme customization covers ready to use demo content, such as page layouts, color schemes, fonts, icons, logo, footer column options, the list goes on.
With its multilingual functioning, it's easier to reach an international audience. It is fully responsive and user friendly.
Key features:
Professional, modern, responsive design
Clear shortcodes
Compatible with WordPress plugins
Elevation PRO is an engaging, colorful, and highly flexible theme that is suitable for any business type, be it a design agency or a personal blog. It includes all modern features and functionalities – appealing header, excellent slider, displaying all kinds of visuals, easy to use admin panel, lots of pre-built options.
The theme doesn't require any coding knowledge and functions well regardless of the screen size and device used. Thus, it's SEO friendly.
Elevation PRO is compatible with many WordPress plugins such as WPForms, Cyclone slider, Yoast SEO, and WooCommerce. This well-structured and full-featured framework allows you to land the design with your needs without any restraints.
Core traits:
Agreeable with the latest WordPress version and WooCommerce ready
Built-in functionalities and various templates
Full-screen portfolio gallery with numerous options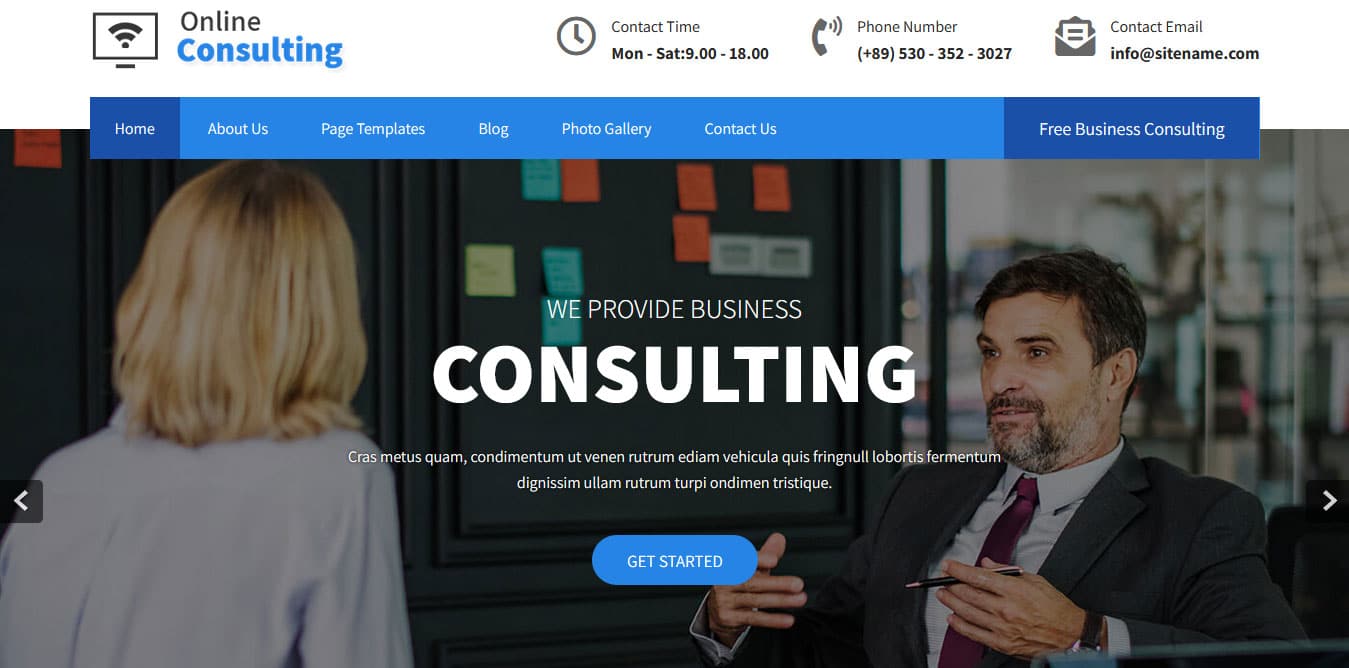 This resourceful theme suggests an impeccable service for business consultants, investment firms, marketing, development, financial and other agencies.
It's a smooth and robust framework with a vast set of functionalities: full-width header with clean navigation and contact details, pre-built slideshows with visuals and messaging, welcome section, icons, visual editor, animation effects, various panels, excellent typography options.
Attributes:
Advanced templates
SEO friendly coding
Cross-browser compatibility
4. Night Club PRO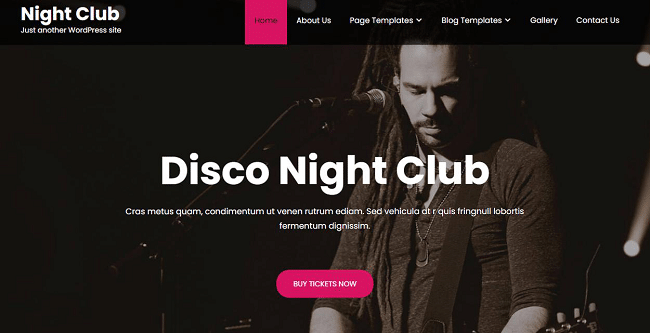 The nightclub is a creative and bright platform relevant to the music industry, especially suited for music bands, radio stations, festivals, nightclubs, and bars. It includes all the necessary options for those specific purposes: live-streaming opportunities, ticket booking forms, audio albums templates, etc.
The theme involves beautiful designs with full-width sliders, animation effects, photo galleries for showcasing marvelous visuals.
Besides, it encompasses social media links, contact forms, music blogs, Google map integration, and newsletter subscription forms for better engagement.
Notable features:
Vast color palette
Responsive design, optimized for high-speed load times
Social media integration for Facebook, Twitter, LinkedIn, Instagram, and YouTube
5. Charity Help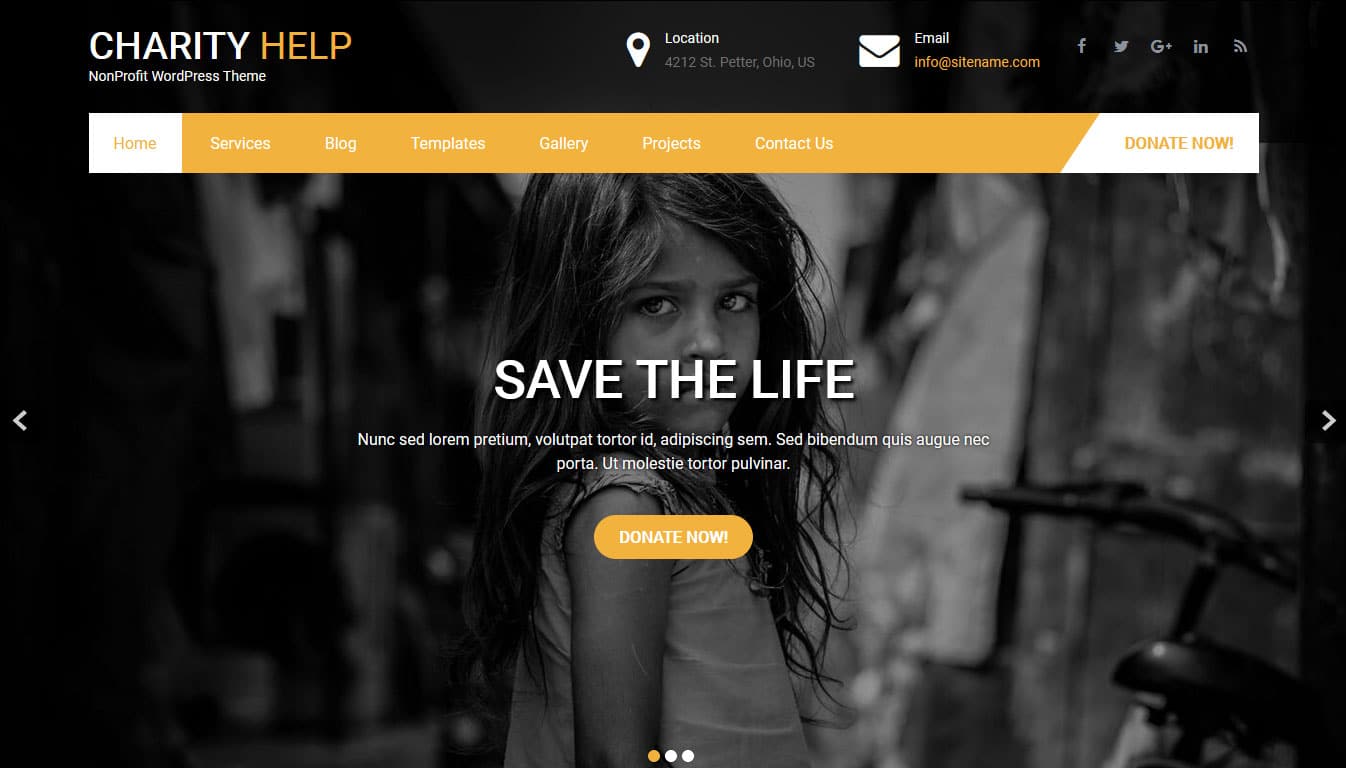 This powerful and resourceful platform is best suited for non-profit organizations, such as fundraising societies, social or political organizations, charities.
The theme is excellent for promoting your mission and bringing awareness campaigns to the masses.
It can be customized just in a few clicks because it includes all the necessary advanced options settings: responsive sliders, full-width layouts, templates, unlimited color palettes, icons, and fonts. It doesn't require coding, as well.
Key elements:
Easy built-in customization
Responsive design
Multilingual capabilities
Employing design themes can notably facilitate the process. Even those who don't have experience in coding can easily manage the design in less time with less effort.
However, excellent websites can take a more dedicated approach. Depending on the scale of the business and the purpose of the website, entrepreneurs might choose between design themes and custom web design.
Despite being a time-consuming and challenging process, custom web design is a powerful tool for creating unique and robust platforms with excellent functioning for big corporate businesses.
Firstly, a custom web design is suitable to design projects from scratch. Thus, designers can tightly bound the website's features with that of a business without going at risk to get indistinguishable and similar to other projects.
Such an approach contributes to the memorable, unique style of the website that fully reflects and emphasizes the business individuality.
Secondly, visitors, when on the page, will experience it the way the business intends them to do. That results in better brand perception and drives recognition.
Ultimately, custom web design presupposes custom web development as well, which ensures high functionality and usability aside from the visual form.
The corporate web design covers areas that require knowledge, excellent expertise, good experience, and some other significant points. Here are some tips on how to design an excellent corporate website:
Make the website mobile-friendly
Given the fact that half of the overall traffic comes from mobile devices, it's reasonable to make the website mobile-friendly.
Using a responsive design approach ensures that the platform will function well on any device – laptop, desktop, or smartphone. Thus it will be usable and appealing to a vast customer group. Moreover, mobile-friendly websites rank higher when it comes to SEO.
Adjust high-quality content
Representing the company as a whole and displaying its achievements, mission, and vision is what a corporate design put at the forefront.
A business website should cover the company's branches and its locations, public and investor relations, careers and internships, etc.
Such a rich contribution provides visitors with a better, all-round understanding of the company and what it stands for.
It's critical to make sure that all design components function well, and the website is not overloaded with unnecessary data. All the material should be accessible and easy to navigate through.
To avoid flat and dry content, it makes sense to employ beautiful visuals and various designing elements that will make the website more appealing and profound.
Using one color palette contributes to consistency when optimization of all on-site images speeds up the website's loading time.
Enable social media integration
Social media is a powerful tool for communicating the business to the outer world. Custom websites incorporated with social media channels have better chances to bring awareness and recognition to the audience. What is more, social media networking works as a mediator between customers and businesses.
Conclusion
Designing corporate websites is a complicated issue, but with the help of various digital tools, it becomes easier to manage it. Design themes are cost-effective and less time-consuming.
They don't require any specific knowledge or coding skills. At the same time, the custom web design takes a dedicated team, more time, and budget expenditures, but guarantees impressive results.
The choice depends on the objectives the business is aiming to achieve. Still, no matter the way a company chooses, it's crucial to remember that a good corporate website is a mobile-friendly, well-organized, and well-structured platform.