How to Convert WordPress Into Wonderful Mobile Application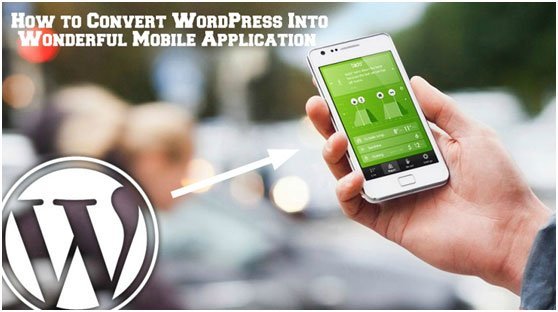 The usability of a wonderful mobile app is visible throughout the world. Therefore, every business builds a great mobile app to offer better convenience to its customers by giving one more way to interact with the services or products.
It is due to the rise in the mobile internet that mobile apps are taking first place among customers throughout the world.
To create a wonderful mobile app, a considerable ratio of businesses is opting for WordPress as their platform. The reason is quite clear that WordPress has already spread its charm being a powerful blogging tool and content management system.
Below are some of the best reasons to build a mobile app with WordPress:
Safe Database: It offers relational and safe database that can be examined deeply.
Great Compatibility: It is easy to go with the newest version of WordPress irrespective of the fact that PHP is outdated. Even the WordPress is not going along the latest version, it is possible to use the latest plugins.
Awesome Customization & URL Mapping System: URL mapping system polishes both navigation and performance. REST API assures variety of customization.
Can't wait to meet the best plugins to have awesome mobile app with WordPress? Here comes the list-
Wapppress
This works the best if you are searching for a website to mobile application WordPress plugin. This premium plugin saves times and makes your mobile app stand and run within fraction of minutes.
For people, who require to do content customization or wish to regulate its appearance, it is not a preferred choice.
WordPress is the best option for a small non-profit or a blogger as it provides them an easy method to find a place in Android app store.
MobiLoud
MobiLoud enables you to alter a desktop website into a desired mobile app for both Android & iOS devices. This plugin comes with a promise to boost mobile monetization and advertising efforts by using Google DFP, Adsense, MoPub, Admob, etc.
Along with multilingual (more than 20 languages) and RTL support, this plugin is really useful in social sharing and commenting. It comes with a 21 days free trial that can be transformed to premium plan.
Web2App
This superb WordPress plugin needs no introduction as it transforms a responsive site into a complete native app. Having a super easy setup, it offers a great mobile app with awesome quality.
Though it does not demand a huge amount of money to create it, but this plugin has enough customization possibilities. There are multiple mobile app features to avail with it like; social sharing, start-up flash screen, etc.
Blappsta
Do you want to convert your WordPress blog into a iOS or Android app, then there cannot be a better option than Blappsta.
This cool WordPress plugin has 'Blappsta Preview' option which allows you to test and preview. The received app can be blessed with Contact form 7 & video support, display Facebook page, articles, etc.
Worona
Worona WordPress plugin comes with exclusivity that it owns a distinct online dashboard to do configuration and publishing your app. Therefore, one does not need to use it within the WordPress.
It enables users to create app both for iOS & Android from the WordPress site. The work is going on to add feature of Facebook instant posts and Google AMP. Apart from the push notifications, theme analytics and premium theme, Worona is free to use.
appful
Do you have wonderful content on YouTube or your website? Get it rehashed into superb Android or iOS apps. appful is the best choice in the online world, whether one is a content creator or the online publisher.
The subscriber will be charged only when he gets content with the final appearance of the app and once it is published. It is embellished with the support for offline reading, social media sharing, comments, placement of logo, and many more to name.
Androapp
Androapp is a plugin having lots of flexibility to create a mobile application for Android that has smoother and faster loading as compared to the plugins. This plugin also comes with an option for monetizing your mobile applications.
It contains wonderful features such as caching, infinite scrolling, support for deep linking, great setting and many more.
AppPresser
AppPresser, based on the PhoneGap from Adobe family, is a superb framework for both platforms Android and iOS. The best part is that AppPresser provides full WordPress integration.
This means to say that multiple features familiar with WordPress can be integrated in the final product, such as photo upload, back-end, etc.
Conclusion:
Thus, we have brought the most affordable list of WordPress plugins that ensure faster solutions to generate a mobile app with your WordPress website. Why don't you try one today?
This will certainly bring you better opportunities to gain more customers with an added channel to interact with them.