Conversion Rate: Top Ways To Increase And Optimize It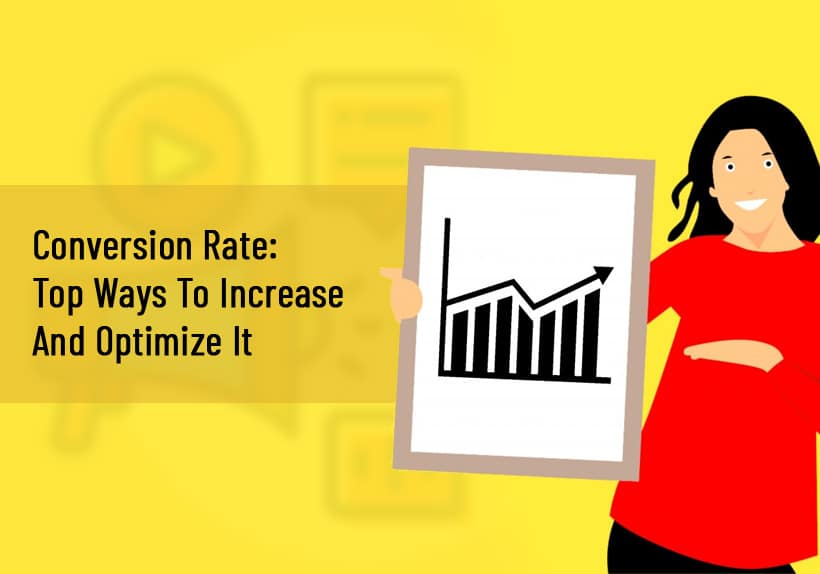 Have you ever visited a website and felt overwhelmed right away? Did the content and design fail to explain the nature of the business, the products it offered, or the benefits of doing business with them?
A bad branding strategy or the absence of a brand in the first place led to this dreadful user experience.
You must have a competent website and be well-versed in website conversion rates if you want your business to succeed in the contemporary industry. It supports all of your digital marketing initiatives and serves as the foundation of your company.
A good brand and communication plan may help your company take the lead in your sector. Your website and brand would be nothing without it.
Given that consistent brand presentation boosts income by 27% on average, it is essential for your company to have a well-designed website that contributes to the development of brand trust.
It is crucial to concentrate on CRO audit and boosting conversion rates because both are interconnected.
Website conversion: What is it?
When a user clicks on one of your call-to-action buttons, subscribes to your newsletter, shares a blog post on social media, or makes a purchase on your website, such activity is known as a website conversion.
The conversion rate is the proportion of site visitors that carry out the desired activity.
Since getting people to accomplish what you want them to do is crucial for every firm, website conversion must be taken into account in any type of marketing strategy. Conversion rate optimization for websites is tied to overarching corporate objectives.
You must first choose what your website should do for your business in order to get a normal website conversion rate. Every company website is created to boost conversions.
Website conversions come in two flavors:
– micro interactions
– macro interactions
About conversion rate
Simply said, the conversion rate refers to the number of website visitors you've persuaded to make a purchase from you or carry out another desired activity. Even more simply, it displays the number of visitors that we were able to turn into paying clients.
You could believe that everything you did was correct.
Your items may be flawless, and your website may appear fantastic. But if visitors to your website aren't turning into customers, you should put more of your attention on conversion rate improvement.
The following suggestions should be kept in mind if you want to increase sales and revenue.
Boost your conversion rate with the help of A/B tests
How do these tests work?
In these tests, we develop two distinct iterations of a campaign or web page that you deem significant, whether it's an advertisement, a user experience design, or a full landing page, and we run them in parallel to compare them.
At the conclusion of the test, you will be able to tell which version delivered superior results and which you may utilize going forward to increase conversion rates.
Always have a strategy and know what you want to test when it comes to A/B testing.
Additionally, keep in mind that your website or campaign's possible weak points will serve as test factors.
Always develop a roadmap to make sure you don't stray from your original strategy when testing and that you get pertinent and helpful information at the end. This need to outline the variables you plan to test and how each version will present them.
When doing A/B testing, it's usually a good idea to include headers in your variables.
No matter if you're testing adverts, blog articles, landing pages, or email newsletters, headings always play a significant part in obtaining conversions. This is so that individuals may choose whether or not to read a certain piece of material or access a specific web page.
Make sure to build trust
We are aware that a substantial portion of purchases is driven by necessity or desire.
This demand, however, is frequently overshadowed by factors like a lack of resources, such as time, money, or certainty. Each of these things has the potential to discourage a potential buyer.
Of course, you can't control things like money or time constraints, but you can and need to lessen ambiguity. Before making a purchase, this is an aspect that may be quite important to that person.
A potential customer may decide not to buy from you if your website even slightly undermines their trust in you.
How can you win the trust and loyalty of your customers?
Use customer reviews to start. It is common knowledge that consumers research products and vendors before making a purchase. It is crucial that you give accurate information about your company and demonstrate that past clients have had a positive buying experience.
You may do this using website like Facebook and Yelp, but you should also enable client reviews on your website so that site visitors can locate this information quickly and simply.
By including personnel images on your website, it's a wonderful idea to humanize your company. As a result of your visitors being able to recognize you, a sense of community may start to take shape on your website.
CTAs
Your conversion rate can be significantly impacted by calls to action. A strategically placed and well-formulated CTA may significantly enhance conversion rates, whereas one that is badly conceived can have the exact opposite impact.
Now, let's look at some tips to assist you to enhance your CTAs and generate as many purchases as you can.
Use call-to-action wording that tells your visitor "yes, that is actually what you want" as much as possible.
Avoid using canned text, instead, be original. We advise using CTAs that begin with "yes," such as "yes, add to cart," because the visitor is more likely to click them if they are certain they need your good or service.
Additionally, put your CTAs in a reasonable and obvious location. This will make it simpler for your guests to begin a task that is significant to you earlier. And don't be hesitant to utilize color to make it simpler for visitors to locate your CTAs.
You may also do an A/B test to optimize your CTAs. Spend time and effort on this since a strong call-to-action may significantly raise your conversion rate.
Gather data about your visitors
You must understand your visitors if you want to enhance the user experience on your website and boost conversion rates. Given its extensive toolkit, we advise using Google Analytics for gathering and analyzing user data.
Here are some metrics that you need to be aware of.
– Current users
– Demographics
– Interests
– Data about the device
Current Users
You can monitor your active users using Google Analytics and determine whether you're receiving the traffic you desire. You can determine whether your existing marketing efforts are effective or whether they need to be adjusted based on the figures.
Demographics
When polling your visitors, demographics are of utmost relevance. Knowing the gender and age of your visitors will allow you to properly tailor your communication with them. Your conversion rate will increase as a result of your message becoming considerably more effective.
Interests
It's crucial to understand the interests of your website users. With the use of this information, you'll be able to advertise in the most efficient ways and provide potential consumers with the information they need.
Data about the device
This information is crucial because it enables you to determine if a desktop or mobile device was used to access your website. You can make sure that your website is optimized for the appropriate devices and browsers based on this information.
We advise you to develop buyer personas utilizing the user information you get. If you're not aware of buyer personas, these are fictional people you create that essentially represent the traits your ideal clients could possess.
This is advantageous since it makes it possible for you to understand the attributes and characteristics of your target market. This might assist you in producing more specialized and targeted content that will pique the attention of your target audience.
Conclusion
It may be quite difficult to optimize conversion rates. Because there are so many things to take into consideration, it is quite simple to become lost in the process.
Use a CRO planner to prevent this. If you are hesitant, this may be really helpful since it serves as a type of crutch that demonstrates the approach you must take to improve your conversion rate.
Make a plan with the things you must finish on it as well. This will help you stay on track and make sure that you always know what to do next.