Why Should You Consider Using WordPress for Your Website?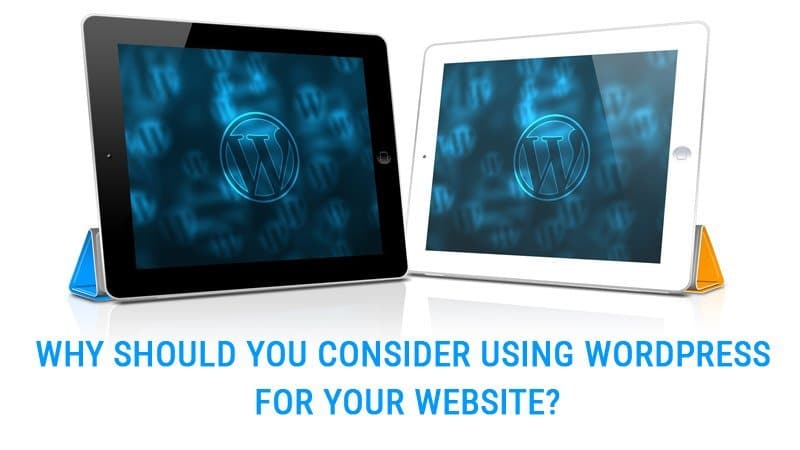 When you a businessman or a professional and want to promote your work online to get more customers, you might ask why you should opt for WordPress instead of the other services. Also, if you already have a business site, why should you change to a new WordPress Website?
Well, first of all, you have to understand that WordPress is not just a platform for blogging, as most people think.
If anything, WordPress can be called a very versatile system for content management. While you can still use WordPress for blogging, it is not merely a blogging platform.
Benefits of using WordPress

WordPress is a very easy to use platform which you will find to be very flexible. More importantly, did you know that WordPress powers a lot of big companies' websites?

The big names include the likes of Time's magazine, Google, Facebook, Linkedin, The New York Times just to name a few. The number of features on WordPress is truly commendable.

Moreover, you cannot ignore the fact that WordPress is above all, free of cost. It can be downloaded free, and then you can install it, use it and also modify it to an extent.

WordPress is an open source software. That means that anybody can change it to fit their requirement which gives WordPress a great amount of versatility.

WordPress has thousands of inbuilt themes for you to choose if your budget is small and you do not have the time required to have a customised web design made from scratch.

Other benefits of WordPress

WordPress does not require you to have too many things. You just need a domain name and a web hosting. When using WordPress, these are the only things you practically have to pay for and the price is not too high.

WordPress is a community-software because it is open source. The large groups of people who maintain WordPress are WordPress consultants who intend to help the community to grow.

Practically, anyone can contribute to this community by answering each other's support questions or writing plugins for it. You can create themes as well or translate WordPress documents. When you use WordPress for business website, you can become part of this great community as well.

Not only do you get free services from other members of the community, but you can start giving back to the community once you get some experience in WordPress yourself.

An interactive platform which is easy to learn

Millions of people are using WordPress every day, and by doing so, they become part of the WordPress community. When you create your website by WordPress, you become part of that community as well.

WordPress is so preferable to most people because it is easy to understand and use. If you wish for some experienced professional help to set you up with your website, you can hire professional help to build you a WordPress website using your preferable theme and vision.

Affordable website design Adelaide does just this for you. You can contact them for any WordPress related issues as well.

You need to understand that the fact that most users of WordPress are not technical geniuses themselves. Most aren't even designers or programmers. So you have nothing to fear if you have no previous concept about website designing.

WordPress Themes: A boon in website designing

The thousands of templates that are available on WordPress will save half your time in deciding if you have no idea about web design.

There are different themes available for various people. For example, portfolio theme, photography theme, magazine theme to name a few. You will find that even the free themes are nothing to worry about.

If anything, there is a chance you will find a different theme for any website you have in mind. Not just that, but these themes are easy to customise, and you can modify them to give your site a particularly unique look.

The reason they are easy to customise is that most of the times, they have their own options panel which comes with colour change scheme, logo uploading option, background change and other such useful features to help you give your website that unique feel.
Conclusion
WordPress is a very SEO friendly platform. It contains high-quality codes. WordPress also has an inbuilt updater of its own so that you can update its plugins and themes from the admin dashboard of WordPress.
You will also get a notification when there is a new version of WordPress will be available, and you can upgrade it to that. It is a very secure platform as well.
As a community, they give utmost importance to its security. Moreover, that is not all, but WordPress is compatible with almost any kind of media files.