Complete Checklist of WordPress SEO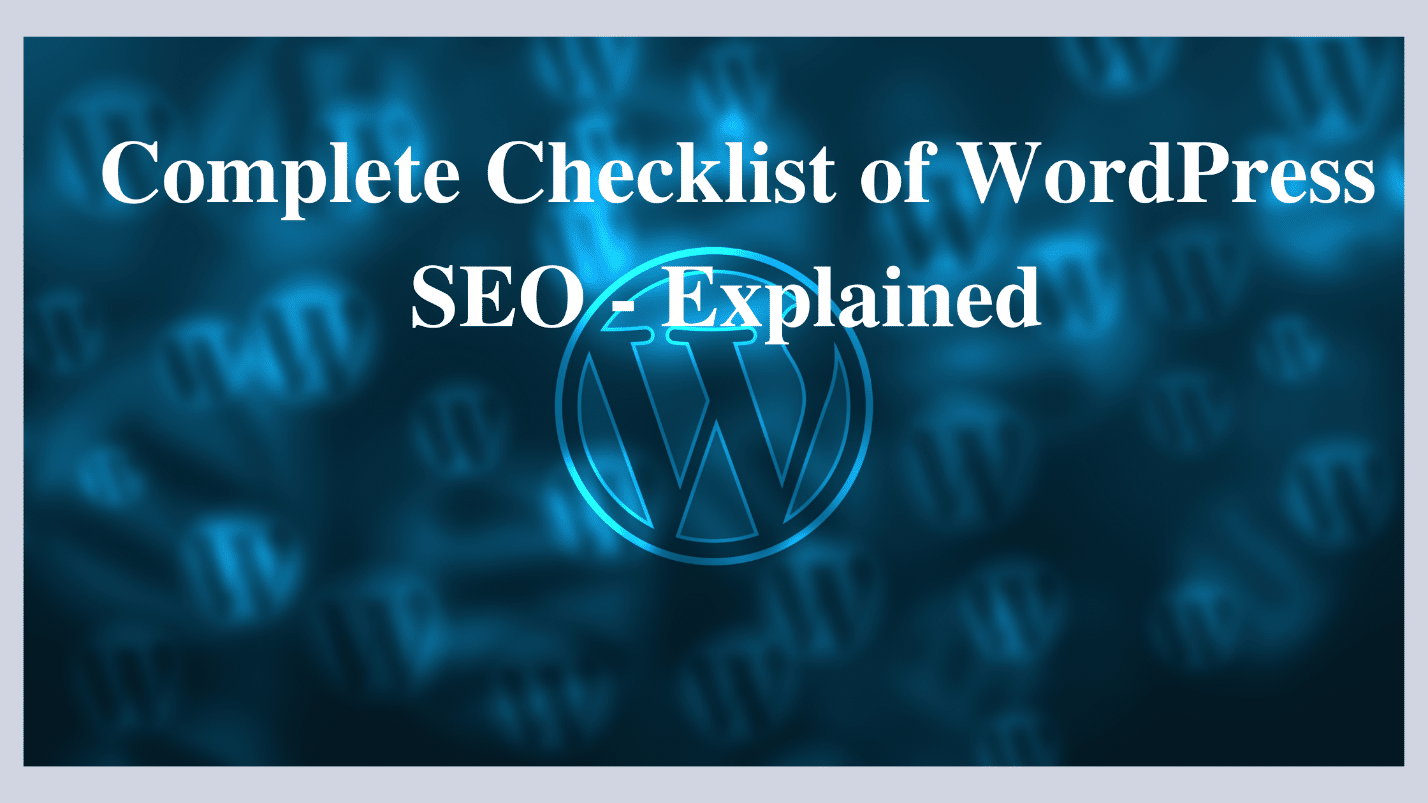 You already know the importance of following the proper SEO on your websites. It is as important for WordPress SEO so that you would be able to enhance your website's ranking on search engines to get the most traffic out of it.
We are going to tell you some quick tips and tricks by following them you'll get your website optimized and it will lead you to flourishing WordPress SEO.
In this article, we'll be going through a complete WordPress SEO checklist to boost your optimization and website rankings. Before that, we need to understand some terms. Let's have a look at them briefly.
What is WordPress?
First of all, we need to know what WordPress exactly is. WordPress is one of the world's most used content management systems that covers more than a 35% ratio of the whole internet. It covers almost all the journal websites like Etsy Journal, TechCrunch, Microsoft News, TED Blog, and much more.
It has been known worldwide for the exceptional features and all-in-one package that everyone prefers using WordPress for creating their website. It is smartly handled by numerous website developers.
WordPress initially 2003 worked as a blogging platform and later on began to work as an outstanding e-commerce solution in 2020 as well. Due to the smart, flexible, and most powerful resolution it became in demand for everyone.
What do you mean by WordPress SEO?
WordPress helps a lot in following the best SEO practices itself without your involvement in using any specified SEO strategies. It makes your SEO way easier and more accessible that you don't need to be an expert for it.
It doesn't mean that WordPress will perform all your SEO functions. No, you have to check and perform all the SEO operations by yourself as well.
All the linking's, optimization of images, using proper keywords in headings, use of proper sentence structure and so many other tactics.
It will only ease your tasks and will boost your content as per SEO best practices.
SEO Magnifier AI Paraphraser is a tool that can help you generate social media content by rephrasing existing text. Here are some steps you can follow to use it effectively:
Could you identify the text you want to paraphrase? This could be a blog post, article, or any other piece of content that you want to use for your social media posts.
Please copy and paste the text into the SEO Magnifier AI Paraphraser tool. You can find this tool by searching for it online.
Click on the "Paraphrase" button and wait for the tool to generate a new text version. The tool uses advanced algorithms to rephrase the text while retaining its meaning.
Please review the paraphrased text to ensure it makes sense and is grammatically correct. You may need to adjust the text to ensure it flows well and is readable.
Use the paraphrased text to create your social media posts. You can use it as a starting point and make further edits to tailor it to your audience and platform.
Remember that while SEO Magnifier AI paraphrasing tool can be a helpful tool, it's important to use it ethically and responsibly. Don't simply copy and paste text from other sources without proper attribution or permission. Use the tool as a way to generate ideas and inspiration for your social media content, but always strive to create original and high-quality content that provides value to your audience.
Checklist of WordPress SEO:
Before going further on your website you need to understand the tips and tricks that can be followed for better functioning of your website in search engines ranking.
Here we will be telling you the complete proper checklist of WordPress SEO on which you can rely undoubtedly.
We've jotted down all the necessary details you need to know for the best organic growth for your WordPress Websites. So, without further ado let's get started.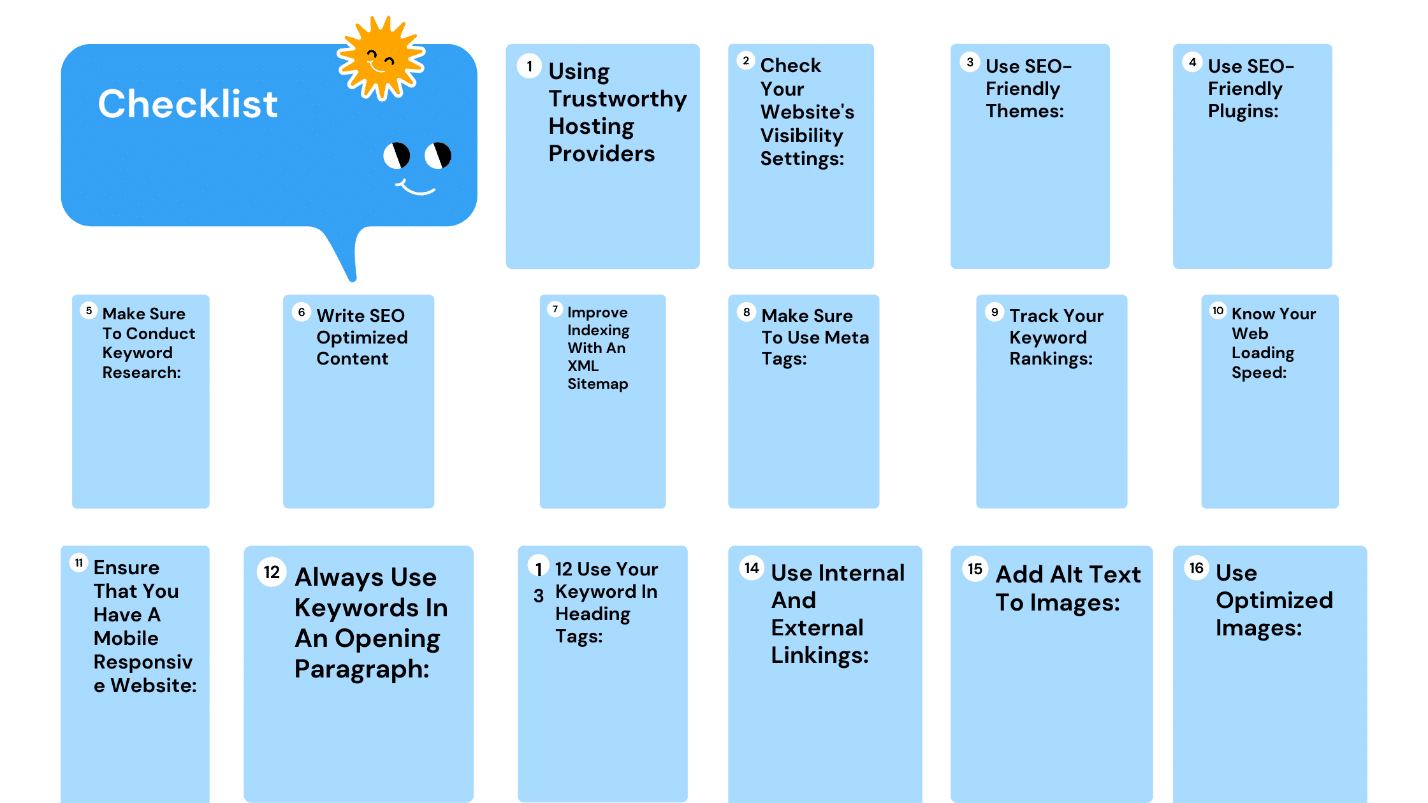 Using Trustworthy Hosting Providers:

The checklist of WordPress SEO firstly focuses on which hosting provider are you using for your website. You always have to make sure that the hosting that you're using is reliable and not a scam.

Scam in a way that it doesn't steal your information and keeps it secure. You have to do proper research on what should be your hosting provider for any particular website you're launching.

The speed and security of the website are the two most important factors for any host. You can cross-check if any hosting provider company is giving you access to both the above factors properly then you can go for it. They'll perform best for your website.

Here are some recommended hosting providers, by WordPress itself that means these three should always be on your priority list;

Blue Host: They have been used by over 2 million websites. They provide you with the ultimate WordPress platform with the benefit of a free domain for your website.
Dream Host: It has been providing its services for over 10 years. The benefit of this provider is that you can choose between the two options of taking control of your server or letting the team of experts handle everything for you.
Site Ground: They provide you with the latest speed technology, staging and git integration, and very fast team support.

Check Your Website's Visibility Settings:

The next up is the website's visibility settings. It is important to have a proper update about the visibility of your website and where it is ranking.

WordPress helps you prevent search engines from indexing your websites which automatically tends to no ranking on search engines. Make sure to go through the settings and check the launch settings on WordPress.

Use SEO-Friendly Themes:

Another important SEO practice for WordPress is to always use an SEO-Friendly theme for all your websites. There are unlimited free-of-cost themes available on WordPress.

You just have to select wisely according to your website's niche and specifications. Which one suits best for your content and which can't be friendly for your website.

Make sure to use the themes that come with proper plugins so that you don't have to worry much about the rest of the functionalities. As it directly affects your website's performance and speed.

Use SEO-Friendly Plugins:

Before we move further there is another important thing which you should always keep in mind for your website's credibility. You'll need to install the SEO plugin for better optimization of your website.

You can use numerous SEO plugins available online. According to some research, here are some mostly used SEO-Plugins for your website;

Yoast SEO
All in One SEO Pack
Rank Math SEO
SEOPress

You can access some of them free and others will have subscriptions. It's up to you however you prefer using them. The SEO-Plugins do not perform SEO operations for you but help you with the high percentage of SEO in your content.

I would personally recommend you use Rank Math if your website is related to blogging and content writing.

Make Sure to Conduct Keyword Research:

You can't go long way in this world of advancements if you've just rolled the dice instead of conducting proper research on your particular website. It is very much important these days to have exact knowledge about what scope is there for you in any niche.

It should be the first thing to do if you're stepping into this world. It has become the most crucial part of anything nowadays. For better optimization of your page, it is advised to conduct proper keyword research on your topic to get maximized SEO.

You can also use different Keyword research tools available online. Keep this step-in mind before moving ahead.

Write SEO-Friendly Content

This is something that you have to be careful of whether you are working with WordPress or any other platform.
If you want to make your content SEO-friendly, you need to make sure that it has two things:

Uniqueness
Grammatical Perfection
Keyword Richness

The first thing that you have to do is make sure that your content is unique. You can use a plagiarism detector to analyze your content against previously published sources.

As far as grammar is concerned, you can get some help from various grammar checker tools online. You can also get help from your text editor's built-in checker.

And lastly, your content should be rich with keywords. However, make sure not to overdo it.

SEO experts advise keeping a 1 – 2% keyword density. That brings it down to one keyword every 100 – 150 words.

Improve Indexing with An XML Sitemap

The next thing which you need to remember is making sure if you're using an XML sitemap or not. You need to add XML Sitemap to your website as it will help you to be able to be displaying all your content to the search engines.

It helps search engines easily access your pages to boost their page rankings. Always make sure to search your sitemaps before moving on further steps. You can also make sure that you've enabled the Sitemap in the settings.

Make Sure to Use Meta Tags:

Meta tags are important for acknowledgment by search engines. It helps them acknowledge what a page is about so that they can help you get appeared in relevant searches.

To understand how Meta tag works you first need to know some basics about what title tags and Meta descriptions are and how they work?

Title tags help search engines to know what is being searched by the user and if your website has related tags, it will show your website on the first page. It depends on what users search for and you have added those as title tags so that it can get easier to process.

You can also boost your traffic by using your keywords in your title and the meta-description of your web page. Each web page includes the starting line of words or sometimes there's a separate section of meta-description where you require to add the text that includes your keyword.

Always make sure that you have included the Meta tags in your website for proper SEO functionality. Also, make sure to add your keyword in your title as it is the first thing that appears on the page. If it will interest the user only then he'll come to your website.

Track Your Keyword Rankings:

The next step in following the checklist of WordPress SEO is to go through the keyword rankings of your website every week, regularly. As your website can only perform well when you use the proper keyword that is in searches for a longer period.

It helps you manage your traffic properly. For better optimization, you can also use online tools like Google Search Console, etc. for having better information about your keywords ranking.

Know Your Web Loading Speed:

The next step is to have the fastest and most reliable website loading speed for the best optimization of your website. Your servers should be always up to mark and efficient.

You can improve your website loading speed by using relevant plugins. In this way, you can perform better and improve your website's speed.

Ensure That You Have a Mobile Responsive Website:

If users will find it easy to access your website on a cellphone, tablet, or any other device then it is possible to have better rankings. Make sure to test your website before launching for SEO purposes. It should be a mobile-friendly website so that it can be used by most users online.

It is an important factor to keep in mind while going through the checklist of WordPress SEO. It will help you boost your website ranking on search engines.

Always Use Keywords in An Opening Paragraph:

Another important thing is to always use keywords of your web page in the opening paragraph of your website. You can also use your keyword in the first 150 words of your content to better optimize your content.

This is one of the SEO tactics that is followed by so many people to increase the engagement of your website. You can use it for your website's credibility as well. It will also allow you to generate organic growth for your web pages.

Use Your Keyword in Heading Tags:

You need to understand the importance of including your keywords in heading tags. This SEO Tactic widely helps you create optimized content for your website.

Make sure to add your researched keywords in all the headings from H1 to H6 tags. The more you create headings the more it will work best. It helps search engine to understand the work on your page which then promote your website to rank pages accordingly.

Use Internal and External Linking's:

The most essential part of the checklist of WordPress SEO is here. You always need to use internal as well as external links in your content naturally to increase the growth of your website organically.

It is very important to use internal linking for creating relevancy between the pages that have similar or related content on your site. Internal links are the links that are from the same website whereas the external links direct you to another website.

Adding linking to your content tend search engines to discover new content so that they can boost the page rankings accordingly.

Add Alt Text to Images:

Always make sure to use alt text in your images. It helps users understand that the image is related to the text or content on any website. It increases the accessibility of your content and helps you boost SEO.

It kind of provides the context of the image to the search engines. Make sure that your text in Alt text should represent the same thing that your image shows.

Use Optimized Images:

The last step to complete the WordPress checklist is to use optimized images in your content. It can do wonders for your website's speed and performance credibility.

Try not to use loads of images instead use relevant images and optimize them so that they can perform in a better way.
Conclusion:
I hope this Checklist of WordPress SEO helped you resolve your queries. All the above steps can improve your website's engagement, site traffic, organic growth, and webpage rankings as well.
The better your website is optimized the better it will perform on SEO aspects.