Why Choosing WordPress as the Backbone of Your Website is One of the Top Choices Online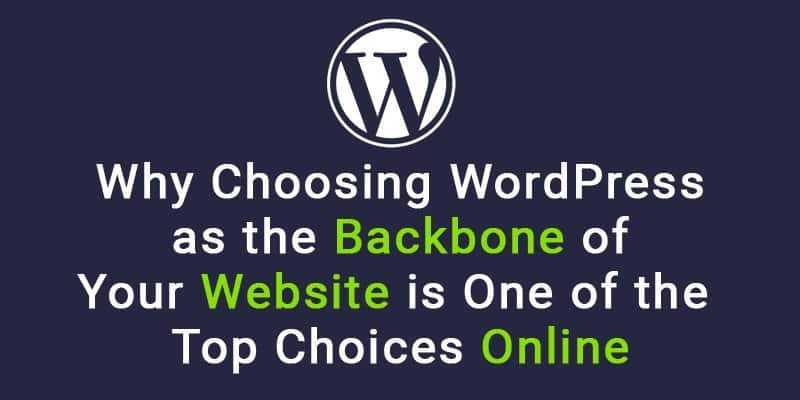 WordPress is a free-to-use, open source-code tool that powers 30% of the entire internet. From small self-run blogs to huge multi-national corporations, WordPress is used by many, powering their websites and online platforms.
WordPress has grown alongside the internet, having evolved from a simple platform made primarily for the blogging community to an extremely customizable tool that can power nearly any site, with any functionality you can dream up.
Written in PHP and MySQL, WordPress is older than Facebook or Twitter and currently is on its 32nd version. It is available in 72+ languages and has empowered an entire generation of internet users and entrepreneurs.
Its popularity among end users and hosting companies is unmatched, as it is much more user-friendly and more versatile than other popular content management systems like Drupal or Joomla.
Here is why choosing WordPress as the backbone of your site is a top choice for businesses, brands, and people, just like you.
Ease of Implementation
WordPress is a very easy tool to use, with a relatively simple implementation for most people.
Mostly all specialised WordPress hosts have a 1-click installers ready to help you get going. Installing WordPress takes half the time as its competitors Drupal or Joomla.
If you aren't the most technology- or internet-savvy but still want to install WordPress manually, there are many tutorials and how-to guides, making implementation as simple as following standard instructions.
Additionally, as WordPress is so well adopted, finding a WP developer is very easy and extremely cost-effective, and there is a plethora of WP developers available in every corner of the globe.
Market Share & Popularity
WordPress is by far the most popular tool of its kind available. It currently has a commanding market share in the CMS (content management system) sector of 59.5%.
Of the top 1 million sites in the world, 49% use WordPress.
WordPress is 10 times more popular than its market competitor, Joomla, and 8.9 times more popular than its closest rival, Drupal. When it comes to market share of the top 1 million sites, Drupal only has 5% and Joomla only 3%.
WordPress is used by websites servicing almost every sector online, from celebrities like Jay-Z, Adriana Grande, and 2Smooth, to companies like Coca-Cola, IBM, and Samsung.
On top of that, WordPress is used by publications like BBC, TechCrunch, and Forbes, along with major adoption from the government and education sectors.
With so many brands and businesses from so many sectors all using WordPress, it is plainly obvious how diverse and multifunctional this platform is.
Endless Themes
The themes that are the foundation of your WordPress-powered site are just another reason why WordPress should be a top choice. WordPress has a new default theme every year. Its latest theme, "Twenty Seventeen" had over 1 million active installs by June 2017.
It is certain that there is a theme to fit your needs and budget. Prices of WordPress themes range from free to a few hundred dollars.
The average price for a theme is very affordable, at only $57.54. Prayer Lite, the best free WordPress theme available in 2017, has over 200,000 active installs and is a great option for those looking for the cheapest possible option.
Divi, the most popular WordPress builder, supports 32 languages and currently powers over 578,000 websites, making it possible to reach customers and viewers in countries around the world. It is a great option for those looking for a global reach.
For those interested in more specific themes, Themeforest, a third-party theme developer, has more themes than can be counted.
They have generated over $286 million since 2008 from their themes, and their top theme, Sports Club PRO, has been sold 356,894 times, bringing in over $21 million in sales.
The selection of WordPress themes is truly endless. They can build anything from simple blog to full-blown news outlets and storefronts. With so many options available, you are sure to find the perfect match for your site.
This is yet another reason why WordPress is a top choice for powering sites around the web.
Plugins For Any Function
If themes are the foundation of WordPress sites, then the plugins are the tools that makes them functional.
WordPress plugins can make whatever you desire happen on the WordPress platform and are simple to install with your themes. WordPress currently has over 52,000 plugins available for download for everything from e-commerce to spam prevention and contact management.
WooCommerce, WordPress's top commerce plugin, is a free-to-use e-commerce solution that currently powers over 28% of all online stores.
Akismet, the top spam catching plugin, currently has over 5 million installs and catches 7.5 million pieces of spam per hour.
Another great plugin used by millions is Jetpack. Jetpack is used to make over 2.13 million blog posts per day and helps speed up loading times of content.
Yoast SEO is a plugin that boosts SEO rank, and Contact form 7 is the top plugin to help manage contacts through your site; both have well over 5 million installs.
The plugins on WordPress make a site customizable and add any function you could possibly want or need for your site a reality.
Updates & Reliability
WordPress is updated on average every 42 days and is constantly getting better. Providing enhanced usability and security, these updates are extremely frequent and ensure a smooth and safe user experience.
WordPress hacks have been known to happen from time to time. However, the WordPress team of over 72 contributors are extremely diligent and reliable when it comes to ensuring the continual stream of updates.
This alone is a great reason to choose WordPress, because hacks or security threats are dealt with promptly and downtime is heavily minimized.
WordPress has been around for nearly 15 years and continues to be the go-to choice for a large segment of the entire internet.
It is easy to implement, has incredible market share and credibility and is constantly getting better with frequent updates.
Furthermore, with the endless themes and a host of plugins, it is ready to deliver a customized and functional website to meet your needs, making it the top choice for powering any website or web platform.
WordPress is sure to prove its unrivaled potential as the core and backbone of your site.