How to Choose The Right WordPress Theme for Your Website?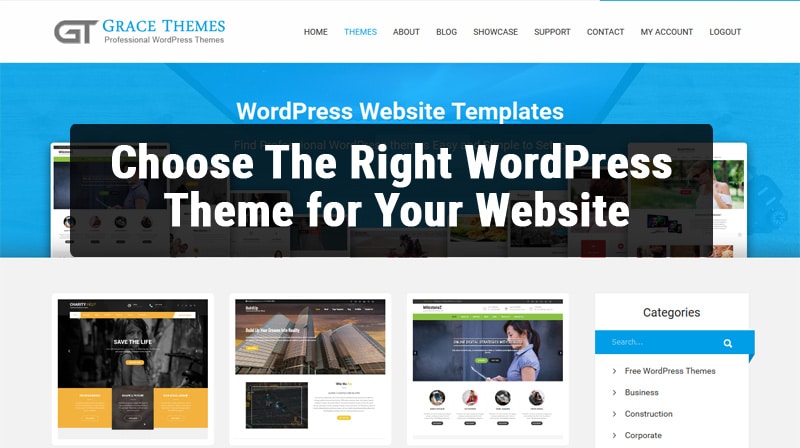 The choice of a WordPress theme depends on your purpose. If you are starting a blog, you will need a theme that accommodates your creative flair and at the same time stays visible to your target audience.
If you are using it to build your company website, you need a sleek and lightweight theme, which reflects your brand values.
When building an e-commerce site, the theme should have a shopping cart, filtering options, live site search options and sign up forms.
Free vs. Paid: the war of themes
Free themes for WordPress are quite popular among all users. The question is: why do most companies opt for premium themes even when they have access to free ones? It is certainly because of the guaranteed support.
On the other hand, WordPress is an opensource platform. Therefore, most free themes do not come with customer support.
They may be as attractive and useful as the paid themes, but they may not be as fine-tuned. Paid themes come with complete documentation, regular support and security patches.
For many marketing and sales oriented companies in the Strip in Las Vegas, specially designed and feature-rich presentation themes are necessary.
Most businesses need customizable features, and retail free themes simply will not work! It includes customization of layouts, colors, fonts, backgrounds, cart options, payment options and local SEO options.
What are the qualities of any great WordPress theme?
Pick a responsive design

Mobilegeddon happened two years ago. You should think about your mobile users ahead of your desktop users. Select a theme that can accommodate mobile devices of all screen sizes.

Responsive themes with retina ready displays are the expert pick for any theme. These are themes which render on mobile devices without any hiccups.

Colors matter

If you are thinking of creating a company website, you must already have a brand logo with defined brand colors. Make sure your theme does not stray far from your decided brand colors.

Colors have a direct impact on consumer psychology. Your target customers should be able to relate your website colors to your brand.

There should be a consistency in the brand colors. You can also choose to stick to more neutral colors with a slight hint of brand colors that match your business logo.

Use themes for presentation

Themes are a part of the presentation, and the plugins are for adding functionalities to your site. Now, having themes that crossover to the plug-in territory can make it more difficult for you to switch themes.

Pick themes that are lightweight and do not have a lot of plug-in-like features. Use separate plugins for SEO, spell and grammar check, cart updates, payment systems and other required functionalities.

WordPress for e-commerce

You will not find many themes that are optimized for e-commerce from the house of WordPress. Even when you do, they will not be as SEO optimized, or they will not have as many cart facilities as your customers will need.

It is always smarter to go for the WooCommerce plugin for designing an e-commerce site, instead of going for an e-commerce functionality-integrated theme.

There are builders, who want to create similar niche websites for job boards, FAQ websites and trivia websites. Always use plugins to serve your purpose, rather than go for a multi-functional theme that's bloated.

When you are checking out a paid theme, feel free to ask your developer if a plug-in will work with a theme and vice versa.

What about security?

WordPress themes have secure codes. It makes them naturally secure from hacking attacks. However, choosing a premium theme gives you an upper hand over free theme users.

You can get regular security updates, and patches for old engines to keep malware attacks and DNS attacks at bay. Always remember to pick lightweight plugins with minimal security features!

You can always enhance your site security by installing encryption add-ons, security plugins, and multi-step authentication factors through plugins.

What about SEO?

Most WordPress theme makers keep SEO in mind during the theme building process. Almost all WordPress themes are naturally search-engine-friendly. However, you can always turn to WP's endless plugins directory for adding SEO plugins to your site theme and keep your site visible to your users and the leading search engines.

Before buying

Always check if your theme is working smoothly. Even premium themes may have a few glitches since WordPress is always evolving. Read the reviews and testimonials thoroughly to find out what people are saying about your chosen theme.

Before you introduce your site online, check the site functionalities. Even after many checks, a few plugins fail to work as smoothly as expected with the chosen themes.

Make sure all your images render smoothly, and your videos load instantly. They should translate to all mobile devices. Pick a hosting solution which will provide you with complete staging environments.