How to Choose the Best Website Builder in 2023?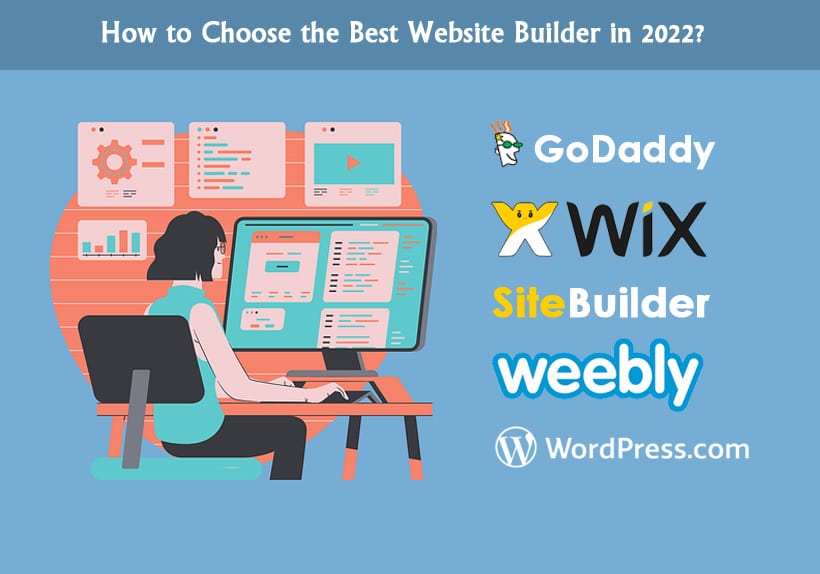 Every website building platform should include the services which are easy to use and are not at all complicated. This helps the user to build a website at the quick pace and that too without encountering any problem in the process.
In this post, we bring latest platforms for building a website which is highly recommended and has been at the receiving end of appreciation by the users.
After going through the working process and other aspects of myriad website building platforms, we are recommending some of them among which one can choose to use according to the requirement of the site one needs to build.
GoDaddy
GoDaddy is recommended by many people who have experienced the website building process on this platform because of many options it offers. First of all, it is inexpensive and a user can easily afford the deals it offers. GoDaddy is one of the popular names to build a website. It does not have a plethora of templates and designs to offer (as compared to other platforms) but this is in a good way.
Wondering why? It consists of useful and relevant templates for a simple and neat website, the interphase is user-friendly and a rookie can work very easily here without encountering any trouble.
You do not have to pay even a single penny extra to get the hosting services as GoDaddy offers it free of cost. Not only this, there are many of the features that separate this platform from the others in the market.
One such service offered by GoDaddy is that it has many backup versions for your site and that can be built at any time. Therefore, you can remain tension free about your site getting collapsed!
Wix
Wix.com is another reliable platform which does not hurt your pocket as the services offered here for constructing your website are inexpensive. Wix too has free web hosting like GoDaddy and simply runs on your web browser.
There is no need to install any special software to run Wix.com and make your website. Along with a number of designs and templates, you can get an extra edge for your site by using apps available in the Wix App Market.
It works best for creative people like musicians, a website for small business etc. as Wix has a large number of themes and designs to choose from.
One thing to highlight regarding this platform is that you cannot alter the basic design of a website or the template you choose but you can give it a look and appearance of your choice by putting colors and themes which suits best.
The features are impressive and tools are comfortable to use. No need of any technical skill when working with Wix. It provides facility to animate your elements and comes with artificial intelligence service.
The point to be emphasized here is that artificial intelligence assistance is not available for all types of projects, some projects cannot avail this service while you work with Wix for building your website.
SiteBuilder.com
SiteBuildre.com ranks among the website builder service providers who have gained a fair amount of popularity. Most of the designs and functions are supportive of drag and drop method so it is a very convenient platform to work with.
SiteBuilder provides you with free software where you can work for making your website, on which you can have total control.
The software of site builder can be run on Amazon and Google and these two provide impressive speeds. This feature makes SiteBuilder an efficient platform to work with as you get quick paced work process.
It is mainly for the simple website building as its focus is on making the simple website with core features. If you have a priority to make the simple website without stuffing it up with lots of features then this is the best place for you. However, not every site is used to be made for simple visuals.
Therefore, if you want a site which should have a plethora of features and attractive visuals then SiteBuilder may not be the right place for you.
It works best if you want to make small business sites which just wants useful entities to be inserted in it and is without the requirement of many things for embellishment for good appearance.
Weebly
Weebly is considered the best website builder if you want to choose one of the easiest platforms to build your website. Weebly is convenient in working with very large websites.
Even if your website will comprise of 100 pages or more, Weebly will not falter in any aspect, be it the speed of your website or quality. This is an impressive feature of it as a website builder.
Also, the websites are responsive in nature. You can view and use each feature of your website using the mobile phone and do not have to worry opening a laptop every time to use the website for using it in a full-fledged manner.
Another thing to take into consideration is that you can have many other editors who can handle your website. It is not only limited to only one person who can make changes or manage a website build using Weebly.
Off course, two heads ate better than one and this platform understands this very well. There is no requirement of writing a website code as well. With these features and many more, you can opt for Weebly as a stage to make your website comfortably.
WordPress.com
No one can deny the fact that WordPress.com is most known name when website builders are discussed. Please remember that there are two websites 'WordPress.com and WordPress.org' which provides site-building.
Here we are concerned with WordPress.com. To begin with, WordPress offers ease to choose the theme, select domain and plan and several others. Inbuilt SEO is one of the reasons that more and more people go for this platform.
Other features include the high quality of web designs which makes user free to choose designs of their choice and one does not need to learn to design for creating a website, creates responsive websites, 24 hours technical support etc.
WordPress ranks among one of the easy to use and affordable platforms to create the website and is highly recommended despite the presence of other similar platforms in the market.