Build Your Stunning WordPress Website using These Pro Tips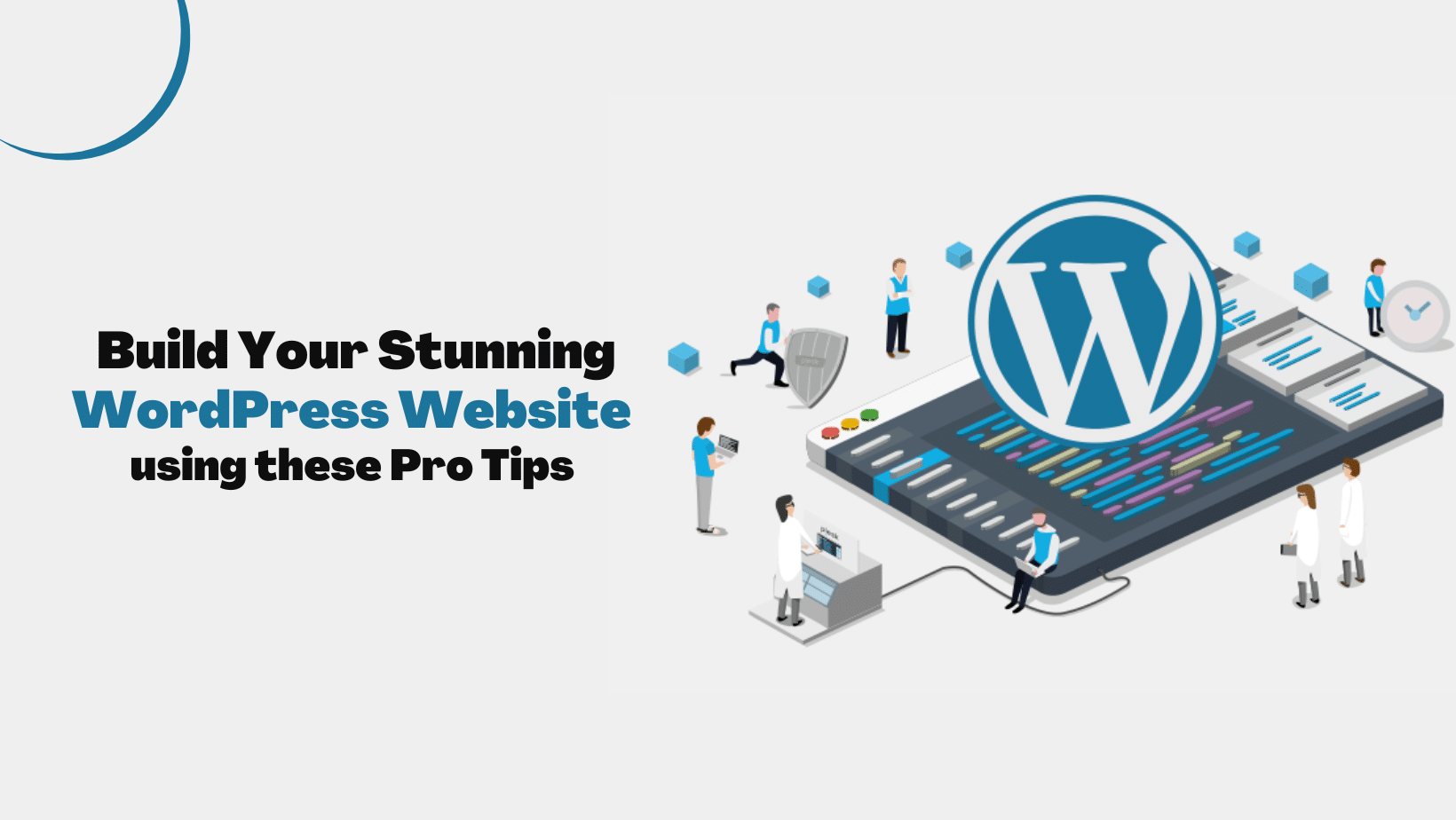 Your website is proof of your company's existence to potential and present customers alike. It is also the primary medium to tell your brand's story to them, rope them in, and convert them from leads to purchasers.
According to a Brightlocal study, consumers find information about a local business on that business's website to be more trustworthy than Google My Business or a third-party source.
But the reality is that 44% of businesses build a website focussed on customer acquisition while only 18% do so to retain customers when the average retention rate doesn't cross 20%. Here's the kicker: nearly 65% of a company's business is found to be from repeat customers. Thus, your website should focus on acquisition and retention to maximize its potential.
Building such a website is no longer a chore because of WordPress, a Content Management System (CMS) that lets anyone build a website with just a few clicks. You can customize it the way you want and add third-party applications to make it stand out.
Top Tips to Build a Stunning Website with WordPress
Below listed are some WordPress website-building tips that are tried and tested by expert WordPress development services professionals.
Choose the Right Theme

One of the most important decisions when building a WordPress website is to choose the right theme. The theme defines the look and feel of your website, as well as its functionality. There are thousands of themes available in WordPress, both free and premium, so take the time to choose one that matches your vision for the site. Consider the following criteria for theme selection:

Responsiveness: Make sure the theme is mobile-friendly and adjusts to different screen sizes.
Customization options: Look for a theme with plenty of customization options, such as color and font, to make your website look unique.
Widgets and plugins: Choose a theme compatible with the widgets and plugins you plan to use.
Customer support: If you opt for a premium theme, check the level of customer support provided by the theme author.

Use Plugins to Extend Functionality

Plugins are one of the key benefits of using WordPress as a platform for your website. They can extend the functionality of your site in many ways, such as adding contact forms, improving SEO, and creating eCommerce functionality. There are over 55,000 plugins available in the WordPress plugin repository, so you are sure to find what you need. When choosing plugins, consider the following:

Compatibility: Ensure the plugin is compatible with the latest version of WordPress and your theme.
Reviews and ratings: Check the reviews and ratings for each plugin before you install it to make sure it's reliable and does what it promises.
Update frequency: Choose plugins that are frequently updated to ensure they remain secure and compatible with the latest version of WordPress.

Optimize Your Website for Search Engines

Search engine optimization (SEO) is critical for getting your website found by potential customers. The better your website is optimized, the higher it will rank in search results. There are many plugins available that can help you optimize your website for search engines, but here are some tips to get you started:

Use descriptive and keyword-rich URLs: Make sure your URLs are descriptive and include keywords relevant to the content on that page.
Write unique and high-quality content: Write content that is unique and high-quality and includes keywords relevant to your business or topic.
Use header tags: Use header tags (H1, H2, H3, etc.) so that your content looks well-structured for users to read easily and for search engines to favor it.
Use alt tags for images: Use alt tags to describe your images and include keywords relevant to the content on that page.

Make Your Website Fast and Secure

Speed and security are two critical factors for a successful website. If your site is slow, visitors will quickly lose interest and move on. If it's not secure, your visitors' information and your site's reputation could be at risk. Here are some tips to make your website fast and secure:

Use a fast and reliable web hosting service: Choose a web hosting service that provides fast and reliable performance and has a good reputation for security.
Use a caching plugin: Use a caching plugin to speed up your site by caching frequently used data. You can hire web developers for this if you find it too technical to accomplish.
Use a security plugin: Use a security plugin to keep your site secure and protected against malicious attacks.
Keep WordPress and plugins up-to-date: Keep your WordPress installation and all plugins up-to-date to ensure they are secure and compatible with the latest version of WordPress.

Customize Your Website to Match Your Brand

Your website reflects your brand, so it's important to make sure it looks and feels like your brand. Here are some tips to customize your website and make it match:

Make the theme brand-reflective: Customize your chosen theme to match the brand's overall look and feel.
Use brand logo colors: Your brand's logo and the color combination used in it are true identifiers of your brand. So use them in your custom theme for website brand-matching purposes.
Use brand voice/tone: Match the text content to the overall brand voice/tone across all marketing collateral, including your website, for consistency and easy recognition.
Add brand-relevant multimedia: Add images, audio, and other forms of media to your website that convey brand ethos and engage your audience for a higher customer acquisition and retention rate.

Choose a Reliable Host and Appropriate Domain Name

A good hosting service will ensure your website is up and running smoothly without frequent downtime. Research your options and pick a reputable provider with a track record of good performance.

The hosting service's fees should also fall under your budget as otherwise, it could dampen good ROI prospects. It should also be able to support the various add-ons you want your website to have, like plugins. Fortunately, there are many WordPress Website Design and Development Services providers that can assist you in hosting your website or selecting one based on your requirements.

Alongside host selection, you should also choose your domain name. It is the name of your website, that is, what users will type in the address bar of a browser to get to your site. Depending on your chosen plan, WordPress allows you to create a custom domain name.

Utilize Page Builders

Page builders are drag-and-drop tools that make it easy to design and create custom pages for your website without coding. Some popular page builders for WordPress include Elementor, Beaver Builder, and Divi. Here are the steps to do it:

Select the page builder plugin: There are multiple options to choose from. Select one that has the easiest learning curve and is compatible with the theme of choice.
Install and activate: The page builder plugin must be activated after installation on your website.
Create pages using the plugin: Use the page builder interface of the plugin to design your pages. Drag and drop the different elements, like text, video, audio, etc., to the different spaces on a page you want them placed.
Customize and Publish: Alter the plugin elements you've dragged and dropped so that they match your overall website theme. Preview the final result using the dedicated option and hit the Publish option to make the pages go live.

Optimize Site Speed and Use Custom Post Types

A fast-loading website is essential for providing a good user experience. Use plugins like WP Fastest Cache or W3 Total Cache to optimize your website's speed and performance. Remember that your website should load quickly on the least powerful phone in the market since most people access the internet through mobile devices.

Custom post types allow you to add functionality to your website beyond the standard blog post. For example, you can create a custom post type for products, testimonials, or team members. This adds additional abilities to help your website stand apart.
Conclusion
WordPress has revolutionized the web development sector as it has further democratized the process. The no- to low-code environment, coupled with the rich volume of plugins and other customization options, gives a wide berth for users looking to create a website that can propel their brand visibility and reach beyond present horizons. Add outsourced WordPress Web Development Services to the mix, and you get their expertise to enhance your website.