Blogging on the Go: 4 Blogging Apps You Should Check Out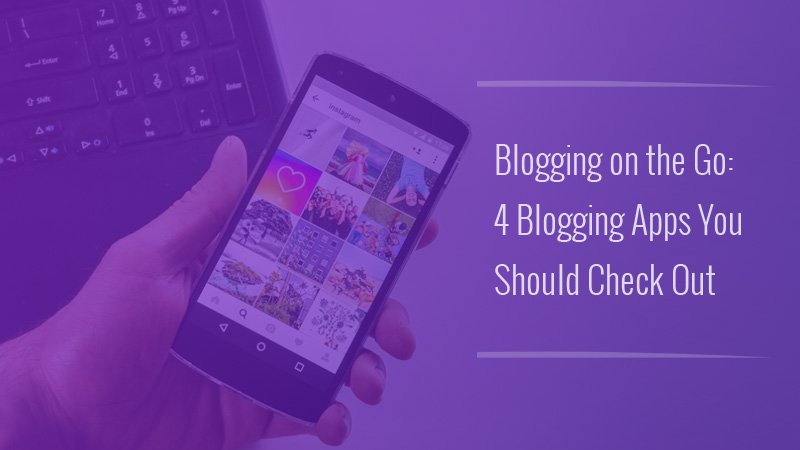 Are you among the community of global bloggers taking the world by storm? Blogging can be both a profitable business venture and an excellent way to connect with others.
Most of us lead super busy lives, though. That can make keeping up with a blog on a regular basis rather difficult.
Enter: blogging apps. They're here to help you blog on the go! Read on to learn more about blogging, and which blogging apps will help you out the most!
Why You Should Be Blogging
If you're not blogging already, you're really missing out. Keeping a blog has tons of benefits for all different types of people.
Some people use their blogs to make some extra cash. If you're looking for a side hustle, you could get into affiliate marketing and PPC ads for your blog. These are easy, simple ways to generate some revenue by doing something you love. A travel blogger, for example, can make extra money through affiliate marketing by recommending hotels or tours to readers.
Personal blogs can also be used as journals, and journaling has been shown to have enormous mental health benefits. Nothing clears your mind like a vent session between "me, myself, and I." Set that bad boy to "private" and get writing.
Blogging can also be an awesome creative outlet for those without tons of time to express themselves in other ways. Want to start a scrapbook of your favorite photos and write little poems about each one?
Going out and getting all the necessary gear is time-consuming. Picking up your phone and posting photos from your camera roll, on the other hand, is not.
Regardless of the reason you choose to blog, every purpose also has another perk: building community. Blogging is an amazing way to create digital ties with the world around you, which in turn brings us all a little closer together.
The Best Blogging Apps
Now that you're convinced about the many benefits of blogging, it's time to check out the best blog apps to supplement your practice and grow your brand!
Who knows—eventually, you may even design an app for your own blog using an App Maker! Wouldn't it be cool if your app ended up on a roundup like this one day?
The WordPress App

WordPress is hands down the best blogging site out there. It's the industry standard for blogs meant to make some extra dough, while still being easy enough to use for the casual, personal blogger.

The WordPress app is no different. It offers tons of features for every type of blogger.
You can publish blog posts straight from your phone, which is awesome for long subway commutes or hours spent in the doctor's waiting room. The publishing interface is super simple, and you can post photos and video, too.

For bloggers who use their blog as a biz platform, the WordPress app also shows your stats. Want to check how well a post is performing at lunch? No problem.

Finally, it has a reader function, too. Keeping up with your community on-the-go has never been easier.

Tumblr

If you were a scene queen back in the early 2000s, you're no stranger to Tumblr. In 2019, though? It's even cooler.

Tumblr's mobile app is one of the easiest, most user-friendly out there. Your home feed is essentially a reader of all the blogs you follow. All the themes are responsive, too, which makes visiting your favorite blogs really pleasant on your mobile device.

Let's talk about those themes, too. Tumblr's free themes are all super clean and gorgeous. It's a personal blogger's dream.

Hootsuite

Now that we've covered a couple of actual blogging apps, let's dive into a supplemental app that every blogger needs—Hootsuite.

Hootsuite is an amazing social media multitasking tool that allows you to post to all your social channels at once. Authored a new blog post, but don't want to take the time to post to Facebook, Instagram, LinkedIn, and Twitter about it? Hootsuite will be your new best friend.

Share to all your channels at the touch of a button. You can also use the app to schedule posts on all your social channels ahead of time, which is perfect for the nights and weekends blogger who still wants to show up online during your 9-5.

For every blogger, a multitasking social media tool is a must as it plays a major role in making the story hit the bulls' eye. With Hootsuite at your disposal, you can share and schedule posts from your Twitter, Instagram, Facebook with ease.

The free version lets you connect three different social platforms. After that, it'll cost you about $30/month.

A small price to pay for your time and energy!

Instagram

Alright, I know you probably already know about Instagram, but hear me out. It's on this list for a reason.

Think about how you currently use Instagram. Do you use it as a way to simply connect with family and friends? Do you use it as a way to show off your creative portfolio?
Did you know you can use Instagram as your very own mobile blog?

While Instagram might seem like an app to supplement a real blog, it can actually replace one if you're more into visuals than text anyway. Think about it: a blog is often a body of text accompanied by a picture or two. Instagram is simple the reverse; pictures accompanied by small bodies of text.

If you're a big visual sharer, Instagram can be an amazing tool for building community (and a following!) without having to write out long, detailed posts.

Bonus points: you can even become an influencer, where brands and companies pay you to feature their products. Not a bad gig, huh?
Design Your Best Blog
You've read up on the best blogging apps to help grow your blogging game. Ready to start your blog in the first place?
If you want a beautiful, responsive blog your readers will love to browse, check out our killer WordPress themes! They're designed with aesthetics and usability in mind, which means your audience won't be able to get enough!