Top 10 Best WordPress Alternatives for Creating a Website in 2023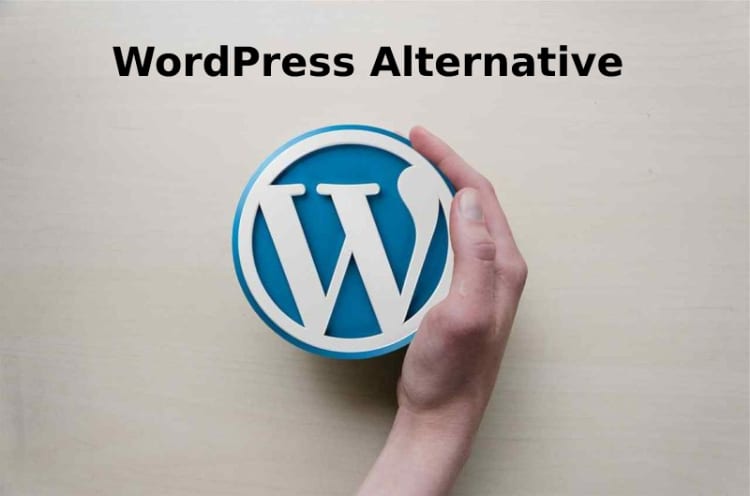 WordPress powers 64 million websites on the internet at the time of writing. Over 50,000 plugins offer you control over your website.
Want a multilingual website? WordPress offers 57 different languages.
Then, why analyze WordPress alternatives? Security and ease of usage.
Website security service Sucuri conducted a study on website security. The study concluded WordPress powered 74% of all hacked websites in 2020.
Furthermore, WordPress never offers a drag-and-drop feature. The feature allows users to build websites with zero technical knowledge. The WordPress website builder offers a more difficult CMS feature.
If you ask for what the best WordPress alternatives are, look no further.
In the next five minutes, learn about the top 10 best WordPress alternatives for creating a website in 2023.
Wix pops up on top of the list of alternatives to WordPress. With 160 million active users at the time of writing, Wix stands out as a trusted website builder.
The drag-and-drop feature allows users with minimal technical knowledge to use the website builder.
Drag-and-drop sounds tedious? The Wix ADI (Artificial Design Intelligence) builds a website for you.
The website builder offers a free plan and three paid plans. Check the official website for details.
Features
Design a website even if you don't know how to code with the drag-and-drop feature
Wix offers a hosting service too. Thus, you'll never extra for hosting.
Choose from over 500 templates to design the website
Build a mobile-friendly website with a mobile editor. A visitor won't have difficulties opening your website on any device.
A 24X7 customer support team solves all your queries.
Premium plans offer Google Analytics and storage
Wix creates automatic backups. Thus, you never miss any data.
The best WordPress alternative to build an e-commerce website? Weebly. Over 30 million websites use Weebly at the time of writing.
The website builder offers free templates best-suited for online stores. The free plan offers 500 MB storage while the highest-paid plan offers unlimited storage. You receive a free domain name for the first year as well.
Features
The 99.98% uptime allows your visitors to navigate your website 24X7. Never lose business because the site showed an error message.
Mobile users navigate your website without any lag with the mobile-responsive themes
Video and animated backgrounds on your website offer variety.
Square handles payments for you. Furthermore, you can use third-party payment options too.
Google Maps integration allows visitors to locate your physical store.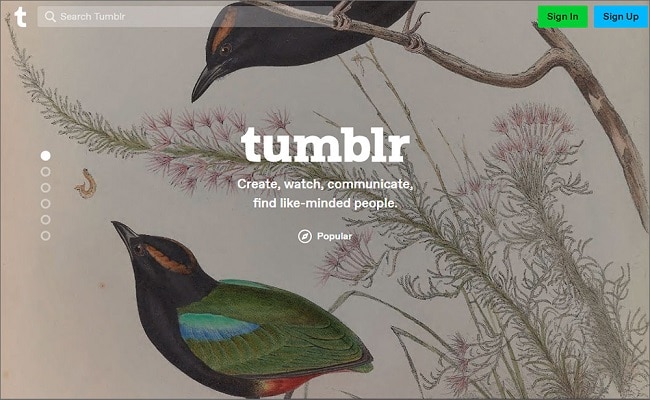 What if you search for an easy-to-use blogging platform other than WordPress blogs? Tumblr offers the solution.
Over 300 million users created blogs with Tumblr. The website builder offers free hosting as well.
Features
Post all short-form content including blog posts, images, quotes, and videos.
Connect with other bloggers on the platform and follow them to know what they post.
The mobile-optimized templates allow users to navigate the website on their smartphones without lag.
The export feature allows you to export all your content to a different platform.
Imagine this scenario. You write the website type you want and the website name. The website builder presents you with a customized template.
With Site123, the aforementioned scenario turns to reality. Create websites with one or multiple pages. Furthermore, your data stays secure with the free SSL certificate.
Features
Create multiple websites under one account. Manage them with a single admin username.
SEO features help your website to perform better on Google searches.
The premium version offers a free domain name for one year.
Send out newsletters under the paid plans to market your products and services to the customers.
Multilingual sites allow you to interact with visitors who understand different languages. Site123 offers the feature under the paid plans.
Paid plans also allow you to set up an e-commerce store.
With over 1.3 million users, Drupal has a smaller footprint than the famous website builders. However, the website builder stands out as an enterprise-level CMS platform.
The website builder powers high-traffic websites including the Grammy Awards.
Features
Choose how your website looks from 3,000 templates.
50,000 official modules allow you complete control over your website.
Prefer a multilingual website? Drupal offers more than 100 languages.
The website loads fast in mobiles with mobile-responsive themes.
The website builder allows you to set up an e-commerce store.
Real-time sales alert informs you of any sales you make 24X7
A website builder that specializes in mobile websites? Look no further than Duda.
Build your website even if you have no coding skills with the drag-and-drop editor. More than 450,000 businesses use Duda at the time of writing.
The developers claim businesses create a new website every 17 seconds using Duda.
Features
Duda offers hosting services. Never pay extra hosting costs.
The backup and restore features save all your data.
SSL encryption secures your website. Duda offers SSL encryption in paid plans.
The integrated analytics and reporting show how many people visit your website.
The award-winning customer support team solves your issues 24X7.
Jimdo powers over 20 million websites at the time of writing. The Jimdo ADI (Artificial Design Intelligence) builds a website for you.
The paid plans offer images, content, and an online store as well. Furthermore, add your content and resize any text or image. Drag elements to where you want them to fit.
Features
Upload logos and images you like. The website builder adjusts template colors to match them.
Visitors navigate the responsive pages without lag on any device.
Jimdo offers copyright-free images you can use.
The Legal Text Generator helps you to build GDPR-compliant legal pages. Jimdo offers the feature on EU-based countries.
Connect your social media accounts including Facebook and Instagram for better reach.
What if you want the best option for a multilingual website? Webnode offers the best choice for you.
Why? The website builder translates your website into 20 different languages. Furthermore, Webnode offers extensive support in all of them.
If you own a domain name, Webnode allows you to use it with your new website. The website builder offers over a hundred templates to choose from.
Features
20 language support and extensive support on all of them.
Websites never feature ads.
Paid plans include a free domain name for a year.
Google Analytics integration helps you receive customer insight.
SEO marketing support helps your website to perform better on Google searches.
A website builder that offers the best security? Build your website on Joomla.
Why Joomla? The U.K. National Crime Agency uses Joomla to power their website. If a national agency trusts a website builder, why not you?
More than 2 million users build their website on Joomla at the time of writing.
Features
Use multiple templates on a website. Your blogs can have a different background than your homepage.
Build a multilingual website without any plug-in with the multilingual functionality feature.
Two-factor authentication offers better security. Unauthorized users never break in unless you share the OTP.
Add a new page with no coding; thanks to the backend organization.
A free website builder that allows you to earn? Blogger offers the best solution.
You never pay for any hosting or domain name. Furthermore, you can even change the domain name.
Google runs the website builder. Thus, never worry about Blogger's authenticity.
Features
The website builder offers an SSL certificate. Thus, your site and data stay safe.
Google's servers host the website builder. Never pay any hosting fee.
Monetize your website with Google AdSense.
Sell products with payment support from PayPal
What is the best alternative to WordPress?
Among all the other free website builders, Wix offers the best alternative to WordPress with its drag-and-drop features and 500+ templates.