Best Ways to Use WordPress for E-commerce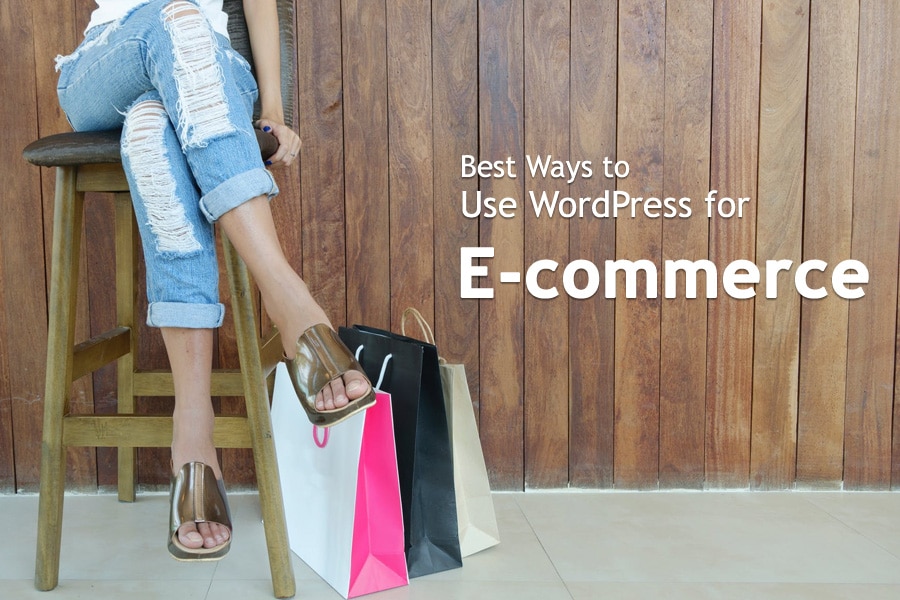 In the olden days where money didn't exist yet, barter was the primitive way of acquiring goods wherein you trade your milk and cheese for a loaf of bread.
The community progressed and money eventually became the tool for acquiring goods and services. As a result, the community progressed even further and it gave birth to e-commerce then.
E-commerce is the digital buying and selling of goods and services wherein the seller and the buyer communicate on how the buyer gets the goods to the seller. However, e-commerce does not guarantee security on both ends because of fraudulent sellers and bogus buyers.
For commerce to transpire, you need a decent medium to showcase your products and services. One of these mediums is WordPress.
What Is WordPress?
WordPress is an open-source Content Management System (CMS) used for publishing blogs and web content.
It was primarily used as a blogging platform that eventually supported online stores, forums, membership types, and media galleries as other types of web content. It was released on May 27, 2003, by developers Matt Mullenweg and Mike Little.
Today there is more than 30% of websites powered by WordPress. Some of these notable brands and companies are The New Yorker, Variety, Sony Music, The Walt Disney Company.
The New York Times, Marks & Spencer for Business, The Rolling Stones, The Walking Dead AMC, The Wall Street Journal Blog, Reuters Blogs, Mercedez-Benz, and big artists such as Beyoncè, Snoop Dog, and Katy Perry.
Should You Engage in E-commerce?
Yes, e-commerce provides a convenient transaction of buying and selling and despite its obvious risks, people are openly still engaging in e-commerce.
These obvious risks are fraudulent sellers and bogus buyers who see deception as a hobby to add flavor to their colorless lives. Previous cases of such have made buyers and sellers become more responsible in digital buying and selling.
After all, when the benefits far outweigh the drawbacks, it is worth the gamble, right?
Best Ways to Use WordPress for E-commerce
There are countless reasons why large companies and artists today still use WordPress despite it being released years ago. Here are the best ways you can maximize WordPress for your business:
Use Plug-ins
WordPress plug-ins are like Google's extensions; they are installed and they can improve the user's interface while some can slow down your website and bring unwanted malware, which can risk your website's security.
Like some Google extensions, WordPress footer plugins come with a price. That's why it's important to be conscientious about picking your plug-in; choose the plug-ins that are proven and tested by checking their popularity and reading their product reviews. It will be worth the investment for many years to come.
Choose a Complementary and Flattering Theme
WordPress offers an array of themes that you can use for your website and they can be found in the theme directory of your WordPress dashboard; aside from this, you may also alter your website's HTML code.
Experiment with the available themes to find out what you like. Or, you may use a third-party theme provider for a wider list of themes.
Your theme will be responsible for the overall visual appeal of your website, so choose wisely.
Display and Categorize Your Products
Using your chosen plug-in, categorize and structure your products for a convenient customer browsing. Make use of your plug-in's settings to make product categories and start categorizing the products that are similar in nature. Feel free to experiment with what structure looks best for your website.
Include Photos of Your Products
Your customers should not be kept wondering about what your product looks like. Provide the best photos of your products with ample lighting and good angling.
Your pictures alone should motivate your customers to buy the said product and the more pictures you provide, the better. Be mindful of your product's background as it should complement the product itself; not the other way around.
Take a lot of pictures of the product, so you may choose the best ones afterward. You may ask a friend or a colleague to help you out with choosing.
Provide Product Reviews and Product Descriptions
For your customers to determine the function, the texture, the material, and the measurements of the product, provide a product description.
Your product description should contain the essential details of the product and should not exceed five (5) sentences. Product descriptions are a way of being transparent with your customers and transparency breeds trust.
Product reviews are credible sources of information about the experiences of a customer regarding a product.
Below the product description of each product, provide a section where customers can leave their comments and ratings about the said product to help future customers make choices.
But before doing this, establish your own community guidelines first about what comments are considered acceptable and what is not.
Interact with customers who have had average to worse product reviews and offer ways on how you can help them. Your timely response will improve your customer experience.
Provide Payment Options
Flexible payment options will help you attract more customers with different preferred payment options. These payment options include online bank payments, online payment systems (e.g., PayPal, Gcash, and PayMaya), and Cash on Delivery (COD).
Make sure you actually provide these payment options to avoid misleading your customers.
To make it less confusing for your customers, provide a Frequently Asked Questions (FAQs) section where they can address their concerns.
Conclusion
In conclusion, e-commerce has its fair share of advantages and disadvantages but it is slightly better than having to go to the actual store to buy an item and even better than the act of trading.
We have come a long way since then. Who would have thought that buying and selling can actually transpire at the touch of a button?
While it may be unsafe for many, but e-commerce does a lot for people who cannot find resources in physical stores, sellers who lack the capital to establish a physical store, and for people who rarely leave the house.
Despite its risks, people are showing no signs of ditching e-commerce and this alone leaves a hopeful future for digital buying and selling.