Best Twitter Feed WordPress plugin in 2023?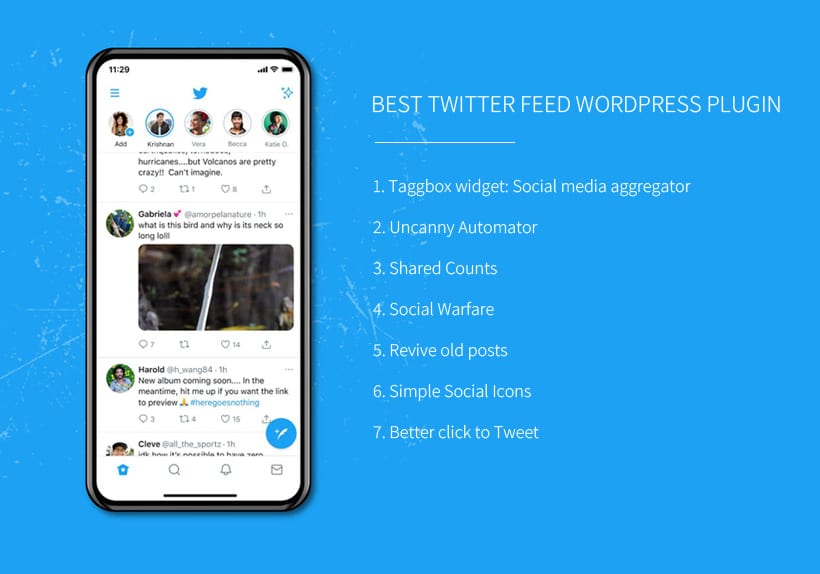 Embedding Twitter feeds on the WordPress website is challenging if done manually. It requires coding complexities and technical expertise. However, this has been made easy with WordPress plugins.
For non-technical website owners, using a WordPress plugin can be the best way to showcase a live Twitter feed on your website. A plugin is software that "Plugs in" to the website and adds a little extra functionality and extends existing functions of the website to make it more vibrant and SEO-friendly. Isn't it exciting?
Wish to embed your Twitter feed on WordPress website? We have got just the article for you. We will define some of the best WordPress plugins available.
Before we get into it, did you know that the WordPress plugin directory features more than 55,000 plugins?
WordPress empowers around 40.2% of all the websites out there, making it an important content management system in the market. It offers plugins that are like apps on your phone, you need to download or purchase them to make them functional. Plugins allow website owners to curate powerful websites without any technical difficulties.
Best Twitter feed WordPress plugins
If you wish to include retweets, user-generated content (UGC), and other types of Twitter content on your website, these plugins might come in handy.
Taggbox widget: Social media aggregator

This plugin helps in curating a Twitter feed widget and displaying it on the website easily. This plugin is present in the WordPress directory and can be downloaded effortlessly. This platform curates widgets that include a Twitter feed on the basis of lists, mentions, tags, etc. you can customize and moderate the content.

Additionally, you get an analytics feature that offers detailed insights about how your widget is performing on the website. This is compatible with multiple websites like HTML, WordPress, Wix, Weebly, Shopify, etc.

Uncanny Automator

It is one of the best automation plugins that lets you connect with many applications to create automated workflows without any coding expertise. You can send a new tweet when a blog is published, it automatically encourages users to post positive posts once an online course is completed, it lets users unlock additional discounts by tweeting about their experience from online stores, and much more.

The best part about this plugin is the free version offers enough features for small websites.

Shared Counts

It is the best social sharing plugin for WordPress that is designed for speed and performance without compromising other features. You display share count for various social media platforms like Twitter. You get the option to show a share count on every blog post as well. It does not hinder the site's load time and instantly adds social features to enhance your website.

Social Warfare

It is a popular plugin that helps in sharing buttons to your website. You get full control over what people share and how they share content on Twitter. It is compatible and responsive as well. You can add buttons between any blog post as well. You get the option to custom the images and title for your tweets.

Revive old posts

This plugin allows you to easily share old articles and blogs to your social media handles. It helps the Twitter feed be active throughout the day without manually tweeting. After the setup is completed, it automatically works in the background to share your old posts. You can customize the date range, exclude some categories or tags, and pause the scheduling any time you wish.

The pro version has some amazing features that include custom schedules, multiple Twitter accounts, and add conversion tracking tags to URLs.

Simple Social Icons

This plugin makes it easy for you to add social media icons to your website's sidebar, these buttons links to your Twitter profile or other social media handles. Website visitors can directly visit your social media handles and follow your brand.

You can easily set up the buttons. You get to choose button colours, alignment, and order.

Better click to Tweet

It is a free plugin and allows you to add "Click to tweet" boxes in your posts, it is fully compatible with WordPress websites. This plugin helps in highlighting specific quotes in your website content that your visitors can simply click to tweet. You do not have customization options to style your quotes but you can add custom CSS to change how your quote looks.

You can also pay for a premium version to get an add-on subscription that offers you a range of different styles and layouts to choose from.
Wrapping it up!
In this blog, we got to understand some of the best Twitter feed plugins. These plugins are free of cost and do not hamper a single line of code for your website. They are highly compatible with any kind of website as well.
By adding a Twitter feed to your website you get to engage with your audience, interact with them, improve the website dwell time, reduce bounce rates, improve the website's performance, and eventually lead up to better conversion rates and sales.