Best Social Media Plugins For WordPress Websites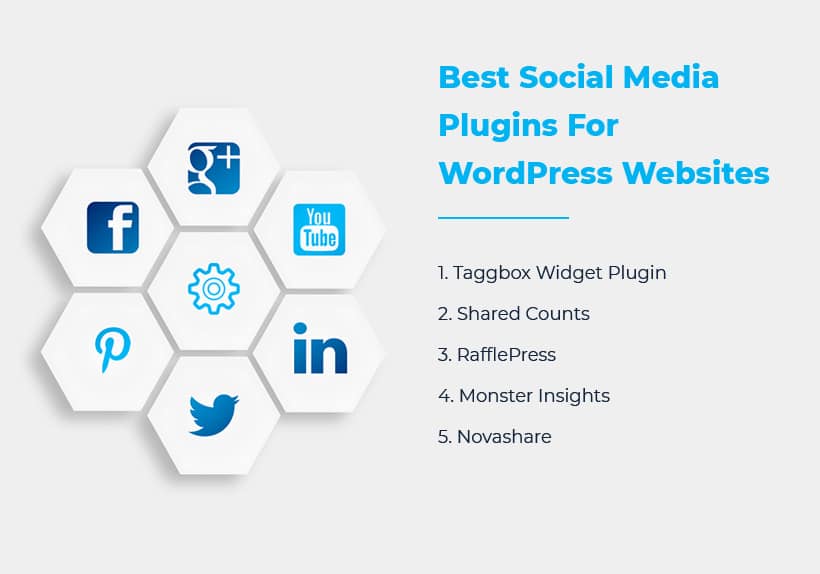 For all companies and enterprises, utilizing the power of social media has become a vital marketing approach.
Due to the large number of social media users, social media has evolved into a vital aspect of companies throughout time.
Many marketers and company owners are embracing the potential of social media on a website as a marketing strategy. Even though it appears to be a technology effort, no technical expertise or coding skills are required.
We realize the relevance of leveraging the potential of social media on a website, which is why we've brought together a list of the top social media plugins for WordPress websites.
Let's get started!
Topmost Social Media Plugins For WordPress Websites
Taggbox Widget Plugin

Taggbox Widget plugin is at the top of the list, since it is the greatest UGC and social media content aggregation tool for effortlessly collecting, curating, and embedding interesting social media content on your website. For Example – Embed Google review on WordPress website using Taggbox WordPress Plugin.

Taggbox widget offers some outstanding features that set it apart from the competition, making it more powerful and efficient.

You can aggregate content from over 15+ social networking sites with the Taggbox Widget WordPress plugin (For eg. embed google reviews wordpress) , and you can personalise it with a range of layout choices, styles, themes, fonts, colours, and more.

The platform recognises the value of premium content. As a result, it has a comprehensive moderation panel with content filtering tools that allows users to thoroughly monitor information before posting it on the website.

Taggbox Widget instantly refreshes real-time content from social media on your website since it is extremely quick and responsive.
The plugin is relatively simple to use and has a simple structure. Furthermore, the built-in analytics function allows you to track the success of your published material. You may acquire precise insights by looking at the overall amount of clicks and impressions.

Lastly, if you come across any technical issues while using the plugin, you can take help from the back support team that is active always.

Social Media Feeds WordPress Plugin By Tagembed


Social Media Feeds WordPress plugin by Tagembed is one of the finest plugins on the store. It allows users to collect social media feeds from 20+ social media platforms, helps them to curate and customize the feed, and displays them on the website. It eventually helps users increase the beauty and functionality of their respective WordPress websites.

Alongside making it easier for users to embed social media feeds to the WordPress website, the plugin offers features like customization, moderation, theme & layout options, and more, helping users to enhance the performance of the feed on the website.

Shared Counts

If you are looking for a plugin to keep track of and count the number of shares on your social media, then Shared Counts is a WordPress social media plugin that is quick and simple to use. Facebook, Google,, Stumbleupon, Pinterest, Yummly, and LinkedIn are among the most prominent social networks included.

You may pick from a variety of button designs and display locations (before or after the content or manually). It's also possible to activate it for custom post kinds.

The plugin effectively calculates the number of social shares for each network. You may also see the total number of shares across all networks.

RafflePress

RafflePress is the best WordPress giveaway plugin for growing your website's traffic and social media following by hosting viral giveaways and contests.

It has a drag-and-drop giveaway builder as well as pre-built viral giveaway templates to help you get more subscribers, improve social interaction, and drive more traffic.

RafflePress integrates seamlessly with Facebook, Instagram, YouTube, and Twitter. Their viral refer-a-friend tool is quite successful and may help you develop substantially faster.

You may use giveaways to increase video views, Instagram followers, Facebook likes, Twitter followers, blog comments, and more.

Monster Insights

Over 3 million websites utilise MonsterInsights, the greatest WordPress analytics plugin. It assists you in correctly installing Google Analytics and seeing the relevant statistics immediately from your WordPress dashboard.

MonsterInsights can help you figure out which social media networks and initiatives are the most effective, so you can concentrate on other marketing strategies fully.
It can help you find easy-win chances, increase conversions, and increase income.

Novashare

Another popular WordPress social sharing plugin that prioritises efficiency is Novashare. It allows you to add social sharing buttons to your website without slowing it down or compromising the customer experience.

You may use this social media plugin to add share buttons to Twitter, Facebook, LinkedIn, Buffer, WhatsApp, SMS, Reddit, Telegram, Pinterest, and more.
Key Takeaways
We've reached the end of both the blog and the list.
Including social media on your website is a crucial aspect of any brand's and business's success.
If you're searching for a premium and simple-to-use plugin, we propose the aforementioned options because of their fantastic capabilities and easy-to-use interface. You'll see a significant increase in your website's traffic as well as an increase in user engagement.
So, what stops you now? Choose the finest social media plugin for your needs and help your business reach new heights!