Best Social Media Feed Plugins for WordPress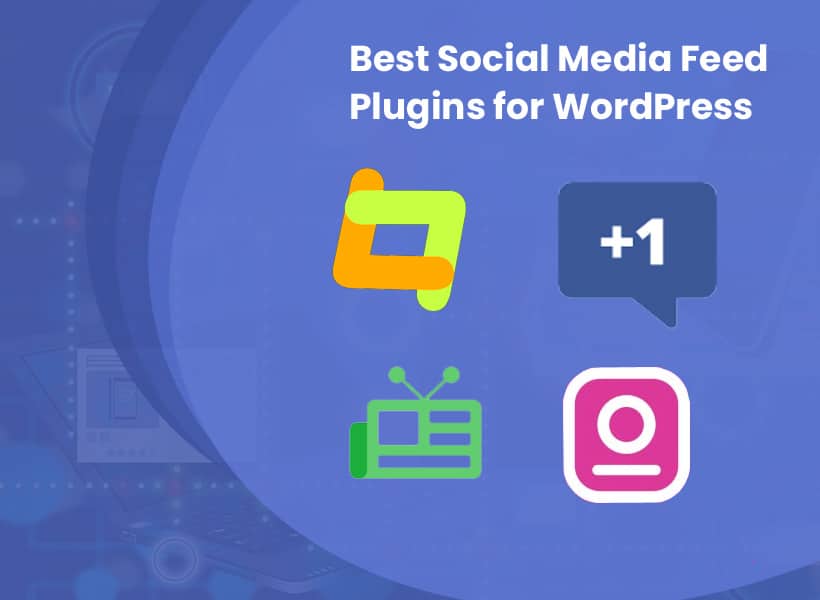 Are you looking for ways to showcase your social media presence on your WordPress website? We have something for you in store. Continue to read and know more about tye best social media feed plugins.
Social media has become a essential part of our daily routine.It is the first thing we look for in the morning and the last thing we think about at night. But do you realize how much impact social media has had on marketing strategies?
As it turns out, a lot.
As a result, most business owners are now opting to embed social media feeds on WordPress websites. This has helped them secure social recognition in their industry. And as they say, it has helped them in solving all the trust issues with their target audience. Truth be told, social media is designed to look friendly and entertaining at the same time. So, why not adopt this approach to your business?
If you are struggling with the right choice of social media feed plugin for the WordPress website, we are here to help you. In this blog, we will walk you through some of the best social media feed plugins in the industry along with their features. So tag along and continue reading to know more about them.
Outstanding Social Media Feed Plugin For WordPress Website
While it might seem easy to choose the right social media feed plugin for your WordPress website, it has a lot of layers you should be aware of. Social media feed plugins come with a lot of features. These features are needed when you start showcasing your social media presence on a website. Have a look at the plugins.
Tagembed is an all-in-one social media feed plugin that you can use without having to worry. Tagembed social media widget lets you showcase content from Instagram, Facebook and other social media platforms. The best part about using this plugin is that it is easy to install. Besides, you also get access to some of the best customization features. Such as with Tagembed you can change the themes and layouts to maintain the brand identity. You can also play with the features like changing the color schemes and the size of the fonts.

One of our favorite features of Tagembed is the moderation panel. With this feature, you can remove the social media content you do not want to showcase on the widget. Apart from that, if you want to customize more, you have to lay your hands on the custom CSS feature.

Shared Counts

Another great Social media feed plugin we have on the list is Shared Counts. As the name suggests, Shared Counts helps you showcase all the share counts you have received on your social media platforms.

Shared Counts helps you increase traffic and engagement, but it also helps you gain authority in the industry. Imagine flaunting off your share counts. But here is the catch.

Shared Counts is limited to very few social media platforms like Facebook, Twitter, Google+, Stumbleupon, Pinterest, Yummly, and LinkedIn.

With this plugin, you have access to multiple button styles, and you can choose where to show the button. and it can be done before or after the content or manually. You can also enable it for all the custom post types.

Easy Social Feed

Easy Social Feed is a fantastic social media feed plugin that can help you showcase your social media presence without any hassle. With this plugin you can showcase your content from Facebook and Instagram. The plugin is claimed to be responsive and SEO friendly.

The best part of this tool is that just like Tagembed it offers you with customization. To get started with this plugin, you just have to generate the shortcode and embed it at the backend of the WordPress website. Apart from that the plugin also claims to have a dynamic photo load speed. Using this plugin you can also display social media pop ups.

Feed Gallery

Another amazing plugin in the list is Social Media Feed for Instagram. This plugin promises to help you have a fully responsive image gallery on the website. Thai means you have your social media content available to people using different types of devices.

The plugin is said to be intuitive and and easy to use. Their free version allow you to display one gallery layout. whereas , their paid version helps you to set up two gallery layouts. Their configuration setting also allows you to set up the rows and columns. Ydecide the image spacinmg between the columns. Gallery Image Display Limit of the plugin is Upto 200+.
Final Words
The world is vigorously using social media platforms. And if you are not using social media widget on WordPress, you are losing your chance to be your customers' favourite. We have mentioned some of the best social media feed plugin that you can use to embed social media widget on WordPress website.
And while you are picking out your social media feed plugin, make sure the plugin is well updated and is compatible with WordPress latest version.