Best Podcast Plugins & Solutions for WordPress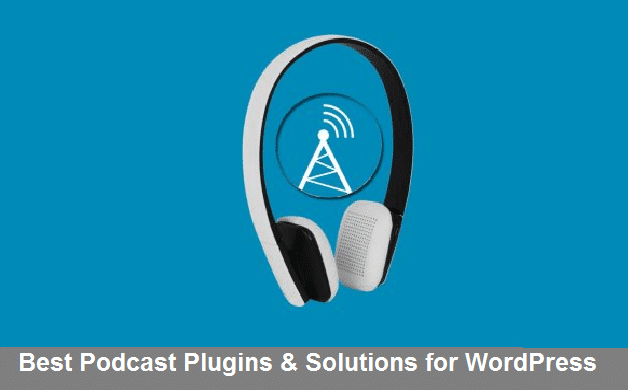 Gone are the days when written text used be referred to as the best medium for advertising. Now is the era of Podcasts. Podcasts are essentially video or audio files which are shared online or on social networking mediums to grab the attention of users at once.
The podcasts can be anything like a commercial, or some statistics about anything or anything informative. Podcasts have emerged out to be the most quickest, approachable and effective way of marketing.
Yes!!! You guessed it right. This blog is all about making podcasts and looking out for best plugins and solutions for a WordPress website. Let us dig it step by step.
First of all let's discuss the NEED of PODCASTS. There were many reasons which led Podcasts a great successful and effective way of marketing. The main reason was TIME.
In today's world everyone is preoccupied in their own work. No one has time to stop and read your advertisement. Listening to an audio file while on the way back home or going to office, is easy and non time consuming.
The Second reason is that podcasting is rather the most cost effective way to promote any product or services. Podcasts generally require a computer, editing software and a hosting space.
It is indeed the most affordable one amongst from print media or electronic media. Third and biggest reason was due to change in technology. In today's world most of the traffic is coming from Smartphone.
Almost every single person has his own phone. So, it became the demand of the situation where users have their personal choice for listening and reading which in turns means, if they are on your subscriber list, you are actually getting quality traffic for your website.
Another reason is the more you look good, the more you sell. Giving out a good video or audio content for your product will capture a lot of audience from social networking sites.
Now the questions arises how to get started with Podcasts.
If you are having a WordPress site and want to go for a podcast, then there are mainly two options for you. Either you can go for paid plugins or for free ones. If you are a newbie and want to get a gist of what all is happening then go for the free ones.
You can try as many as you can till you find the perfect one. The paid ones are for the professionals. They have more features than the free ones and are backed by full customer support.
But before starting you must have a hosting solution for your podcast. Podcasting from a WordPress site definitely requires a storage medium where you will be storing your audio files or other podcasting files. It will also consume certain bandwidth and storage of your server.
There are two options either you can host from the same server where your WordPress site is using the media uploader. Other option is you can use some of the free online storage solutions provided by many companies such as Google Drive, Amazon S3 or DropBox.
After you have the hosting facility, you need to have podcast player that will provide interface between the host and the user. This player is provided in form of a plugin or solution for a WordPress site. I am listing out here some of my favorite plugins and solutions.
Solutions for Podcasts
WordPress.com: Yes!! WordPress in the #1 option for Podcast solutions. It has a built-in support for podcasting. Just create a category and name it, upload the podcast files in the Post. In fact the podcast can even be submitted to the iTunes. You just need to configure the media settings. The feature is available in paid plans of WordPress or the premium themes. Secondly podcasting is best supported in the self hosted WordPress websites.

Price: The price is very affordable as compared to the other existing competitors. It starts at $2.99 per month with 6 GB of storage capacity and unlimited bandwidth.

Buzzsprout: It is one of the most popular and best downloaded solutions for a WordPress site to host, promote and manage the podcast. It will provide the accurate details about how many times the podcast has been played and from which location. Even it fetched the average duration played. It will provide an insert button to your toolbar. It will help to retrieve and play whichever episode you want to play.

Price: It is a paid as well a free version. The free plan offers a content of two hours to upload per month and allows hosting of files up to 90 days only. If you want more then go for a paid version. The prices start from $12 (three hours of content uploading and indefinite hosting).

Blubrry PowerPress Podcasting: It offers a seamless integration to WordPress. In case you exceed your monthly storage, you can continue by little payment. You can replace your archive anytime for free of cost. It is best one as it offers unlimited bandwidth and storage options. It keeps a track of how many times a podcast has been played and from which demographic location. The results are 100% certified. It comes with podcast subscription tools and can manually set the podcast SEO settings.

Price: The best part of having this solution is that whichever plan you choose it comes with unlimited bandwidth option. The basic plan starts from $12 per month for 100MB of storage capacity.
Now lets us look at some WordPress Podcast plugins:
Seriously Simple Podcasting: This is the #1 free plugin available for podcasting with an overall rating of 4.8/5 and 10k+ active downloads. It provides a very clean interface for uploading the contents. It offers RSS feeds as well along with ability to run multiple podcasts at the same website. Both audio and video podcasts are supported.

Price: Free

Podlove podcast Publisher: It has an average rating of 4.7/5 with 2k+ active downloads. It provides a simple, quick and easy to use tool. RSS feeds can be generated in much optimized way. It provides a very flexible interface so as if in future you want to switch for any theme later on, it will not affect the podcast settings.

Price: Free

Smart Podcast Player: It offers an extremely expressive way for creating a podcast. The player can be embedded into the code by the means of shortcode. The interface can be customized accordingly. It includes features such as playback, sorting and downloading.

Price: If you are going for annual plan, then it costs $8 per month but if you are paying monthly then it is $12.
So, choose from the above mentioned podcasting Solution and plugins. Happy Podcasting!!!!