Best Blogging Ideas That Are Guaranteed to Become Popular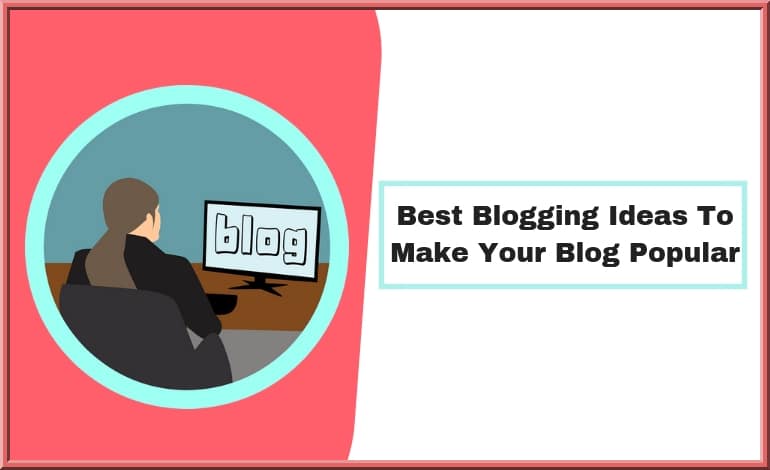 We often talk of blogging ideas and how blogging is good for SEO (Search Engine Optimization), but before we delve into these details, let us first understand what exactly a blog is.
The word weblog is commonly referred to a blog, which is an informational website or we can say an online journal. Here, the information is published on particular topics in reverse chronological order. It means that the latest posts appear first.
If you have a blog or you guest blog on popular and reputed blogs in your niche, then it helps in building authority, increasing traffic, engaging with prospects etc. All these help in improving the website's rankings in the SERPs (Search Engine Response Pages) in some way or the other.
Not all blogs become popular. If you want your blog to become popular, you need to have good blog ideas and build upon them on a regular basis with good content.
You need to understand your targeted audience and then come up with topics that will appeal to them and are relevant to their needs and expectations.
It is not easy to become successful and famous, but here are a few of the best blogging ideas that are guaranteed to make your blog popular.
Post Comprehensive Guides and Tutorials
If you are an expert on some topic, then share that knowledge with the others who are less aware of it. Not everyone is skilled and experienced in every field.
Sharing your knowledge in a particular domain with others helps in establishing your blog value, driving traffic and converting followers.
Write How-To Articles
Though each and every appliance comes with a manual, no one really bothers to go through it. In this internet age, everyone prefers to google about how to use a particular product or service. Thus, posting How-To Articles is a good way to connect with your potential customers.
Use Explainer Videos
Readers often lose interest if the posts are too long with too many technical jargons. If you are writing on any serious topic that relates to your product, it makes more sense to include some explainer videos in your article. It helps in engaging the customers better and gets a real traffic boost to your blog.
Make Use of Infographics
Complicated data, at times, deters people, but the same can be made interesting and easy to grasp by using Infographics. They make a huge impact on the readers, but make sure to post infographics of good quality.
If you feel that you can't do a good job at infographics, better hire a professional for it rather than posting a shabby one.
Listicles
These are articles that are weaved around a list of items. The list is something that appeals and resonates with the users.
For instance, instead of writing 'the ways to build your website', if you write '5 ways to build your website', the latter gets a better response. It is proven by research and hence listicles are often used by the blogger community.
Include Some Personal Stories
Personal stories help in breaking the ice with the audience and building trust. If the readers can make out that their concerns are the same as yours and you understand them, they connect better. After that, they will also value the solutions you provide and look forward to them.
Resource Blogs
These blogs are always in high demand as they provide exactly what the readers are looking for. Compiling a list of things – whether it's some online tools, apps, websites or books – and sharing it with your readers will make them come back again and again to your blog. Then, they would treat your blog as a one-stop solution for all their needs.
Write Reviews
People look for reviews before buying any product or service and they actually want honest opinions about it. The web is full of fake reviews.
If you provide genuine opinions about the appliance, hotel, books or movies that people are looking for, then they will be forced to come back to you whenever they want an honest opinion.
Summary
Writing a successful blog is not an easy job. You need a perfect mix of good blog ideas understanding your potential readers whom you want to address and then build high-quality content on those ideas.
Once you know what you are selling and to whom, you need to include various blogging ideas to make things informative and relevant for that targeted group of audience.
To get a different point of view or add variety to your blog, you can also consider reaching out to experts in your niche and ask them for guest blogging. Blogging is a necessity today and you really need to be on your toes to keep your audience engaged.